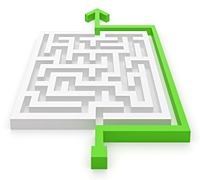 As companies migrate to Citrix XenApp 6.5 for more efficient application delivery, they are increasingly taking advantage of virtualization platforms (such as Citrix XenServer, VMware vSphere and Microsoft Hyper-V) to increase efficiency, enhance flexibility, and reduce hardware cost of XenApp server farms.
Virtualization Management Challenges
However, XenApp virtualization introduces new and dynamic inter-dependencies because multiple applications are running on virtual machines that share the same hardware. This increased complexity makes managing performance and user experience of virtualized XenApp infrastructures more challenging, costly, and time-consuming.
Many companies fly blind without complete performance visibility into the components of their XenApp environment and the dynamic inter-dependencies. Yesterday's reactive, manual and fragmented approach to performance management severely limits performance visibility and diagnosis of performance issues. It is no longer sufficient for today's dynamic IT environments.
eG Innovations Performance Assurance
eG Innovations solves this big challenge by radically simplifying XenApp performance management. Only eG delivers pre-emptive, automated and integrated performance assurance for today's dynamic, mission-critical Citrix XenApp environments. This unique approach enables companies to ensure XenApp virtualization success by delivering on the promise of exceptional performance, flexibility, and ROI.
Having won numerous awards for our Citrix and Virtualization performance management and monitoring solutions, eG Innovations is the clear choice for organizations wanting a best-of-breed solution to manage their combined virtualized infrastructures:
Get complete performance visibility and automated performance correlation across all virtual and physical components – network, storage, virtualization, application and database
Automate and accelerate discovery, diagnosis and resolution of XenApp service performance issues
Pre-emptively detect and resolve performance issues before users notice
Identify bottlenecks and right-size your XenApp infrastructure with powerful reporting and analytics for maximum ROI
Automatically correlate all performance events from both the physical and virtual tiers of your XenApp Service and auto-diagnose the cause of any performance problem
Discover trends and details of user sessions and user/application resource consumption for effective workload planning and infrastructure management to reduce cost
Join our live solution tour to learn more:
Live Demo –
Performance Management in Virtualized Citrix XenApp Environments
Date & Time: May 3, 2012 @ 2:00 pm ET | 11:00 am PT | 7:00 pm UK | 8:00 pm CET
Register Now: https://www1.gotomeeting.com/register/202378672
For additional demo presentations, visit https://www.eginnovations.com/demo
We look forward to seeing you online!