Citrix XenDesktop 7 represents a radical change in the desktop virtualization space, providing a unified solution for delivery of virtual desktops and applications on demand. But is the best virtual desktop platform alone sufficient to guarantee desktop virtualization success?
Watch this on-demand webinar to learn about next-gen performance monitoring best practices that you need to put in place to get the most out of your XenDesktop 7 investments and reliably deliver virtual desktops to more users and without glitches or cost/time overruns.
During the webinar, we asked our audience about their biggest management challenges with Citrix XenDesktop 7. Here are the results: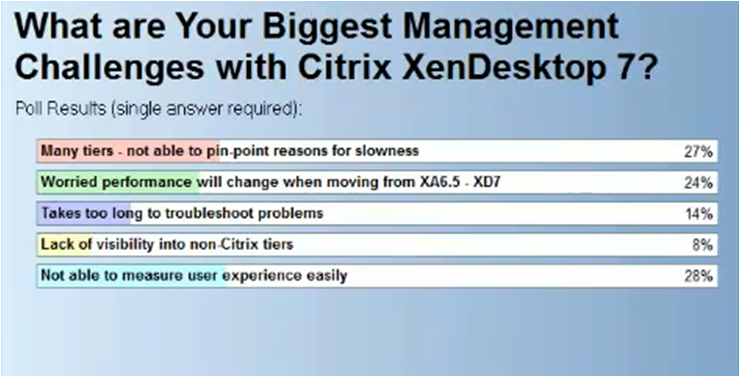 Not surprisingly,  measuring user experience (28%) and quickly pinpointing reasons for user experience degradation (27%) top the list of challenges.
To learn more, join this on-demand webinar with desktop virtualization expert Bala Vaidhinathan (CTO, eG Innovations) and see how to:
Deliver superior end-user experience, simplify management, and reduce total cost of ownership of Citrix XenDesktop 7 virtual desktop environments
Utilize next-gen management solutions that complement Citrix Director/EdgeSight to accelerate troubleshooting
Boost user productivity by means of powerful analytics and reporting, deep performance visibility, and auto-correlated diagnosis – across every layer, every tier of the XenDesktop 7 infrastructure
Assure virtual desktop user satisfaction by pre-emptively detecting and resolving performance issues – before users notice
Ensure maximum ROI by right-sizing your XenDesktop 7 infrastructure using powerful reporting & analytics
We look forward to seeing you online!