Over 1,000 registrations for our live webinar "Citrix and Desktop Migration Success – The 3 Secrets to User Satisfaction and ROI" suggest that a lot of organizations are struggling (or at least concerned) with Citrix and desktop migration success [watch the on-demand webinar now].
We asked the webinar attendees about their most pressing performance challenges regarding migration of Citrix and Desktop environments, and here are the results: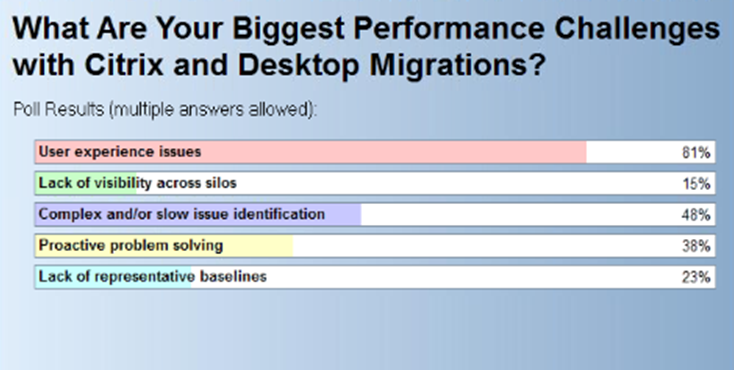 With over 80 percent of responses, user experience is by far the number one concern. And whether you are migrating from Citrix XenApp 4.5 to 6.5 or from 6.5 to 7.5, or you are virtualizing your desktops as part of your Windows XP to Windows 7/8 migration project, performance is obviously a key priority. Users will expect the same or better performance after the migration as they had before the migration. When performance problems occur, the migration project is always blamed first.
Watch the webinar now to learn about the latest best practices for making your Citrix and desktop migrations successful:
Transform your Citrix and desktop environments successfully without project delays or cost overruns
Deliver superior end-user experience, simplify management, and reduce cost – before, during and after migration
Assure user satisfaction by pre-emptively detecting and resolving performance issues – before users are impacted
Utilize next-gen management solutions to accelerate troubleshooting and identify the true root-cause of problems (is it the Network? Database? Application? Citrix? Virtual platform? Storage?)
Ensure maximum ROI by right-sizing IT infrastructure using powerful analytics & reporting
You can also download the webinar presentation on SlideShare.