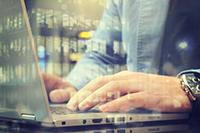 As enterprises increasingly rely on web applications to drive revenue, engage with customers, and build brands, driving business success requires effective monitoring and performance assurance strategies. Reliable access and fast response are essential for ensuring user satisfaction.
Increasing Awareness of the Need for User Experience Monitoring
To monitor the performance of web applications and how they are contributing to the business, IT operations teams have traditionally employed user experience monitoring solutions, such as real user monitoring and synthetic transaction monitoring. These are useful approaches that help measure how good or bad the experience is for users, and highlight when, where and which users are affected.
A 2015 Gartner survey illustrates the growing interest among enterprise IT teams in user experience monitoring. Most enterprises surveyed in the study regarded end-user experience monitoring as the most critical dimension for application performance monitoring (61% ranked user experience monitoring among their top two APM priorities).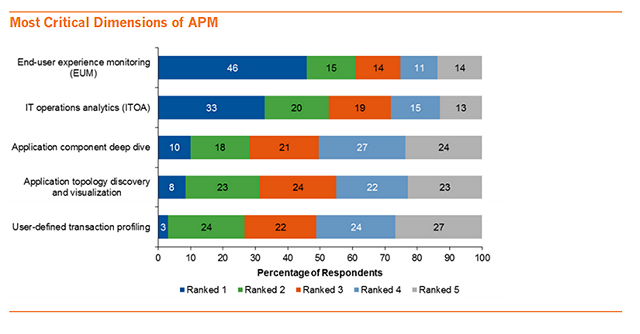 Is User Experience Monitoring Sufficient for Good Application Performance?
It is obvious that enterprise IT teams understand that monitoring server resources (CPU, memory, disk, etc.), as has been done for decades is no longer sufficient, and measuring and being alerted to user experience issues is a very important factor.
So, clearly, user experience monitoring is necessary, but is it sufficient for web applications to meet their business goals?
To answer this question, let us look at the example of an eCommerce web site where users access a web portal, browse the product catalog, place orders, and purchase goods online. User experience monitoring primarily focuses on user interactions with the web site: Are pages accessible? Are they downloaded on time? Are there any errors reported when rendering the web pages? etc. But, it is important to note that an eCommerce website has a significant non-interactive component that is also part of the application. This non-interactive component is responsible for analyzing all orders received, coordinating with backend inventory systems and dispatching systems, and ensuring that the orders are processed on time and that users actually receive purchased goods in a timely manner.
A user experience monitoring solution can track user interactions with the web application, but it does not have any visibility into the non-interactive components of the web application.
So, we see that the user experience monitoring solution can be reporting that the eCommerce site is working well even when, at the same time, one or more of the non-interactive components has failed. Users may not notice these issues when they access the web site, but will only find out much later, when the goods they ordered are not delivered.
Critical Backend Monitoring for Web Applications
There are many reasons why non-interactive components of a web application may fail:
The application may need more memory than what it is configured to use, and therefore may fail when the workload increases.
Application logic/code issues can result in deadlocks that can halt the processing of orders.
Database errors – for e.g., inability to extend a table – can result in failure of backend processing.
Connections to external shipping agencies may fail or have authentication errors.
User-experience monitoring will not alert you to these issues. Business transaction tracing solutions – commonly used to augment user experience monitoring – also will not alert you to any of these issues. This is because transaction tracing also focuses solely on the interactive components of the web application.
So, what is the solution? IT operations teams must have visibility into backend application processing components as well. This requires instrumentation and monitoring of each component of the application, plus all other infrastructure tiers upon which application delivery depends.
Total Application Performance Visibility with eG Enterprise
eG Enterprise provides in-depth visibility into all aspects of application performance. As one example, for a Java application, the health of the Java Virtual Machine (JVM), web container and all transactions are tracked. And, all the supporting tiers – virtualization, storage, messaging, databases, network, etc. are all monitored from the same web console. Administrators can also use the eG Integration Console add-on to build customized, in-depth monitoring that is specific to the application.
By tracking both the interactive and non-interactive components of an application, eG Enterprise provides early warning indicators that can affect the success of an online business.
Summary
User experience monitoring is undoubtedly important, but only provides the user's view of the interactive components of a web application. Non-interactive components of application delivery play an equally important role in the user's interaction with the business and, ultimately, the business' success. As you develop your application performance monitoring strategy, be sure to avoid limiting the scope to just user experience monitoring but, rather, seek out an end-to-end solution that gives you in-depth visibility into all aspects of application performance.