ISELIN, NJ - March 9, 2023 - eG Innovations, toonaangevend leverancier van user experience monitoring oplossingen, heeft de algemene beschikbaarheid aangekondigd van de nieuwste release van haar flagship product, eG Enterprise v7.2.
"De afgelopen jaren is het IT-landschap noodgedwongen enorm veranderd. De digitalisering van klant- en supply chain-interacties is met 3 tot 4 jaar versneld en zowel grote als kleine organisaties in vrijwel alle segmenten vertrouwen nog meer dan voorheen op IT. Hierdoor worden nog hogere eisen gesteld aan operationele IT-teams", aldus Srinivas Ramanathan, CEO van eG Innovations.
Moderne IT-infrastructuren behelzen onder meer digitale werkomgevingen ter ondersteuning van hybride werkvormen en veelgebruikte communicatie-technologieën voor samenwerking, zoals Microsoft Teams en Zoom. Ook worden cloud-, container- en SaaS-technologieën in snel tempo omarmd. "IT-monitoringtools moeten zich aanpassen aan deze veranderende wereld. Domein specifieke expertise en automatiseringsmogelijkheden, alsook een eenvoudig gebruiksmodel en intuïtieve bediening, zijn essentieel voor succes. Tegelijkertijd moeten IT-beheerders nieuwe typen vragen beantwoorden - over gebruik en kosten - en hebben zij een belangrijkere rol dan voorheen bij het behalen van Return on Investment (ROI) voor organisaties. Dit is waar de verschuiving van IT-monitoring naar Observability plaatsvindt", aldus Ramanathan.
eG Enterprise v7.2 is een complete Observability oplossing voor moderne IT-technologieën. Domein specifieke monitoringmogelijkheden blijven aan de kern van de oplossing, maar worden nu uitgebreid met mogelijkheden om IT-security aspecten te monitoren, het oplossen van problemen te automatiseren, te rapporteren over ongebruikte en verspilde cloudresources, enzovoorts. Verbeteringen in deze release hebben betrekking op alle belangrijke aandachtsgebieden van moderne IT:
Verbeterde monitoring voor Multi-Vendor Digital Workspaces: eG Enterprise biedt nu het meest uitgebreide scala aan monitoring-, diagnose- en rapportagemogelijkheden voor elke digitale werkplek. Of u nu één oplossing of een combinatie van Citrix, VMware Horizon, AWS AppStream 2.0, AWS WorkSpaces, Microsoft RDS, or Microsoft Azure Virtual Desktops, gebruikt, u krijgt een consistente set dashboards en rapportages met eG Enterprise. Nieuwe ondersteuning omvat ook Citrix Linux Desktops, Windows 365 Cloud PC's, multi-vendor GPU-gebruik, IGEL-endpoints en fysieke endpoints. U krijgt een consistente set dashboards en rapportages voor deze verschillende technologieën.
Dieper inzicht in de prestaties van web applicaties: de eG Enterprise web applicatie simulatie is eenvoudiger te gebruiken en ondersteunt nu TOTP-gebaseerde 2-factor authenticatie, dynamische Captcha en verwerkt ook niet-vertrouwde SSL-certificaten. Real user monitoring (RUM) verbeteringen omvatten ondersteuning voor alle moderne browsers en verbeterde gebruikersgerichte weergave van de door de gebruiker ervaren prestaties. Volledige ondersteuning voor het monitoren van Node.JS-applicaties op VM's en containerplatformen is nu beschikbaar. Code-level transacties traceren (monitoren) is uitgebreid om .NET Core-applicaties te ondersteunen.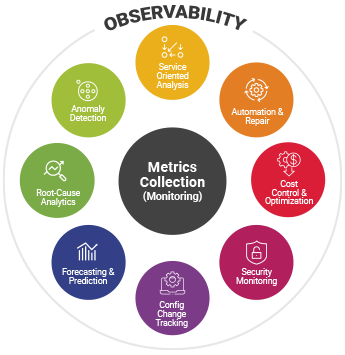 Meer mogelijkheden voor End-to-End, Unified Monitoring: ondersteuning voor cloudmonitoring is uitgebreid met een hele reeks AWS- en Azure-diensten, waaronder AWS Trusted Advisor, AWS Resource Usage, AWS S3, AWS Billing, AWS Connect, AWS API Gateway, Azure Advisor, Azure Quota Usage, Azure Activity Logs, Azure Log Analytics, Azure Firewall en VPN Gateways, en meer. Er zijn ook nieuwe dashboards beschikbaar voor AWS- en Azure-monitoring. Voor containers is Red Hat OpenShift-integratie nu beschikbaar en is ondersteuning voor het monitoren van CRI-O-worker nodes beschikbaar. Verschillende nieuwe typen netwerkapparatuur worden ondersteund. Storage monitoring omvat ondersteuning voor het monitoren van Cohesity, Panzura en HPE StoreOnce. Ook worden een aantal Apache- en andere middleware-technologieën ondersteund vanaf deze versie.
Verbeterde monitoring voor Enterprise-/SaaS-applicaties. SAP monitoring is uitgebreid met ondersteuning voor ontwikkel-/cloudomgevingen zoals SAP Neo (Cloud Platform) en SAP BTP Cloud Foundry, SAP HANA XS (app/webserver) en Lumira (visualisatie). Ondersteuning voor moderne authenticatie is inbegrepen in Microsoft O365-monitoring. Real-Time Call Quality Analytics voor Microsoft Teams wordt nu geleverd met gebruik van webhooks-integratie. Gebruikersspecifieke informatie van verbruik/belasting is nu beschikbaar voor de Helpdesk voor snelle probleemoplossing. Mailpaden kunnen nu worden gevolgd als onderdeel van synthetische monitoring. Deze inzichten zijn vooral nuttig in hybride mailomgevingen en kunnen een indicatie geven van waar de vertraging in de e-mailbezorging ligt.
eG Enterprise versie v7.2 bevat ook verschillende architectuur verbeteringen.
Beheerders hebben de mogelijkheid om agents vanaf een centrale locatie te pushen en een single command uitrol van agents op Windows en Linux wordt ondersteund.
Er is een nieuw Incident management dashboard geïntroduceerd met de mogelijkheid om de oorzaak (root-cause) duidelijk te onderscheiden van de gevolgen ervan.
De functionaliteit van de eG Mobile App is verbeterd om deze net zo functioneel te maken als de browserinterface. Tevens wordt SSO-integratie met Active Directory en SAML ondersteund.
Remote Control Action permissies kunnen nu per gebruiker worden toegewezen. De set commando's die voor elke gebruiker beschikbaar is, kan worden geconfigureerd.
Aanvullende ITSM-integraties met TOPdesk, ServiceNow ITOM, Freshdesk en BMC Remedy worden ondersteund. Ondersteuning voor meerdere ITSM-tools op één manager is ook beschikbaar.
"De nieuwste release van eG Enterprise maakt de monitoring oplossing nog krachtiger.", zegt George Spiers, oprichter van EUC UK en Citrix Technology Professional. "De mogelijkheden om de core componenten te monitoren zijn verder uitgebreid en de oplossing biedt verbeterde rapportage mogelijkheden om te helpen bij troubleshooting en het benchmarken van de gezondheid en prestaties in de loop van de tijd. Het stelt uw helpdeskmedewerkers en beheerders tevens in staat om sneller en effectiever te troubleshooten en problemen op te lossen met nieuwe Remote Control Actions, waardoor de noodzaak om tickets te escaleren naar hogere supportniveaus wordt verminderd. Hierdoor zijn minder personele resources nodig en is de impact op de productiviteit van een gebruiker kleiner", voegt Spiers eraan toe.
eG Enterprise v7.2 is beschikbaar als volwaardige SaaS oplossing - het is geheel multi-tenant en self-provisioned. Enterprises en MSP's kunnen profiteren van vele selfservice-opties die de uitrol van het systeem automatiseren en versnellen. eG Innovations blijft zich inzetten voor gelijkwaardigheid van functionaliteiten, voor organisaties die moeten voldoen aan data compliance en wettelijke vereisten, die hun eigen installatie on-premises of in een cloud- of hostinglocatie van hun keuze willen implementeren en onderhouden.
Voor meer informatie: zie Observability for Modern IT with eG Enterprise v7.2 (eginnovations.com)
Over eG Innovations
eG Innovations helpt bedrijven over de hele wereld om IT-dienstverlening om te zetten in een concurrentievoordeel en daarmee bij te dragen aan het verhogen van de productiviteit, groei en winst. Veel van 's werelds grootste bedrijven gebruiken eG Enterprise-technologieën om de prestaties van IT-services te verbeteren, de operationele efficiëntie te verhogen, de IT-effectiviteit te waarborgen en de ROI-belofte van transformationele IT-investeringen in fysieke, virtuele en cloudomgevingen waar te maken. Bezoek ons op www.eginnovations.com of op Twitter op @eGInnovations.