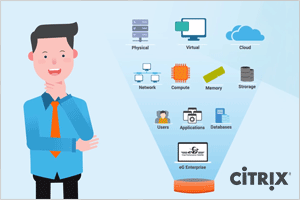 Lots of announcements from Citrix at Citrix Synergy in Berlin yesterday. One of the most significant ones is Citrix's announcement of XenDesktop 5 – the latest and greatest in VDI connection broker technology. XenDesktop 5 features a simpler and more powerful user interface, enhanced HDX user experience and new support for the iPad. You can read more about XenDesktop 5 here.
Citrix has begun to realize that monitoring and management of VDI is becoming very important for the success of a virtual desktop deployment. The new Desktop Director capability included in XenDesktop 5 is a step towards addressing a critical need in this area. Desktop Director is a web-based, helpdesk-focused operations console that offers a clean and easy interface and is useful for troubleshooting VDI problems. The dashboard gives you an overview of the state of each VDI tier, and you also have search options to look at the configuration and performance of a specific user's desktop, shadow the user session, and even take control. More information about the XenDesktop 5 Desktop Director is available here.
While you get a helpdesk-focused overview of the virtual desktop infrastructure from the Desktop Director, you will also need an operations-focused diagnosis and drill down view into the infrastructure to determine where the true root-cause of a problem lies – is it the network? connection broker? hypervisor? VMs? storage? Active Directory? Profile server? Further, you may need deep dive views into the virtualization platform and other tiers. You will also need metrics and reports that can guide you in figuring out how to size future desktop rollouts. This is where a monitoring, diagnosis, and reporting solution like eG Enterprise comes in. The figure below highlights how eG Enterprise and its eG VDI Monitor adds value to a Citrix XenDesktop deployment.
What's more – it is now easier than ever before for you to try out the eG VDI monitoring solution and see for yourself how you can benefit from having comprehensive end-to-end monitoring of your virtual desktop infrastructure. Details of our special offer for Citrix XenDesktop customers are available in this news release.