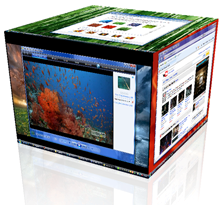 Desktop transformation promises to reduce cost, improve reliability, and provide better user productivity. Especially in complex hybrid desktop environments, many organizations are looking to accelerate deployments and improve the desktop experience to deliver business value and accommodate user requirements for personalization, application performance and security.
Join our Live Webinar "The Desktop Evolution – Delivering user satisfaction and productivity in hybrid desktop environments" on March 21, 2012 and learn from desktop transformation experts Jeff Fisher (RES Software) and Rick Ruskin (eG Innovations) how to:
Deliver predictable and reliable user experiences
Provide secure, personalized and compliant desktops across multiple devices, locations and roles
Proactively manage desktop performance across physical, virtual and cloud environments
Accelerate the scope of your hybrid desktop deployment

WEBINAR DETAILS
Date: March 21
Time: 2:00 pm (ET) | 11:00 am (PT) | 8:00 pm (CET)
Presenters: Jeff Fisher (RES Software) and Rick Ruskin (eG Innovations)
Register Now (hurry – seats are limited): http://bit.ly/DesktopEvolution
We look forward to seeing you online!