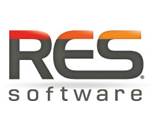 eG Innovations and RES Software, the proven leader in dynamic desktop solutions, today announced a strategic partnership for enterprise desktop deployments. The collaboration takes eG Innovations' expertise in delivering performance assurance for VDI environments, and combines it with the flexibility of the desktop personalization and context aware capabilities of RES Software.
When pooled together, these two solutions relieve challenges associated with multi-location performance, improve IT efficiency and reduce costs of managing today's complex hybrid desktop environments that often include a mix of devices and delivery platforms.
By combining technology from RES Software and eG Innovations, enterprises will benefit from:
A more predictable, reliable and secure user experience
Maximum user productivity due to consistent performance of VDI environments
Improved management of dynamic desktop environments
Personalized and compliant desktops for users across multiple devices, providing more flexibility for mobile workers
A framework to quickly resolve VDI issues that impact both performance and usability
"As enterprises investigate VDI as a viable technology for their organization, the impact on the user experience and overall performance are two key critical elements considered," said Tony Falsone, virtualization practice director at FusionStorm, a leading IT services provider. "Many times, introducing new technologies creates a hybrid desktop environment that can be even more challenging for IT to manage. Together, RES Software and eG Innovations give enterprises the confidence to know that users won't experience disruption by the move to virtual desktops, and they can fully take advantage of the flexibility and mobility offered by VDI. We see tremendous value in this joint offering, and our customers stand to benefit greatly from pairing these two technologies as they initiate upcoming desktop transformation projects."
Learn more about IT Monitoring solutions from eG Innovations
eG Enterprise is an Observability solution for Modern IT. Monitor digital workspaces,
web applications, SaaS services, cloud and containers from a single pane of glass.