In part 1 of this article, we talked about how the current VDI deployment cycle is broken, often overlooking the new inter-dependencies and performance implications introduced by desktop virtualziation. To ensure VDI success, performance has to be considered at every stage of the VDI lifecycle because it is fundamental to the success or failure of the VDI rollout.
Understanding the performance requirements of desktops will also help plan the virtual desktop infrastructure more efficiently. For example, known heavy CPU using desktop users can be load balanced across servers. Likewise, by planning to assign a good mix of CPU intensive and memory intensive user desktops are assigned to a physical server, it is possible to get optimal usage of the existing hardware resources.
Taking this discussion one step further, it is interesting to draw a parallel with how server virtualization evolved and to see what lessons we can learn as far as VDI is concerned.
A lot of the emphasis in the early days was on determining which applications could be virtualized and which ones could not. Today, server virtualization technology has evolved to a point where there are more virtual machines being deployed in a year than physical machines, and almost every application server (except very old legacy ones) are virtualized fairly well. You no longer hear anyone asking whether this application server can be virtualized or not. From focusing on the hypervisor, virtualization vendors have realized that performance and manageability are key to the success of server virtualization deployments.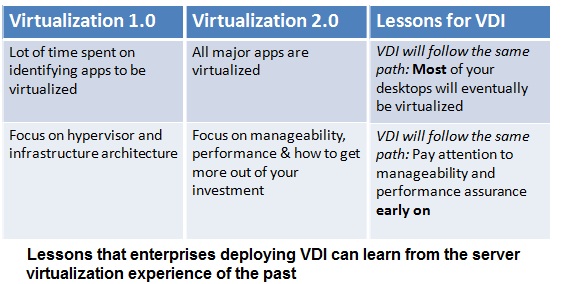 VDI deployments could be done more rapidly and more successfully if we learn our lessons from how server virtualization evolved. VDI assessment needs to expand in focus on just the desktop and look at the entire infrastructure. Attention during VDI rollouts has to be paid to performance management and assurance. To avoid a lot of rework and problem remediation down the line, performance assurance must be considered early on in the process and at every stage. This is key to getting VDI deployed on a bigger scale and faster, with great return on investment (ROI).
To learn more about VDI performance, join the on-demand webinar "Top-5 Best Practices for Virtual Desktop Success"
eG Enterprise is an Observability solution for Modern IT. Monitor digital workspaces,
web applications, SaaS services, cloud and containers from a single pane of glass.