As a follow up to our previous post, we have some more poll data to share from our Citrix XenApp and XenDesktop 7.x webinar in late August. During the webinar we polled the 500+ attendees to find out where they were with the Citrix XA/XD 7.x rollout.
Citrix XenApp/XenDesktop 7.x was first released almost two and half years ago. But interestingly, we found that many Citrix customers are continuing to run earlier versions of Citrix XenApp and XenDesktop.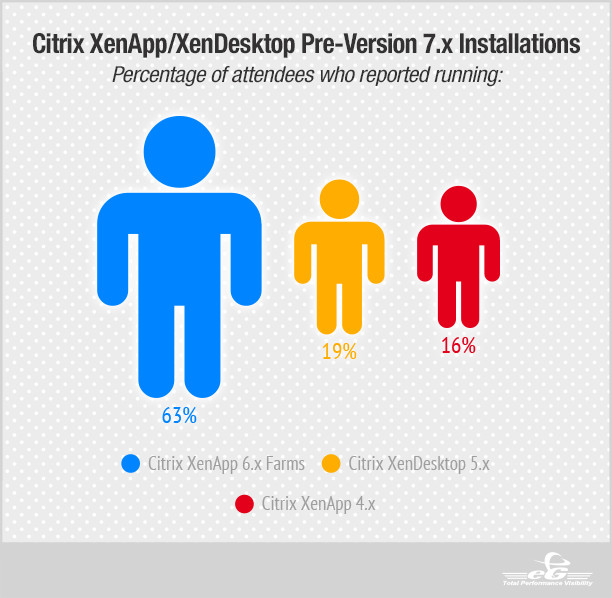 Citrix XenApp 6.x continues to be popular, with 63% still running this version. This number is roughly unchanged from a similar poll we conducted a year ago. In our previous blog post we reported that Citrix XenApp 7.x deployments have doubled in this same period, but this new figure suggests that much of the current XenApp/XenDesktop 7.x deployment is concentrated in new farms, rather than upgrades/migrations from XenApp 6.x.
Also, while 19% reported having Citrix XenDesktop 5.x running in their infrastructure, a surprising 16% are still running Citrix XenApp 4.x, despite it having reached end of life.
Considering a migration to Citrix XenApp/XenDesktop 7.x? eG Innovations can help:
eG Enterprise is an invaluable resource to help ensure smooth, successful migrations and new farm launches. Gathering benchmarked performance data from your legacy infrastructure is the best way to know exactly how your new version launch should perform, allowing you to tune your users' experience before you go live. eG Enterprise makes it easy to eliminate the guesswork.
For detailed information about Citrix XenApp and XenDesktop migration, please read our free white paper, 5 Best Practices to Ensure Stellar Post-Migration Citrix Performance.
Also, please note that the popular webinar Top Eight Best Practices for Deploying Citrix XenApp and XenDesktop 7.6 is available on-demand. This webinar discusses important, field-proven best practices to ensure success in your Citrix XenApp and XenDesktop 7.x deployments, whether you are planning a new farm or looking into migration from a legacy version. Watch now.
eG Enterprise is an Observability solution for Modern IT. Monitor digital workspaces,
web applications, SaaS services, cloud and containers from a single pane of glass.