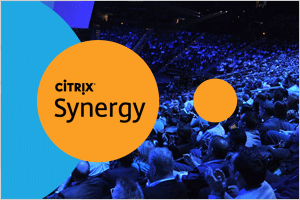 At Citrix Synergy this week. Great chance to meet several of our key customers in one place. Feels different from VMworld – lots of room, more focused conversations and good audience, nevertheless!
The big focus is on desktop virtualization. Attended a great session on VDI yesterday – Steve Greenberg of ThinClient explained how VDI and XenApp are two ends of a spectrum of choices that customers have in delivering services to the desktop. Clearly VDI is the more expensive option and is ideal for situations where applications that cannot co-exist can each have their own VMs. CAD CAM applications were discussed as one group of apps that require VDI.
Also heard multiple school districts talking about how they were moving to VDI as a way to reuse their old desktop hardware, and yet deliver the latest windows 7 OS and applications to users.
This said, Europe seems to be where the VDI activity is. Citrix claims to have sold 1.5 million XenDesktop user licenses in the last 2 quarters. Most of their large implementations are in the UK and through our strategic partnership with Computer Sciences Corporation, eG Innovations is plugged into some of these. Interestingly, there seems to be some VDI penetration in Asia (Taiwan and Korea) as well.
We're showing off our VDI monitoring technology and have received very good inputs and feedback. The 2 min demo is up on Citrix TV now!
eG Enterprise is an Observability solution for Modern IT. Monitor digital workspaces,
web applications, SaaS services, cloud and containers from a single pane of glass.