Microsoft System Center Operations Manager (SCOM) deployments have been on the rise in recent years mainly due to its tight integration with other Microsoft servers and applications in the enterprise. In a recent webinar, we asked attendees about their biggest challenges when using SCOM for performance monitoring of their IT infrastructure, and the answers point to the need to use SCOM and SCOM management packs more effectively: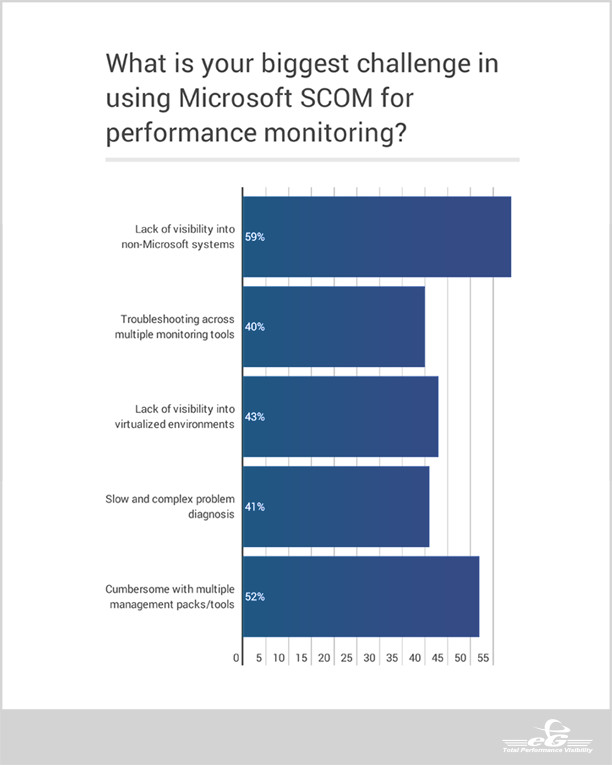 As you can see, the top two challenges were:
Lack of visibility into non-Microsoft systems: Although Microsoft SCOM has built-in management packs for Microsoft applications (Active Directory, SQL server, Microsoft Exchange, IIS, etc.) and Windows servers, it has limited support for non-Microsoft servers and applications (e.g., Citrix XenApp and XenDesktop, VMware vSphere, SAP R/3 or Business Objects, etc.).
Cumbersome, with multiple management packs: The need for multiple management packs stems from the lack of support for non-Microsoft applications and platforms in SCOM. To monitor every tier of the IT infrastructure, users often need to purchase multiple management packs from different vendors – one for each non-Microsoft tier – and there is no integration between them.
The eG Enterprise SCOM Universal Management Pack directly addresses these top challenges and more. For an overview of how it works, below we present answers to the most common questions about our powerful SCOM integration:
Q: What does eG Enterprise provide that I don't already get from SCOM?
A: A lot. eG Enterprise is an end-to-end performance monitoring solution with automatic root-cause diagnosis to make your job easier than ever before. eG Enterprise's native API integration transforms SCOM from a Microsoft system data collection console into an integrated end-to-end performance diagnosis engine:
One monitor to know it all. Monitor all infrastructure components within the SCOM console, including VDI, virtual machines, network, storage and applications.
One monitor to get actionable answers quickly. eG Enterprise adds performance alerts to SCOM that not only indicate where problems exist but also automatically prioritizes alerts in the SCOM console so you can see exactly how a bottleneck in one tier is impacting other tiers or the end-user experience.
One monitor to dive deep.  Beyond just a management pack, eG Enterprise adds to SCOM total visibility throughout every layer of the stack: Application, container, OS, VM, storage and network. Quickly solve problems and prevent new ones.
One monitor to analyze and grow. eG Enterprise provides SCOM administrators many preset and custom reports from every part of their infrastructure, across all silos. Understanding all factors that impact performance leads to smart growth and maximum IT value.
Q: How does eG Enterprise work with SCOM?
A: eG Enterprise integrates with SCOM via Microsoft's native APIs. This enables 1) complete 2-way communication into and out of SCOM, and 2) foundational enhancements to SCOM's capabilities. eG Enterprise adds native alerts, problem descriptions, drilldowns, and much more directly into the SCOM user interface, offering you quick and easy access to critical information about the performance of your entire infrastructure. The eG Enterprise application is always available for deeper dives and analysis, accessible with just a single click from many alerts and data points presented inside of SCOM.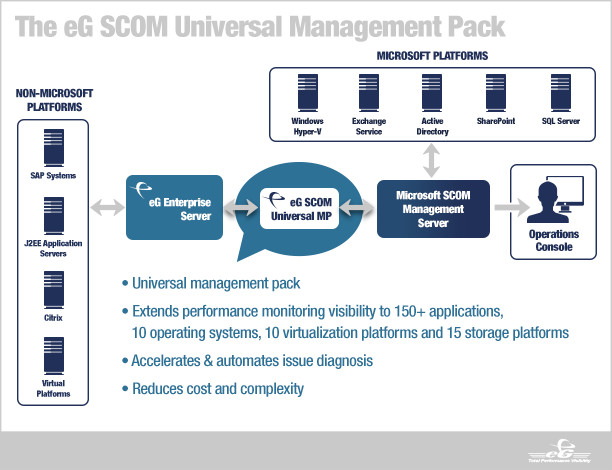 Q: What if I want to monitor more than just Citrix and VMware from SCOM?
A: eG Enterprise empowers you to monitor, directly from inside of SCOM, over 150 applications, 10 operating systems, 10 virtualization platforms and 15 storage platforms. Visit here for the complete list. Further, eG Enterprise correlates the performance of your entire infrastructure to help you immediately understand what bottlenecks are impacting the performance of all of these applications for your users.
Q: Why eG Enterprise vs. other SCOM solutions and management packs?
A: eG Enterprise replaces a multiple-management pack strategy that is designed to simply extend SCOM's coverage to other services and components. Instead, eG Enterprise directly enhances SCOM's capabilities through Microsoft's native API integration, and thereby is able to expand its capabilities in many more useful ways:
Automatically correlated and prioritized, answer-driven diagnostics.
End-to-end visibility throughout your entire infrastructure, across 150+ applications, 10+ operating systems and 10+ virtualization platforms, all from a single SCOM solution.
Unified views of all performance-impacting factors from inside of your SCOM console.
Deep visibility throughout all physical and virtual stacks for detailed analysis.
Historical reporting and analysis that is based upon holistic infrastructure data, instead of individual silos.
With a standard management pack strategy, gaining these capabilities would require a new siloed management pack for each new service/component and extensive manual intervention to perform event correlation and issue diagnosis. eG Enterprise transforms SCOM into a unified solution for understanding and managing all performance-impacting factors across your entire infrastructure, saving you time and allowing you to proactively solve issues before they affect your end-users.
Try it for yourself today with our free, no obligation trial.
On-Demand Webinar: The "One Monitor" | Transform Microsoft SCOM into an End-to-End Monitoring & Diagnosis Powerhouse >
eG Enterprise SCOM Universal Management Pack information page >