We are pleased to announce the general availability of the free eG Enterprise Express Logon Simulator for Citrix XenApp and XenDesktop, a SaaS-based Citrix logon simulator service that is available for free, forever. Free! No charge, no ads. And, no credit card details required.
Why Monitor Citrix Logon?
Citrix logon slowness is one of the most challenging problems Citrix administrators have deal with. End-users login multiple times into their Citrix XenApp or XenDesktop session each day. If the logon is slow or fails, it will directly impact user productivity and, in turn, the business.
Monitoring CPU, memory and disk utilization is no longer sufficient to guarantee good Citrix performance. A user's first interaction with the Citrix service is during logon. This also happens to be most complex step of the Citrix access. So, it is essential to monitor Citrix logon performance.
eG Enterprise Express Logon Simulator – A Must Have Tool for Citrix Admins
With the eG Enterprise Express Logon Simulator, Citrix admins can run simulations of real user logon scenarios for XenApp and XenDesktop sessions from any local or remote endpoint, proactively catching logon problems before they impact end users. An intuitive visualization of step-by-step logon time breakdown enables advanced diagnosis of logon issues, allowing Citrix admins to easily isolate the cause of logon slowness or failure.
Feature Highlights:
Simulates the exact process that users go through when they logon to Citrix XenApp or XenDesktop
Tracks every step of the Citrix logon process, including browser access, authentication, enumeration, HDX session establishment, and application launch
Detects logon issues proactively and helps solve them before users are affected
Tests if the entire Citrix delivery infrastructure is working in concert
Provides real-time dashboards and historical reports customized to monitor Citrix logons
Monitor logon performance for Citrix farms in the public cloud or inside private networks
Monitor Logon Performance

Diagnose the Cause of Logon Slowdown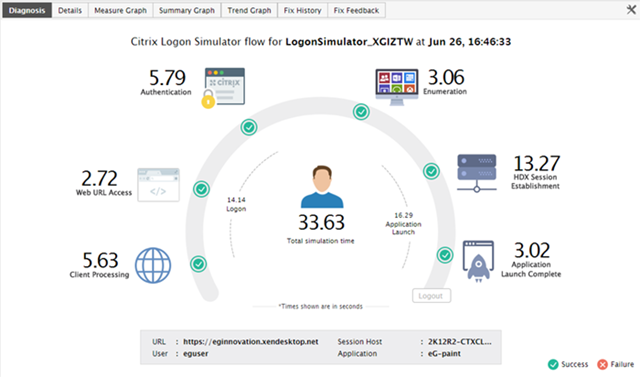 Analyze Historical Reports & Trends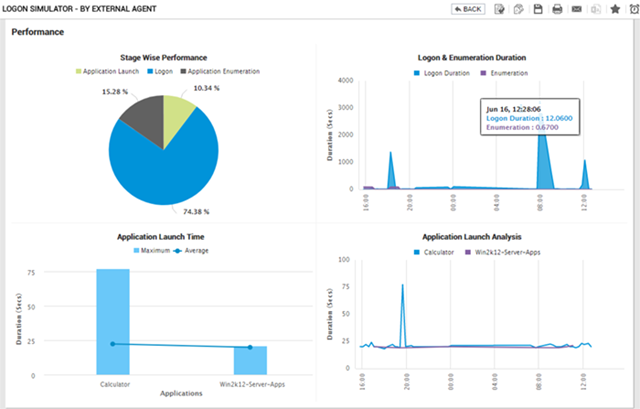 How to Get Started
You can get the eG Enterprise Express Logon Simulator up and running in 3 simple steps:
Log into the SaaS portal with your registered email address and password
Enter the requested information: Your Citrix farm URL and the names of the applications/desktops to be simulated
Download the eG Agent from the portal and install it on the target system where you will run the logon simulation
That's it! eG Enterprise Express Logon Simulator will automatically start performing logon simulation and collecting metrics. You can use the real-time dashboards and 7-day historical reports for performance analysis.
Key Benefits of Using the eG Enterprise Express Logon Simulator
Proactively detect and solve logon issues before end-users contact the helpdesk
Benchmark your Citrix infrastructure: know if any changes (upgrades, patches, etc.) are impacting logon experience
Improve business productivity by delivering fast and uninterrupted Citrix services
Simulated logon testing helps admins understand if all tiers in the Citrix environment are available and working as expected
Learn more about eG Enterprise Express Logon Simulator for Citrix »
eG Enterprise is an Observability solution for Modern IT. Monitor digital workspaces,
web applications, SaaS services, cloud and containers from a single pane of glass.