Seit 18 Monaten hat eG Innovations sein Regionalbüro in Bonn, um unsere Kunden in Deutschland, Österreich und der Schweiz besser zu unterstützen. Neben Vertriebsmitarbeitern unterstützen technische Consultants und Support-Mitarbeiter bestehenden Kunden und potenziellen neue Kunden vor Ort durch unsere Niederlassung mit lokalem und globalem Fachwissen unterstützen.
Schon vor der Pandemie hatte unser Team einen hybriden Arbeitsansatz, so dass die Umstellung darauf, dass jeder von zu Hause aus arbeitet, keine große Herausforderung darstellte. Dennoch ist es manchmal einfacher, zusammenzuarbeiten, wenn sich alle im selben Raum befinden. Deshalb haben unsere Mitarbeiter während des COVID-Ausbruchs im letzten Jahr und auch in diesem Jahr, wann immer es die örtlichen Vorschriften zuließen, die Gelegenheit genutzt, aus unserem Regionalbüro aus zu arbeiten, wann immer es ihnen passte.
Der Neustart in der Region wurde und wird derzeit auch von der Pandemie beeinflusst. So haben wir und darauf eingestellt, dass eG Innovations die fehlenden Präsenz – Veranstaltungen durch digitale Formate zu ersetzen. Hierzu gehören regelmäßige Webinare zu unserer Lösung eG Enterprise sowie auch virtuelle Konferenzen unserer Partner aus Industrie und Handel auf denen wir uns präsentieren und in den Dialog mittels Chat oder Videonachricht einsteigen.
Neben den veränderten Arbeitsbedingungen freuen wir uns dennoch weitere Partner und Kunden in der Region gewonnen zu haben, dies zeigt dass gerade Lösungen die einen Beitrag zur Stabilität und zum Unterbrechungsfreien Transfer von IT Arbeitsplätzen aus einen Büro in die Wohnung des Mitarbeiters mehr denn je gefragt sind. Die Aufgabe die es für Unternehmen derzeit verstärkt zu lösen gilt, ist es Schwachstellen durch IT-Infrastruktur Monitoring zu erkennen und ihnen entgegen zu wirken, bevor der Mitarbeiter sie bemerkt.
Die zentrale Lage Bonn`s und die dort ansässigen Unternehmen, bieten uns durch ihre internationale Ausrichtung ideale Bedingungen, "kurze Wege" zu Partnern und Kunden zu gewährleisten. Unsere Erwartungen wurden an diesem High Tech Standort voll erfüllt, so Michael Dreesbach, der die Niederlassung von eG Innovations für die Region DACH leitet.
Mit einem Team bestehend aus Vertriebs- und Integrations-Partnern sowie den eigenen Mitarbeitern aus Technik und Vertrieb von eG Innovations, bedienen wir derzeit ca. 120 Kunden in Deutschland, Österreich und der Schweiz.
Weitere Niederlassungen von eG Innovations befinden sich in Den Haag (NL), London (UK), Bonn (DE), Chennai (Indien), Singapur, Seoul (Korea), Melbourne (AUS), Brasilien, Iselin (NJ, USA), Vancouver (Kanada), und Hongkong.
---
An update from our team in Bonn, DACH Regional office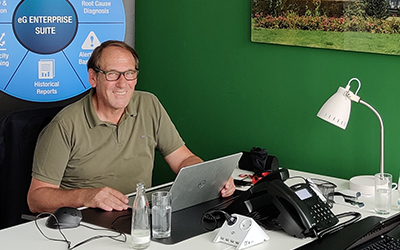 For the past 18 months, eG Innovations has had its regional office in Bonn to better support our customers in Germany, Austria, and Switzerland. In addition to sales staff, technical consultants and support staff assist existing customers and potential new customers on-site through our office with local and global expertise.
Even before the pandemic, our team had a hybrid approach to work, so the transition to everyone working from home wasn't much of a challenge. Still, sometimes it's easier to collaborate when everyone is in the same room. That's why during the COVID outbreak last year and again this year, whenever local regulations allowed, our staff took the opportunity to work from our regional office whenever it suited them.
The reboot in the region has also been and is currently being impacted by the pandemic. Thus, we adjusted to the fact that eG Innovations had to replace our offline presence at physical events and tradeshows with online events in digital format. This includes regular webinars on our solution eG Enterprise as well as virtual conferences of our partners from the industry wherein we present ourselves and enter into a dialog with them via chat or video messages.
In addition to the changed working conditions, we are pleased to have gained more partners and customers in the region. This shows that solutions that contribute to the stability and uninterrupted transfer of IT workstations from an office to the employee's home are more in demand than ever before. The task that companies currently have to solve more and more is to recognize weak points in IT and to counteract them before the employee notices them.
Bonn's central location and the companies based there offer us ideal conditions to ensure "short distances" to partners and customers due to their international orientation. Our expectations were fully met at this high-tech location, says Michael Dreesbach, who manages the branch office of eG Innovations for the DACH region.
With a team consisting of sales and integration partners as well as eG Innovations' own technical and sales staff, we currently serve approximately 120 customers in Germany, Austria, and Switzerland.
Other eG Innovations' offices are in The Hague (NL), London (UK), Bonn (DE), Chennai (India), Singapore, Seoul (Korea), Melbourne (AUS), Brazil, Iselin (NJ, USA), Vancouver (Canada), and Hong Kong.
eG Enterprise is an Observability solution for Modern IT. Monitor digital workspaces,
web applications, SaaS services, cloud and containers from a single pane of glass.