The Evolution of Citrix Technologies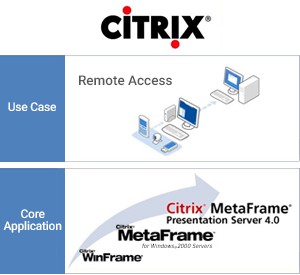 Monitoring the Citrix Workspace can be done with native tools or third-party monitoring tools. eG Innovations has been a Citrix partner since 2003, helping companies deliver better end-user experiences by proactively monitoring their Citrix Workspaces. Back in 2003, Citrix's messaging was around "access". Thin client computing and then server-based computing were the hot topics. Discussions around the efficiency of RDP and ICA ruled and Citrix Resource Manager was the best way to monitor a Citrix server. What was then Citrix MetaFrame soon became Citrix Presentation Server, then Citrix XenApp, and now Citrix Virtual Apps.
Citrix and the industry have come a long way since then. No longer is Citrix a single product company. Citrix Virtual Desktops is the technology that enables delivery of hosted virtual desktops provisioned. Citrix StoreFront provides a customizable web front-end to access applications. Rather than dealing with individual server instances, one can now rely on Citrix Provisioning to stream the operating system. Licensing is now centrally handled by a Citrix License server. And virtualization has become the norm with Citrix Hypervisor (previously called Citrix XenServer) being one of the hypervisor choices. To optimize remote access, Citrix ADC (previously NetScaler) now plays a key role. All security, load balancing, tunneling and other networking features are centralized in NetScaler.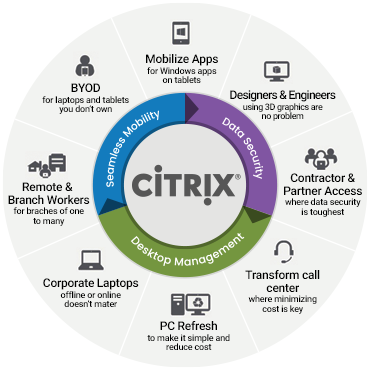 To provide access through mobile devices, Citrix Endpoint Management (previously XenMobile) plays an important role. Enterprise storage can now be managed using Citrix Content Collaboration (previously ShareFile), with the data being stored entirely in the cloud, or on premises on storage zones. And now, customers can even spin up Virtual Apps instances in the cloud, on demand. Citrix Cloud allows customers to provision applications and desktops in the cloud.
The use cases of Citrix technologies are also many. Bring your own device (BYOD), FlexWork, remote partner access to sensitive data in a secure manner, call center transformation to lower costs, corporate access from anywhere at any time, desktop replacement initiatives, etc., are some of the popular initiatives where organizations are using Citrix technologies.
What is a Citrix Digital Workspace?
The Citrix digital workspace is an integrated technology framework for delivering and managing the delivery of applications, data, and desktops. Leveraging multiple technologies, a Citrix digital workspace provides a unified, contextual, and secure experience for IT and end users.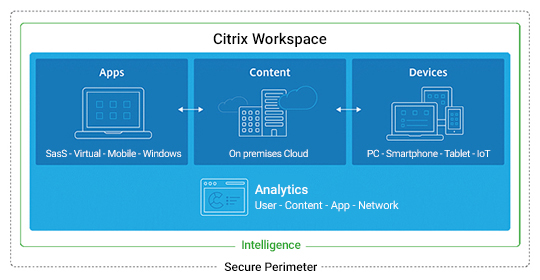 The key components of a Citrix digital workspace include:
App and desktop virtualization
File sharing and content collaboration
Unified endpoint management (EMM, MDM, MAM)
Secure access to SaaS apps/secure browsing
Single sign-on (SSO)
Advanced analytics and monitoring
Why Monitoring Citrix Digital Workspace is Important?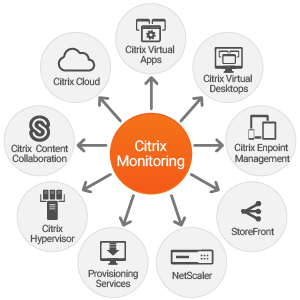 For these initiatives, performance is the key success factor. Users of virtual desktops or virtual applications expect the same performance as they had with physical desktops or applications.
As you had seen earlier, the Citrix part of the IT infrastructure itself has many components, not to mention the other third-party dependencies (e.g., profile management, Active Directory, storage, etc). For Citrix deployment success, every piece of the infrastructure must work fine. This is where the need for a total Citrix performance management solution comes in.
eG Enterprise: Single Pane of Glass for Citrix Monitoring
The Citrix Ready-certified eG Enterprise performance monitoring, diagnosis and reporting solution from eG Innovations has the broadest coverage in the industry for Citrix technologies. From a web browser, you can monitor and manage every tier of the Citrix infrastructure from a single dashboard.
Citrix has partnered with eG Innovations to help their customers enhance their IT infrastructure monitoring capabilities. Take a look at this video to get a quick overview of the four key areas where eG Innovations helps Citrix customers:
eG Enterprise is an Observability solution for Modern IT. Monitor digital workspaces,
web applications, SaaS services, cloud and containers from a single pane of glass.