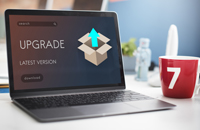 The clock is ticking on Citrix XenApp 6.5. End-of-life (EoL) process for XenApp 6.5 has already commenced and we are nearing the end-of-maintenance (EoM) period (June 30, 2018). As organizations go through with the process of upgrading to the latest XenApp and XenDesktop 7.x, it is important to ensure there is no performance degradation during and after migration. The upgraded platform should be on par with, or deliver better performance than the older version of XenApp/XenDesktop. Only then can the upgrade be considered a success.
A typical migration process is not an easy switch, but especially so if one if moving up from earlier versions, such as migrating from 4.x/5.x/6.x to 7.x. Typically, it will be a staged process where both older platform and the new 7.x platform will need to be run in parallel until the migration is complete and the new environment is live in production. Performance management of both the environments is critical for the business.
There is much to deal with for Citrix administration teams managing the migration to 7.x, which includes significant architectural changes and functionality enhancements. White there are many new features in 7.x, such as the unified FMA architecture, adaptive transport, HDX enhancements, and profile management improvements – to name a few – there are also some key functionalities that are not carried over into 7.x from 6.5, most notably, Citrix EdgeSight. Yes, EdgeSight is no more – which means performance management is going to be a challenge, going forward.
eG Innovations White Paper
Read the new white paper from eG Innovations, which details five best practices for achieving peak performance of the Citrix infrastructure and stellar end-user experience during and after the migration to Citrix XenApp and XenDesktop 7.x. Get important tips on how to overcome what you will miss from EdgeSight, and put in place a strategy for holistic Citrix performance monitoring. This white paper provides insights on how to:
Benchmark end-user experience
Baseline resource usage patterns
Track performance of all Citrix tiers and supporting infrastructure
Stay ahead of user complaints after migration
Right-size the infrastructure to deliver maximum ROI
Download the free white paper today, and ensure a seamless and successful migration to XenApp and XenDesktop 7.x:
Upgrading to Citrix XenApp and XenDesktop 7.x: 5 Best Practices for Performance Assurance »