Cloud Services for Government – Best Practices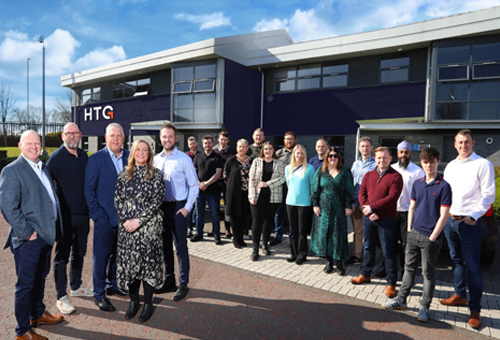 Today's blog comes from Kevin Howell, CEO of UK partner – Howell Technology Group (HTG) about their work supplying secure cloud technologies and remote working solutions to government and regulated customers. HTG are a trusted industry leader in the UK, who offer virtual desktops, managed services and efficient modern workplace solutions. Their solutions are also available with the UK Government's Digital Market place under the G-Cloud Framework.
Q: What type of government and public sector organizations do you work with?
HTG have a broad customer base in both the public and private sectors including financial services. In the public and government sectors our recent projects have included:
The largest UK Public Housing Association (Clarion Housing PLC) was created by merging multiple organisations to create a single entity with over 10000 users. The project involved consolidating several private data centres, creating a hybrid cloud solution by migrating from on-prem Citrix to Citrix Cloud with Azure AVD.
Southern Housing Group (SHG) digital cloud transformation, application roadmap and hybrid strategy, design, delivery and managed service.
Intellectual Property Office (IPO) digital cloud transformation, application roadmap and strategy.
Local councils (Renfrewshire Council, North Tyneside Council, South Tyneside Council) digital cloud transformation, application roadmap, IT strategy and design.
DWP (Department for Work and Pensions), the UK's biggest public service department – IT roadmap and transition to hybrid cloud for 120k users UK wide.
Q: What technologies are these types of organizations currently adopting?
Since the pandemic the transformation towards public cloud has accelerated cloud migration projects and increased the consumption of SaaS and cloud-based services (Teams/M365/Azure).
Azure Virtual Desktop (AVD) is being adopted and bolted on to existing Citrix deployments to provide an agile Op-Ex pay as you grow service. We are seeing quite a few clients going to native AVD and replacing Citrix with other products such as Nerdio which offers great value and functionality.
Since most organizations have adopted O365/M365 and its supporting technologies the journey from on-prem to cloud has accelerated. We are seeing less investment in on-premises infrastructure. The exception to this trend is for heritage/legacy line of business applications where the cloud native journey doesn't stack up for a variety of reasons (latency, existing Cap-Ex investments, time/cost to transform or develop cloud native application etc.)
Security – Ensuring that businesses and their users are secure and not compromised has never been so important. The security boundary of the corporate office and data centre has changed. Users are working from anywhere, on all sorts of equipment accessing data from everywhere. Understanding and controlling these risks is key to preventing security breaches and data loss. M365 has a lot of security built in and we are seeing a lot of customers move from third party security products to built-in products such as Defender/Sentinel.
Q: What is G-Cloud?
HTG is an established member of the UK Government's G-Cloud (Government Cloud) Framework. G-Cloud is a UK Government initiative aiming to make the procurement process of commercial services and cloud technology easier and quicker for government and public bodies. The platform eases the procurement of IT technology for public sector organizations by showcasing government-approved services and removing the need for a long complicated tender procurement process – buyers can simply access a pool of approved commercial suppliers.
As one of the UK's leading Cloud specialists, we have all the tools necessary to successfully implement a move to the Cloud for our customers – helping them do it once, do it right, everywhere. By being on the G-Cloud framework, we can offer our best-in-class solutions and services to government bodies seeking to procure cloud hosting, cloud software, or cloud support. Government and Public sector buyers can view all our services listed on the framework. These span all Public, Private, Hybrid Cloud solutions and services.
Q: How can customers be assured of security with cloud technologies?
As a supplier we ensure we fully embrace partner accreditation and certification schemes and can demonstrate to customers our staff's experience and qualifications. Cyber Essentials Plus is a UK government-backed scheme that helps to protect organizations, whatever their size, against a whole range of the most common cyber-attacks. Our CE Plus status requires a hands-on verification process, meaning we are well positioned to ensure the highest security standards.
We are proud that HTG is a Microsoft Identity and Access Management advanced specialist, Identity and Access Management helps protect your organization by securing access to the connected world for all of your users, smart devices, and services. This specialization was achieved thanks to our successful implementations of Identity and Access Management solutions for our customers plus specialist exam achievements by the HTG team.
An established experienced supplier such as HTG will understand the regulatory compliance frameworks and standards governments work to, including those around data control and protection
Q: Beyond security what other factors do government customers value?
For many of our regulated customers sustainability, Circular IT and Green IT are becoming increasingly important. Organizations in the public sector, regulated or production-heavy industries are seeking to reduce their impact on the environment, this is driven by both regulation and ethics but also because there can be significant cost savings associated. Beyond supplying technologies and services, we often work with customers to help them develop their strategies around sustainability and help them quantify the benefits of initiatives such as hybrid working practices, migrating to the cloud and so on. See: How to build a modern workplace with sustainability in mind (htg.co.uk).
Value and choice are very important for organizations that have to demonstrate they are cost-efficient and deliver high quality services. It is very important that we offer the widest range of market options and enable customers to avoid vendor lock-in both on pricing, but also to ensure in the long term newer and improved technologies can be adopted. As such we are multi-accredited vendor partners and cloud experts. In our toolkit, we have technologies from Microsoft, Citrix, VMware, eG Innovations, Nerdio, LoginVSI, IGEL, Dell and many other partners.
Reliability and experience – as boring as they sound, we retain and gain new business because over 25 years we have built up a reputation for reliability and for having a large team of highly experienced experts. For government and public sector organizations, especially those with long-term projects, an established company with a large physical presence in the UK offers them continuity and assurance. We are always fast to certify for emerging technologies to ensure we offer modern technologies – for example, in 2020 HTG became one of the first IT companies in Europe to attain Microsoft AVD (Azure Virtual Desktop) Advanced Partner Specialist specialization. This type of accreditation represents a differentiator that sets HTG apart from other providers.
About HTG:
HTG deliver IT expertise and cloud services; we get you on the right track for a secure and modern workplace.
HTG's 25 years of industry experience, the team of high-performance experts and principles of continuous training mean that we've seen it all and know what's coming. So, we promise to guide our clients along a clearly defined digital roadmap with ambitious goals in mind. Our clients love the fact that we deliver real, measurable change. And we love making a difference!
You can read a bit more about how we offer value in Why do businesses outsource their IT? Benefits & Considerations (htg.co.uk).
eG Enterprise is an Observability solution for Modern IT. Monitor digital workspaces,
web applications, SaaS services, cloud and containers from a single pane of glass.
Learn More: