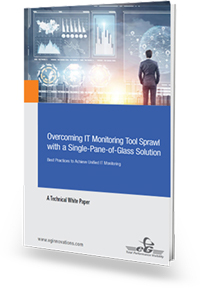 Although performance monitoring is a critical aspect of IT operations, without a planned and well-defined monitoring strategy in place, most IT teams – large and small – find themselves caught in the trap of "too many monitoring tools": custom in-house tools, open source tools, packaged tools, and more, that add up over time. In fact, a survey by Enterprise Management Associates (EMA) found that 65% of organizations have more than 10 monitoring tools.
This is certainly problematic in the long run:
There is cost overhead and management complexity in dealing with too many tools.
One person cannot be an expert in the use of all monitoring point-solutions. So, dedicated personnel are required to use different tools.
Disparate tools mean disparate alerts and notifications from different parts of the network. Without centralized and correlated visibility across all parts of the IT environment, it is difficult to make sense of raw data and quickly identify the root cause of issues.
For years, IT managers have sought a single-pane-of-glass tool that can help them monitor and manage all aspects of their IT infrastructure – from desktops to servers, hardware to application code, and networks to storage.
Read this eG Innovations white paper as it discusses the problem of "monitoring tool sprawl":
How an organization ends up with more tools than what they need
The challenges of dealing with multiple tools
Myths and popular misconceptions about a single-pane-of-glass monitoring tool
Best practices for achieving unified IT monitoring
Benefits of consolidating monitoring into a single-pane-of-glass monitoring solution