https://www.eginnovations.com/java-performance-monitoringSeveral years ago when we started to use Java technology in our products, this technology was in its infancy. We had a lot of teething problems, but multi-platform support was important to us and we continued to pull along with Java technologies.
For many years, Java has lacked cost-effective, easy to use tools and methodologies to monitor applications. Troubleshooting was often a manual, trial and error approach.
As our monitoring application got bigger, troubleshooting just got way more complex. Byte-code instrumentation has been one of the common ways that monitoring and troubleshooting tools for Java applications have used. This technology has been very expensive and resource intensive, and hence, often used in development environments and not in production.
The last couple of Java releases (JDK 1.5 and higher) have incorporated excellent monitoring and diagnostic interfaces that can be used to troubleshoot Java applications. The need to understand how our own Java-based monitoring application necessitated that we take a closer look at these monitoring specifications and interfaces for the Java Virtual Machine.
The result – a new Java monitoring module that is going to be available as an integral part of our next major product release.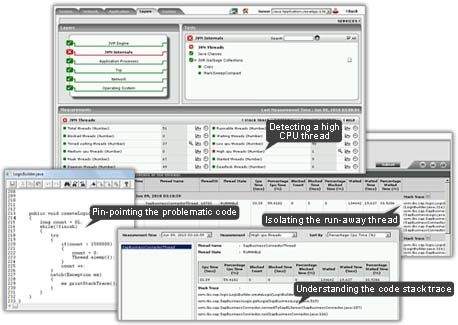 This software has been extensively used in our labs for the last couple of years, and i have experienced first hand how effective this technology is. The level of visibility and the precision of the diagnostics are incredible. This module has saved us endless hours of troubleshooting time and we hope that when this gets to our customers, they will benefit in the  same way.
We're quite excited about this capability – the instrumentation provided in the JVM has been great, and hats off to our developers for providing a very clean and easy to user interface that should be simple to use not just for any support person but will also appeal to any Java programmer because it provides navigation similar to many of the tools built into the JVM.
You can read more about this technology here. You can also take a sneek-peak at this technology by viewing a recorded demonstration here. Please do contact us if you are interested in getting access to an early release of this software.