eG Innovations at IGEL DISRUPT 2023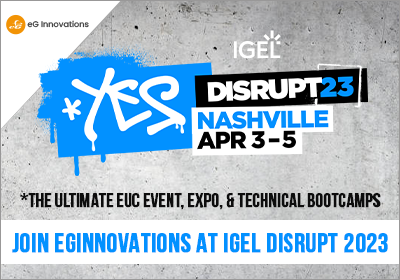 eG Innovations is an IGEL Ready partner, and I'm delighted to let you all know that we are sponsoring the IGEL DISRUPT End User Computing (EUC) Forum taking place in Nashville, April 3-5, 2023. DISRUPT is a major global event focused on end user computing and the delivery of secure, high-performance digital workspaces to increasingly distributed hybrid workforces, from the cloud. To explore the agenda for the DISRUPT23 Nashville, click here.
I will be there with other colleagues from the eG Innovations' Americas' teams. We will be on hand to answer questions and offer a demo of the recently released version of our AIOps driven eG Enterprise (version 7.2) monitoring and observability platform including enhanced support for IGEL, Citrix, Microsoft AVD, Amazon WorkSpaces, VMware and all your favorite EUC and digital workspace products.
For Enterprise and MSPs, we can offer secure multi-tenant support with flexible and transferable licensing.
What eG Enterprise Supports for IGEL Monitoring?
As you may be aware, eG Enterprise is a leading monitoring and observability solution for any type of end user computing environment – whether based on Citrix, VMware Horizon, Amazon Workspaces or AppStream 2.0, Microsoft Azure Virtual Desktop, or just plain old Remote Desktop Services. While insights into these technologies is a key to proactively monitoring and quickly troubleshooting any user experience issues, at the same time, it is important to track the endpoints' performance. With work from home becoming popular, the need to track what is happening on the endpoint has become even more important than before. This is where IGEL monitoring fits in.
eG Enterprise offers three key capabilities for IGEL monitoring:
Monitoring of all the IGEL endpoints
Monitoring of IGEL Universal Management Suite
Monitoring of IGEL Cloud Gateway
We will be showcasing our capabilities in these areas at IGEL DISRUPT 2023. A quick one page overview of our solutions for IGEL is available, see: Monitoring IGEL Endpoint Deployments (eginnovations.com) or check out our IGEL solution pages: IGEL Monitoring & Endpoint Terminal Monitoring (eginnovations.com).
Monitoring IGEL Endpoints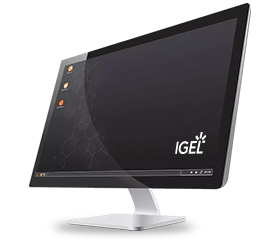 Deploy a light-weight agent on the IGEL endpoints – whether they are at home or in a corporate network. Push agents automatically at boot time from UMS to all endpoints. Track all key metrics including CPU, memory, and disk usage on the endpoints, network traffic to and from the endpoints, processes running, WiFi strength, network latency to the home router, latency to the Internet, etc. Report these to the eG Enterprise console for monitoring, analysis and reporting.
eG Enterprise's capabilities for IGEL endpoints allow you to:
Monitor all endpoints and track which ones are short of resources
Identify if any resource intensive processes are slowing down an IGEL endpoint
Provide helpdesk staff end-to-end views with root-cause diagnostic overlays and drilldowns from a user session to their IGEL endpoint, enabling faster and more accurate diagnosis
Benchmark endpoint resource usage and performance and detect any deviations from normal
Detect any home network issues impacting EUC performance.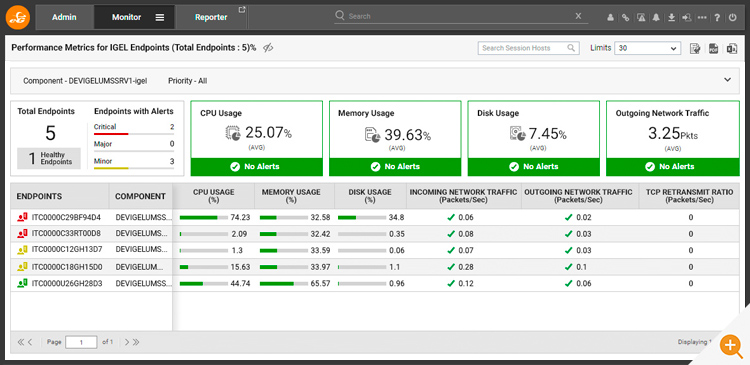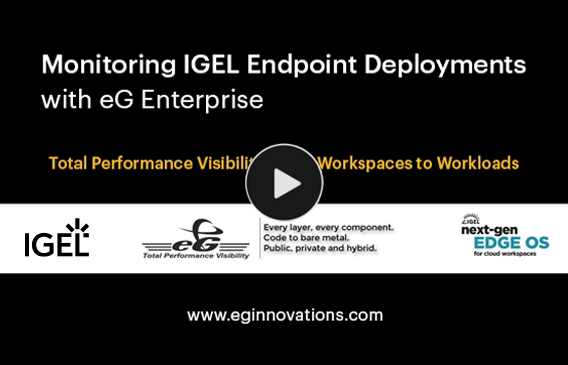 Monitoring IGEL UMS
The IGEL Universal Management Suite (UMS) is used to manage and deploy IGEL endpoint devices. An IGEL endpoint device will typically contact the IGEL UMS when it boots up, to check for updates, configurations, and other management tasks. The IGEL device receives its initial configuration from the UMS, and then check in periodically to ensure that it is running the latest version of the firmware and to receive updated configurations.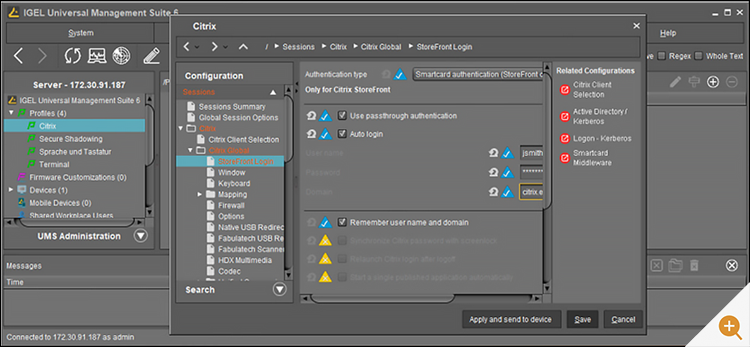 If IGEL UMS is slow or is down, it can cause a number of problems for organizations that rely on it to manage their endpoint devices:
Lack of visibility: Without access to UMS, administrators may not be able to see the status of endpoint devices or troubleshoot issues.
Difficulty managing devices: Without access to UMS, administrators may not be able to perform tasks such as software updates, configuration management, and security management.
Difficulty identifying and troubleshooting issues: UMS provides monitoring and reporting capabilities, so without access to it, administrators may find it difficult to identify and troubleshoot issues with endpoint devices.
Difficulty in creating device profiles: UMS allows for the creation of different device profiles, which can be assigned to specific groups of devices, making it easy to manage different types of devices with different configurations. Without UMS, administrators may have to manually configure each device.
Security risks: Without being able to manage and update endpoint devices, there could be security vulnerabilities that are not patched, which could lead to security breaches.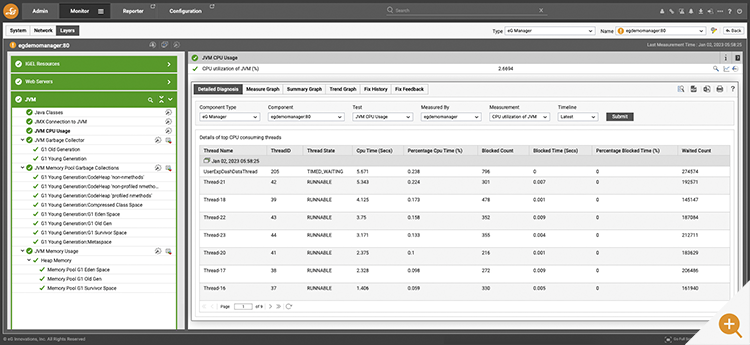 eG Enterprise provides comprehensive monitoring for IGEL UMS. You can answer key questions such as:
Are the IGEL UMS servers available and responding well?
Do they have sufficient resources to handle the workload?
Is the UMS application configured correctly – does it have enough Java heap space?
Are any threads in the JVM blocking others or taking excessive CPU?
Are the key UMS processes operational?
Are the SSL certificates configured on UMS working and are they nearing expiry?

Monitoring the IGEL Cloud Gateway
The IGEL Cloud Gateway acts as a bridge between the IGEL endpoint devices and the IGEL control plane. It allows endpoint devices to securely connect to the control plane, even if they are behind a firewall or in a remote location with no direct internet access. The Cloud Gateway enables endpoint devices to receive updates, configurations, and other management tasks from the IGEL control plane, even if the device is located in a restricted or disconnected environment.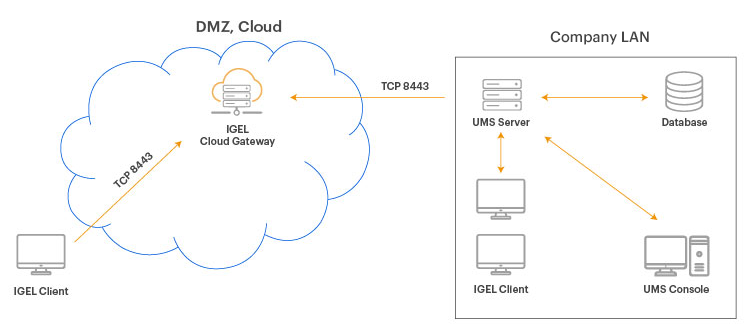 Monitoring of IGEL Cloud Gateways is important. Since it is the entry point for IGEL endpoints connecting from a remote location, if the IGEL Cloud Gateway is down, IGEL endpoints from a remote location cannot connect to the IGEL control plane. Users will therefore be deprived of access to the end user computing environment. eG Enterprise continually offers answer to common questions, including:
How many IGEL endpoints are connected through IGEL Cloud Gateway?
How many endpoints are disconnected and how many endpoints are logging out, when connected through IGEL Cloud Gateway?
What is the HTTP session load on IGEL Cloud Gateway? Is / was the count of HTTP sessions initiated on / terminated from IGEL Cloud Gateway abnormally high?
How many Error, Debug and Info messages were logged in the log files of the IGEL Cloud Gateway? What was the error message that was frequently recorded in the log files?
All of the above capabilities make eG Enterprise a complete solution for IGEL products.
eG Enterprise also offers metric thresholds and alerting configured out-of-the-box, automated root-cause diagnostics, topology map and rich dashboards, built-in live and historical reporting, complementary synthetic and RUM (Real User Monitoring) to provide end to end Digital Employee Experience monitoring for environments leveraging IGEL.
eG Innovations is an IGEL Ready technology partner.
Additional Information on eG Enterprise
If you aren't familiar with current versions of eG Enterprise and want to do a little pre-event research or catch up on our AIOps based product offering monitoring, alerting, root cause diagnostics, synthetic monitoring, cloud platform observability and more, please see:
IGEL DISRUPT 23 – An Event for the Community and EUC Ecosystem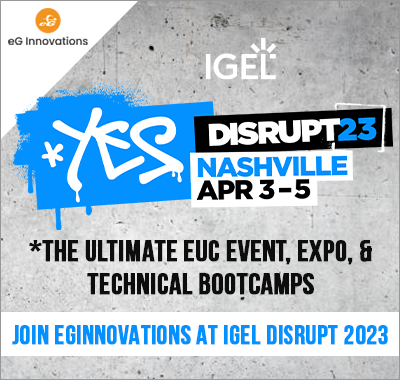 This is shaping up to be a great opportunity to learn about and network with a wide range of EUC vendors and partners.
Sponsors and exhibitors currently confirmed (besides as eG Innovations) include: AWS, LG Business Solutions, HP with AMD, Lenovo, Parallels, Citrix, Flexxible, Microsoft, Nerdio, VMware, Workspot, 7Signal, Nutanix, Imprivata, ControlUp, PrinterLogic, 10ZIG, Cameyo, DeviceTrust, Intel, Liquidware, Liquit, LoginVSI, Nexthink, Nutanix, Rimo3, Seal Shield and Tricerat.
IGEL have also arranged involvement by both the Citrix User Group Community (CUCG) and the VMware User Group (VMUG) community.
To register for IGEL DISRUPT End User Computing (EUC) Forum, visit: www.disruptEUC.com.