Today, I'll cover the benefits of monitoring and observability in Nutanix AHV environments and Hyper Converged Infrastructures (HCI) and how observability can help IT teams run cost-efficient, performant Nutanix deployments.
Modern enterprises need infrastructures designed for resilience, cost-effectiveness, and application performance. Organizations are adopting hybrid multi-cloud strategies and looking to simplify and optimize on-premises and data center operations. Nutanix technologies are designed for these modern architectures allowing organizations to leverage bare-metal, virtualization, software-defined infrastructure, hybrid and multi-cloud, on-premises and off-site datacenters.
Since Nutanix HCI environments host business critical applications, it is very important that IT operations teams keep an eye on how well the infrastructure performs. However, monitoring the whole IT infrastructure is a tedious process. It just not involves monitoring the existing and newly added devices, but also monitoring both physical and virtual machines, along with the operations and services running on them, the network resource consumption, any configuration changes made to them etc.
What does Nutanix offer?
Nutanix Hyper Converged Infrastructure (HCI) combines servers and storage into a distributed infrastructure platform with intelligent software to create flexible building blocks that replace legacy infrastructure consisting of separate servers, storage networks, and storage arrays. It is a way to provide the benefits of a cloud model but within your own data center. Separate servers, storage networks and storage arrays can be replaced with a single hyper-converged infrastructure solution.
The converged nature of the solution makes it particularly easy for organizations to incrementally scale in parallel to usage and number of users.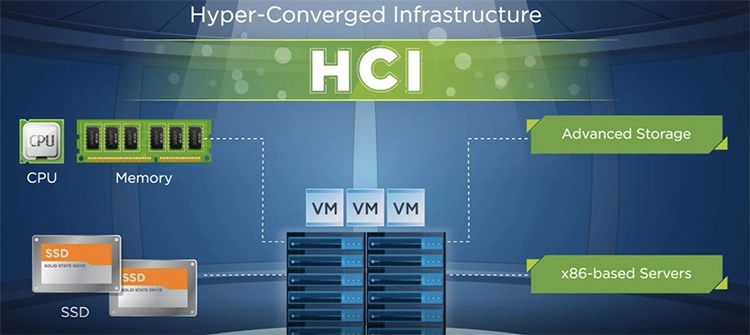 Nutanix HCI is a popular option with MSPs and service providers fulfilling the demand in many regions for increased data localization, often associated with government and industry regulatory compliance. See: How MSPs can Capitalize on the Rush to Localize IT Services.
Nutanix Cloud Platform: Beyond on-premises hardware appliances and support, Nutanix have leveraged their deployment stack to offer an abstraction layer for hybrid and multi-cloud use cases. Nutanix support the use of public clouds directly or via hybrid and multi-cloud offerings via offerings such as Citrix Cloud.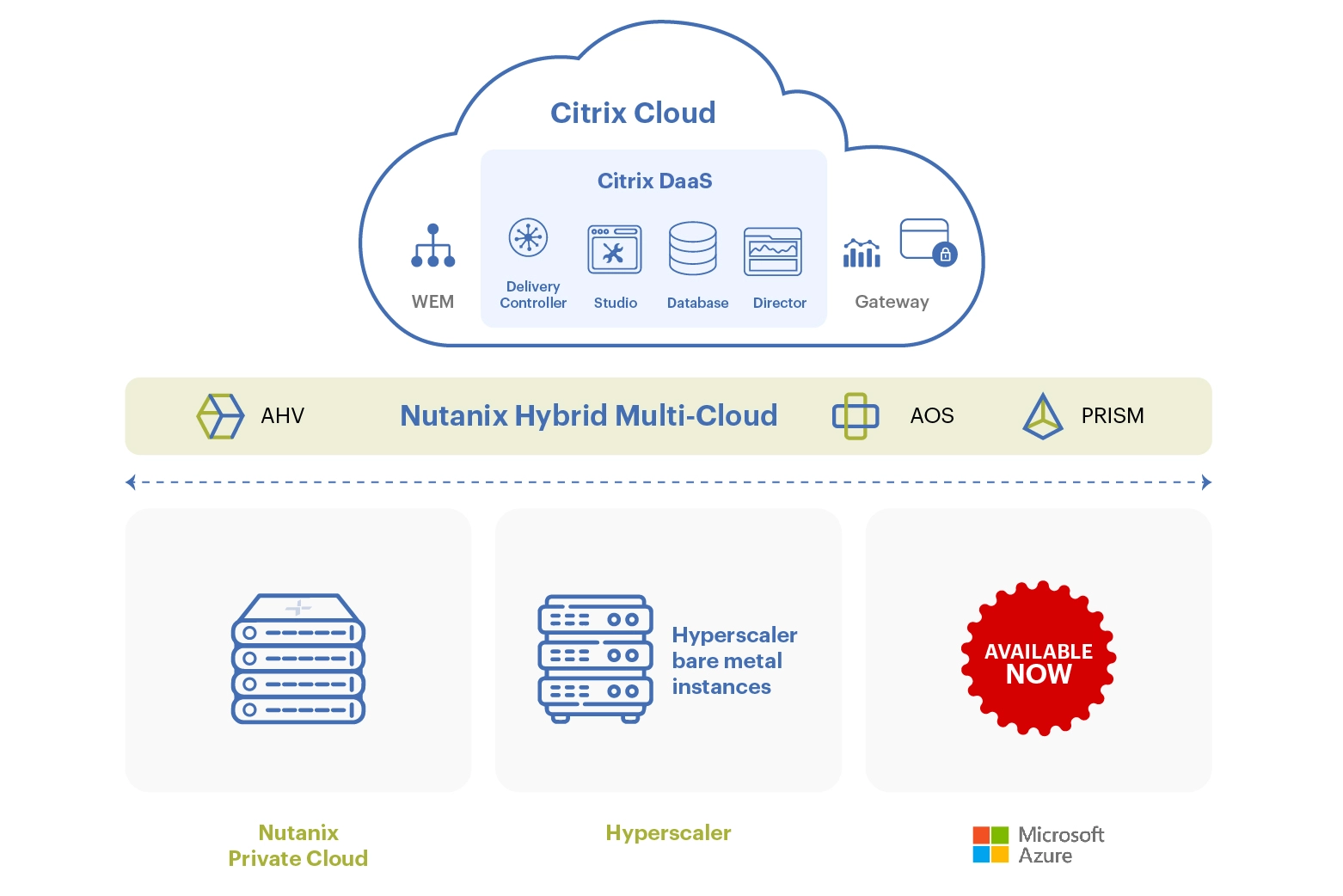 Learn more about Nutanix Hybrid Multi-cloud usage at, Hybrid Cloud Solutions and Multi-cloud Management | Nutanix or about Nutanix + Citrix at, Citrix VDI Solution | Run Citrix Virtual Desktop & Apps on Nutanix.
Nutanix AHV relies on HCI technology which can integrate computing, virtualization, storage, networking, and security to meet your enterprise needs. It is built on the open-source KVM (Kernel-based Virtual Machine) technology which allows you to create a flexible and high-performance HCI platform. Moreover, it is available for free as it comes along with the Nutanix HCI platform.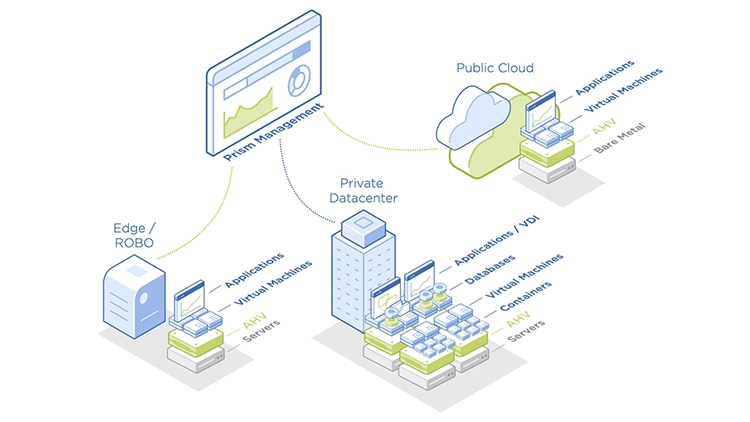 Challenges with Nutanix Infrastructures
Nutanix leverages hypervisors such as, Nutanix AHV, VMware ESXi / vSphere, or Microsoft Hyper-V to combine compute and storage into a single 'Hyperconverged' software. Business critical applications running over Nutanix HCI require continuous observability into application and virtual infrastructure performance. The activities between virtual servers and application workloads which can run in VMs and/or containers are crucial for IT admins and customers to gain critical insights into user experience and application and infrastructure performance.
In a Nutanix-inclusive environment, establishing effective, continuous monitoring of Nutanix implementations is critical for observability. Ideal Nutanix monitoring tools closely monitor metrics related to clusters, storage and VMs in the Nutanix system to identify issues and nip them in the bud before they start affecting businesses.
Despite its many advantages, Nutanix hyperconverged infrastructure can be quite complex, and like every other system, requires adequate performance monitoring to detect issues.
One of the areas where IT administrators struggle is troubleshooting and root-cause diagnosis which can be time-consuming. Identifying the source of various performance bottlenecks adds to the effort and prolongs the troubleshooting process.
As an IT admin, you may have the observability capabilities to answer key Nutanix performance questions such as:
Are Nutanix AHV nodes properly sized in the Nutanix AHV architecture?
Which VMs are powered on, which are not?
How is the resource allocation in the Nutanix AHV cluster?
Which VMs are causing most IOPS and why?
What are the top processes consuming high CPU inside the VMs?
What is the storage pool disk utilization and how much free space is left?
Are Nutanix AHV Prism services up and available?
Even if you do, this is only part of the issue. Your end users do not interact directly with the Nutanix infrastructure. Their complaints relate to the services they are accessing – e.g., a business critical web service, or a virtual desktop service offering secure, remote access. Nutanix built-in tools do not have the visibility of all the tiers involved in IT service delivery (e.g., desktop brokering, Active Directory, file storage, messaging, etc).
How does eG Enterprise Monitors Nutanix Cloud, AHV and HCI for full Observability?
Through native integration with Nutanix Prism via REST APIs, eG Enterprise offers visibility into the performance of the Nutanix AHV, the controller VMs (CVMs) on each hypervisor, virtual machine status and resource usage levels, storage disks, and network infrastructure.
With eG Enterprise, you can:
Automatically discover your Nutanix enterprise cloud platform
Monitor the performance of all key elements of the Nutanix platform with out-of-the-box auto-baselined thresholds providing alerting with no need for manual configuration
Identify resource bottlenecks on the Acropolis hypervisors, and understand where to invest additional resources for enhancing capacity
Leverage rich ready-to-go dashboards, reports and topology maps
Track VM migration and compare KPIs to identify resource-intensive VMs
Monitor storage pools and clusters managed by Prism and view data in context of hypervisor, VM and application performance.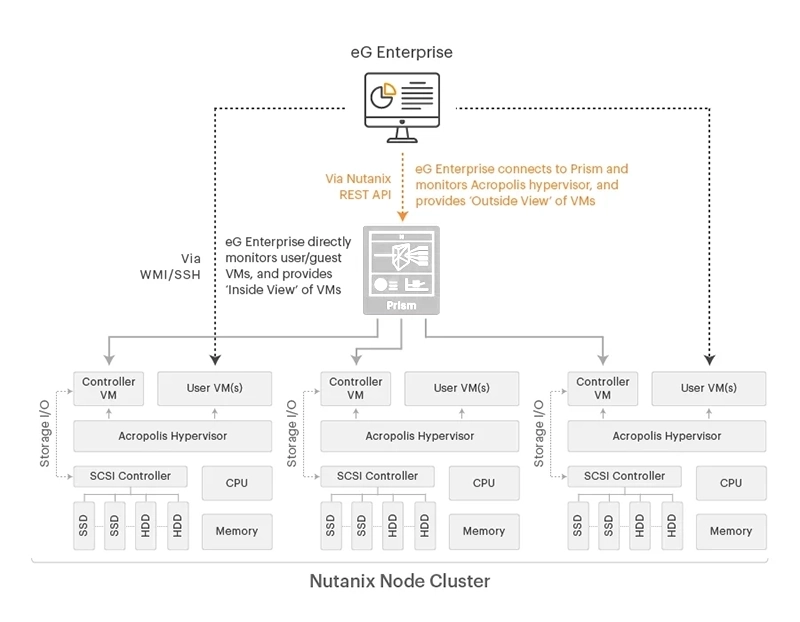 The latest eG Enterprise v7.2.4 is a Nutanix Ready verified observability and monitoring solution, tested and verified on the latest Nutanix AHV/AOS (6.5.x), and is listed here: https://www.nutanix.com/au/partners/technology-alliances/eg-innovations
eG Enterprise is the only solution that offers inside and outside views of virtual machines using one agent and one license. You do not have to have additional licenses to monitor the VM operating system.

Using Nutanix APIs, eG Enterprise discovers the VMs on a hypervisor and the resource usage of each VM and other KPIs including CPU ready time. Analyzing these metrics can reveal which VM is a resource hog on a hypervisor.
Using a light agent inside each VM, eG Enterprise also collects information about the VM OS usage and performance. These details help eG Enterprise go to the extra level of pointing out which application/applications running on a VM is/are responsible for a resource usage spike.
Why do I need another monitoring tool when I have Nutanix Prism already?
Nutanix Prism gives you visibility into the Nutanix components alone. When a user complains that their virtual desktop is slow, the issue could in the desktop brokering (e.g., Citrix, VMware), or it could be in the network, or even on the user's endpoint. eG Enterprise provides the total performance visibility needed to proactive monitor, troubleshoot and optimize their application and desktop deployments on Nutanix.
| | |
| --- | --- |
| | Customers choose Nutanix for scalability, performance and enhanced integration. Great performance of application and digital workspace workloads is not just dependent on the hypervisor. Since there are different tools for different parts of the stack, customers lack end-to-end visibility. Hence, performance issues are difficult to troubleshoot and MTTR is high. |
eG Enterprise provides a unified monitoring solution for monitoring everything – from application to desktop to hypervisor and storage. Customers get complete end-to-end visibility into all the tiers supporting an IT service – including connection brokers, web servers, license and profile servers and networking. They also get a full range of synthetic monitoring options for proactively monitoring user experience. eG Enterprise also embeds AIOps technology that supports anomaly detection and automatic root-cause diagnosis (many other tools require manual analysis).
Beyond this, in the single console, eG Enterprise will give you the same level of insight into dependencies and non-Nutanix technologies. With dedicated help desk views this means frontline support can direct user support issues to the correct IT team rather than the Nutanix team, if appropriate, ensuring issues in Office 365, MS Teams, Citrix, Databases, Active Directory or thin-clients are handled faster.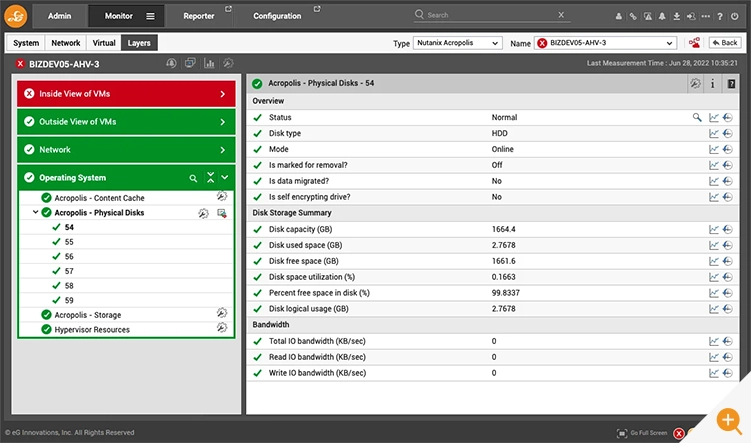 What are the Different Use Cases for eG Enterprise Observability and  Monitoring of Nutanix?
Customers use eG Enterprise to monitor any workload on Nutanix. Common workloads include virtual desktops, virtual applications (Citrix), web applications, database applications or enterprise applications like CRM and ERP.
eG Enterprise can be used in staging and testing environments along with stress testing tools to identify where the performance bottlenecks lie when faced with heavy load.
In production, eG Enterprise helps pinpoint where the root-cause of problems lie – e.g., when a user says there is slowness, is the hypervisor to blame or could the issue be elsewhere (e.g., workload change, application delivery bottleneck, etc).
By analyzing performance over time, eG Enterprise also provides recommendations for right-sizing, optimization and planning. E.g., IT admins can detect VMs that are oversized and by reducing their configuration, they can save resources and money for their organization.

How MSPs using Nutanix can benefit from eG Enterprise's observability?
Nutanix is a popular choice for MSPs (Manage Service Providers) and eG Enterprise offers a secure fully segregated multi-tenant architecture with a wealth of MSP tailored features such as tenant views and tenant self-service allowing MSPs to offer premium monitoring services. Coupled with flexible pay-as-you-go and monthly billing and licensing, eG Enterprise's has become the leading multi-tenancy monitoring solution.
Many organizations choose Nutanix HCI hardware because they have data regulation and compliance needs that are best met by on-premises hardware. Whilst eG Innovations does offer a ready-to-go fully managed SaaS solution, we also offer self-management and deployment on-premises or in a cloud of your choice to fulfil customers' needs (many products are SaaS only). Licensing can be perpetual, subscription or SaaS-based.
eG Enterprise is an Observability solution for Modern IT. Monitor digital workspaces,
web applications, SaaS services, cloud and containers from a single pane of glass.
eG Enterprise is an Observability solution for Modern IT. Monitor digital workspaces,
web applications, SaaS services, cloud and containers from a single pane of glass.
Learn more