.new_table_style tr td:first-child
COVID-19 is Stressing the IT System Just Like the Healthcare System
The recent COVID-19 outbreak is stressing healthcare systems worldwide. Most countries are looking to "flatten the curve" of new cases in order to allow the sick to be treated without swamping hospitals. There is talk that if hundreds of new patients arrive at a hospital where there are only dozens of isolation wards, the hospitals would become triage wards and extraordinary decisions made about who would be treated and who would not, depending on the severity of their infection and chances of survival.
The IT system in many organizations is being stressed in the same way. While work from home (WFH) as an option has been common for over a decade, what is uncommon now is the number of people who are working from home. While IT managers have been prepared to cater to a small percentage (typically 10%) of employees working from home, most are not prepared to handle a situation where almost all employees work from home, for weeks or months at a time. Therefore, IT operations in most organizations are being stressed in much the same way the healthcare system has been.
In this blog, we will focus on what IT teams need to do to support employees working from home.
Monitoring: The Focus of the Second Phase of Work from Home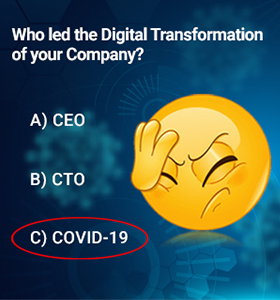 Rapid expansion or implementation of digital workspace technologies (Citrix, VPN, VDI, etc.) has ensued to support employees working from home. Unfortunately, it looks like this norm is likely to continue for the foreseeable future.
When social distancing and work from home started a few weeks ago, the initial focus was on putting the technology in place to enable employees to work from home. The focus was on ensuring that all employees had the equipment, the software, and the access to connect from home.
Attention now shifts to what IT teams need to do to ensure that employees can work well at home as they did when they were in the office. Executives need to know if their remote access services are operational and what response times the remote employees are seeing when they access corporate applications.
At the same time, organizations want to track what employees are working on. This may be required to track employee productivity. Some organizations may need to track employee access for compliance reasons as well. All of this has to be done while the IT team is remote as well. Remote monitoring therefore becomes of vital importance.
Seven Areas Your Remote Monitoring Strategy Must Focus on to Support Work From Home
Your remote monitoring strategy must focus on these areas:
| | |
| --- | --- |
| | Availability monitoring: Synthetic checks need to be in place 24×7 at different levels. These checks should be configured to alert you if your key network devices and servers are down at any time. You also need service level checks – e.g., a complete check of the Citrix delivery chain to make sure that when a user connects, they are able to login and do their work. The results of these simulations can be in the form of reports that you can present to your management. |
| | Performance monitoring: Synthetic checks can also be used to report on the performance of your key IT services – e.g., how long did Citrix logon take yesterday? At the same time, synthetic monitoring does not replace the need to monitor real users. So, you will need to put real experience monitoring in place. Real user monitors for web applications are often based on Javascript injection, while real user monitoring for other IT services rely on application APIs. |
| | Monitoring resource usage: Monitoring resource usage levels can often give you proactive problem indicators. When CPU usage on a server peaks or there is a trend towards increased memory usage on a server, it is often an indicator that you may need to add capacity down the line. With an unforeseen number of employees working from home, demand on network bandwidth will also be higher. Track the usage of your network bandwidth and determine if you need a capacity upgrade.Before you present the case for a capacity increase, check who the top consumers are. Is this an application running on a server that is required for your business – or is it a non-core application that is not needed? In the latter case, disabling this application can save your resources to support additional workload. Likewise, at the network level, use tools that support NetFlow to see who your top consumers of bandwidth are. Track and shutdown any unusual activity. |
| | Monitoring license usage levels:  Almost no one has planned for 100% of employees working from home. Track your license usage levels across your infrastructure and determine areas where you may need additional licenses. |
| | Monitoring external services you rely on:  Many IT services these days rely on external service providers. Your CRM system may be a SaaS service. You may be using Microsoft 365 as your communication and collaboration tool. These are also times when these service providers are seeing unusually high demand for their services. Make sure you have an eye on the performance of these services. Any slowness or downtime of these services will lead to user complaints of performance. |
| | Tracking user activities for compliance:  In some vertical domains, you may be asked to report on employee productivity and their activities. You may have to get reports on when employees sign in to work and when they sign out, how long are they actually active during the day, etc. Human resource departments may use this information for identifying workers who may not meet the minimum productivity criteria while working from home. Another compliance requirement is tracking the applications a user accessed, when, and for how long. If you are likely to be asked for compliance reports, make sure you have the tools that can enable you to get the reports necessary automatically. |
| | Diagnostics and Automation to respond to issues:  You will no doubt encounter times when users complain about performance issues when working from home. Having the right monitoring insights in place is important for you to be able to respond quickly to problems. Bear in mind that if a problem happens in your core infrastructure supporting remote employees, a number (or all) of your employees will be impacted. Hence, have as much coverage with monitoring as possible. Ideally, you want to be proactively alerted to problems so you have the time to diagnose and correct them. Automated diagnosis and correction capabilities, if available, can greatly assist you to resolve issues quickly. At the same time, when an employee complains of performance issues, the problem might be in their environment – the desktop/laptop, their local network at home, or the ISP through which they are connecting. Make sure you have the ability to quickly demarcate whether the problem is in your corporate infrastructure or in the employee's home network. |
eG Innovations is here to help you
Citrix, virtual desktops, and Desktop-as-a-Service are some of the technologies that eG Innovations has worked with for years. If you are using one of these technologies for supporting remote employees, you can benefit greatly from the expertise our solutions provide to assist you in this challenging time.
At the same time, our eG Enterprise solution also supports monitoring for core infrastructure components, cloud platforms, virtualization technologies as well as applications of different types. For a full list of supported technologies, visit our web site.
eG Enterprise is an Observability solution for Modern IT. Monitor digital workspaces,
web applications, SaaS services, cloud and containers from a single pane of glass.