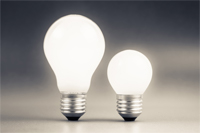 Not surprisingly, many organizations that use Citrix technologies for remote desktop and application access are Microsoft Windows shops. Many of these organizations already have a deployment of Microsoft System Center Operations Manager (SCOM) for infrastructure monitoring.
While SCOM is a great tool for monitoring Microsoft applications, there is no native support for monitoring Citrix XenApp and XenDesktop. For organizations that need to monitor their Citrix XenApp and XenDesktop using Microsoft SCOM, there are only two management pack options available in the market. In this blog, we will compare the capabilities of both of these options.

Option 1: The Citrix SCOM Management Pack for XenApp and XenDesktop
This is a native management pack available to Citrix Platinum customers. Formerly owned by Comtrade, Citrix acquired this management pack in January 2016.
Key Capabilities:
Monitors all Citrix tiers such as XenApp, XenDesktop, XenServer, StoreFront, NetScaler, Provisioning Servers, License servers, etc.
Auto-discovers all Citrix components in your Citrix farm and adds them to SCOM
Organizes Citrix components in SCOM's native folder-based topology structure
Displays performance alerts for Citrix components within the SCOM console
Offers performance reports for historical trends and analytics
Limitations:
The Citrix SCOM Management Pack is available at no cost to Citrix Platinum customers with active Subscription Advantage or Software Maintenance. However, if you are run Enterprise, Advanced, Fundamentals, or other forms of Citrix licensing, you must upgrade to Citrix Platinum in order to integrate with SCOM.
Frequently, Citrix administrators are blamed for Citrix slowdowns and are forced to prove that it is caused by one of the tiers supporting Citrix (e.g., virtualization, storage, network, desktop, etc.). And, because the Citrix SCOM Management Pack provides monitoring of the Citrix tiers only, in order to monitor the other infrastructure tiers that support Citrix – e.g., VMware, Nutanix, storage, etc. – you will need to find additional third-party management packs for SCOM from other vendors.
Without the advantage of end-to-end monitoring across the entire Citrix infrastructure, administrators using the Citrix Management Pack for SCOM lack correlated visibility. Therefore, manual effort and expertise are required to pinpoint the root cause of Citrix issues, adding time and complexity to troubleshooting performance issues.
For monitoring just the Citrix tiers, the Citrix SCOM Management Pack is still not a complete solution. As one example, it lacks the ability to simulate user logons for synthetically monitoring and alerting on the Citrix infrastructure.
The topology views available in SCOM represent groupings of the different tiers, but not the inter-dependencies between tiers, so they cannot be used to pinpoint the root cause of problems by linking the cause and effects of problems.
Option 2: The eG Universal Management Pack for SCOM
With the eG Universal Management Pack for SCOM, SCOM administrators can monitor all the Citrix tiers and the supporting infrastructure from the same console. They can see any issues detected in the infrastructure, drill down to see from which layer/server the problem originates and even diagnose further to see how the problem can be corrected quickly. Customized dashboards can also be exported from eG Enterprise into SCOM, so different stakeholders can see the KPIs of interest from inside the SCOM console itself.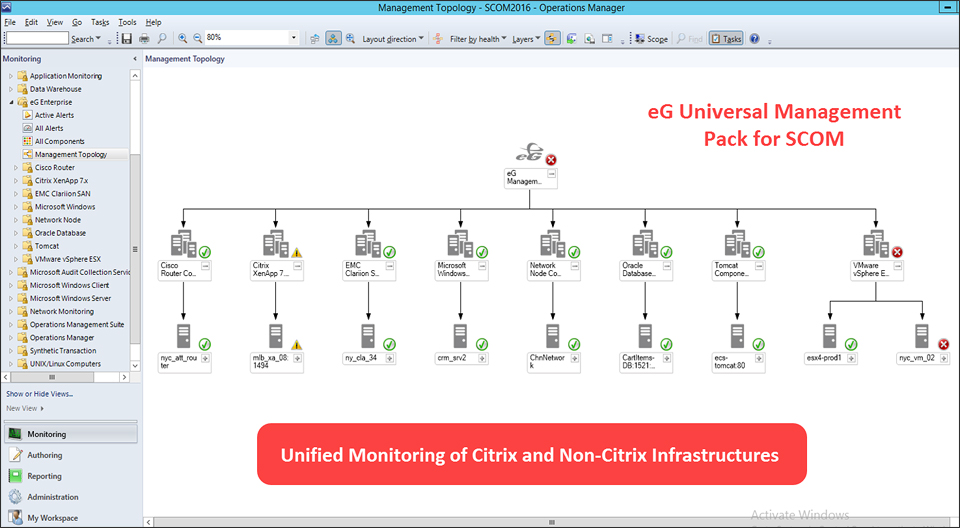 This Management Pack is just one component eG Enterprise: a comprehensive performance monitoring solution for Citrix environments, with out-of-the-box support for heterogeneous infrastructures and multi-vendor platforms. Unlike the Citrix SCOM Management Pack, there are no Citrix license restrictions on the eG Universal Management Pack for SCOM. It is available for all Citrix customers.
The eG Universal Management Pack for SCOM gathers performance insights from all Citrix tiers and non-Microsoft tiers (such as VMware, Oracle, Nutanix, SAP, etc.) and presents them inside the SCOM console, delivering single-pane-of-glass visibility for SCOM administrators. Without requiring multiple management packs from different vendors, SCOM administrators can get centralized and unified visibility of the entire Citrix and non-Citrix infrastructures, all from inside Microsoft SCOM.
Key Capabilities:
With the eG Universal Management Pack for SCOM, you can:
Monitor of all aspects of the Citrix infrastructure (XenApp, XenDesktop, XenServer, NetScaler, StoreFront, PVS, etc.) and the non-Citrix tiers supporting Citrix access (e.g., network, virtualization, storage, database, cloud, etc.)
Auto-discover all Citrix and non-Citrix components, and get performance insights within the SCOM console
See a consolidated listing of alerts for all IT components, all available within the SCOM console. Leverage the automatic root cause diagnosis functionality of eG Enterprise to trigger intelligent alerts, thus reducing alert volume and false positives in SCOM.
Incorporate logon simulation and full session simulation in your arsenal of tools for Citrix monitoring, thereby enabling proactive problem detection even when no users are connected to your Citrix farm
Access purpose-built dashboards in the SCOM console for quick and easy problem diagnosis
Conveniently drill down into eG Enterprise for further analysis and diagnosis of performance problems. Also access historical performance reports for trending, forecasting, capacity planning, infrastructure optimization, right-sizing, and compliance.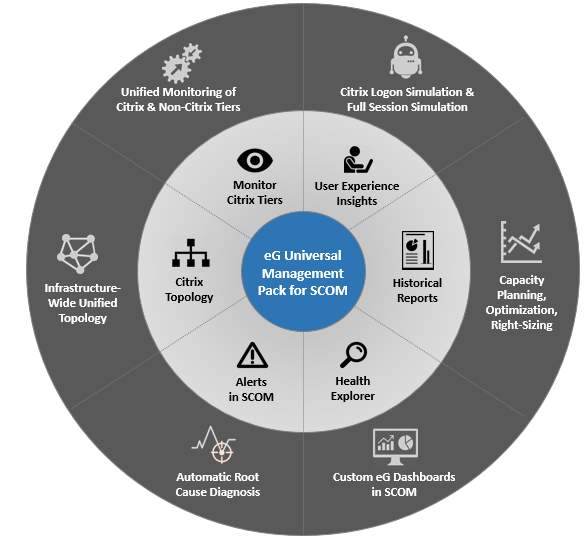 Helpful Resources: