Hypervisor Market Share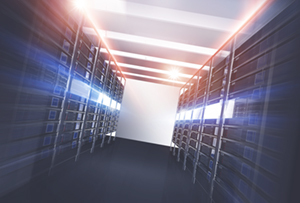 Over the years, many enterprises have achieved tremendous cost reductions and management simplicity through virtualizing their IT infrastructure using at least one type of hypervisor technology. According to Gartner, while some firms have virtualized over 90% of their servers, on an average, most firms have over 75% of their servers in a virtualized infrastructure, indicating the growth and maturity of the x86 server virtualization market.
VMware dominated the virtualization market for several years but organizations are now also adopting other hypervisors such as Microsoft Hyper-V, Citrix XenServer, Oracle VM Server, Red Had Virtualization, etc. Additionally, the Kernel-based Virtual Machine (KVM) is an alternative for handling virtualization in Linux environments. And, the advent of hyper-converged infrastructures has introduced new hypervisors such as Nutanix Acropolis. Container technologies are also becoming popular and replacing virtual machines for specific use cases.
A market survey by Enterprise Strategy Group (ESG) shows that nearly two thirds (65%) of organizations are using more than one hypervisor, and nearly half (49%) planned to add an additional hypervisor within the next 12-18 months.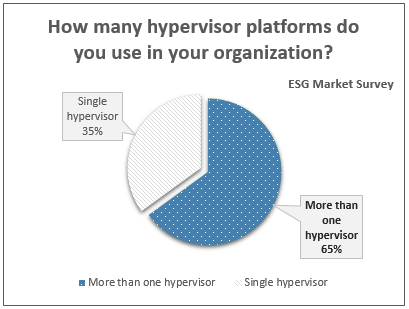 A few years ago, VMware had a clear edge on functionality in this market. This gap has been decreasing over the years as the competition has added advanced resource sharing, dynamic load distribution and virtual storage capabilities. Cost dynamics also play an important role in determining what hypervisor choices are made.
Gartner's 2016 Magic Quadrant for x86 Server Virtualization Infrastructure points out that although few enterprises are switching hypervisors they have deployed, many are starting to explore additional hypervisor technologies for newer workloads.  ESG's market survey corroborates this as well – the top reason for looking at different hypervisors was different application workloads.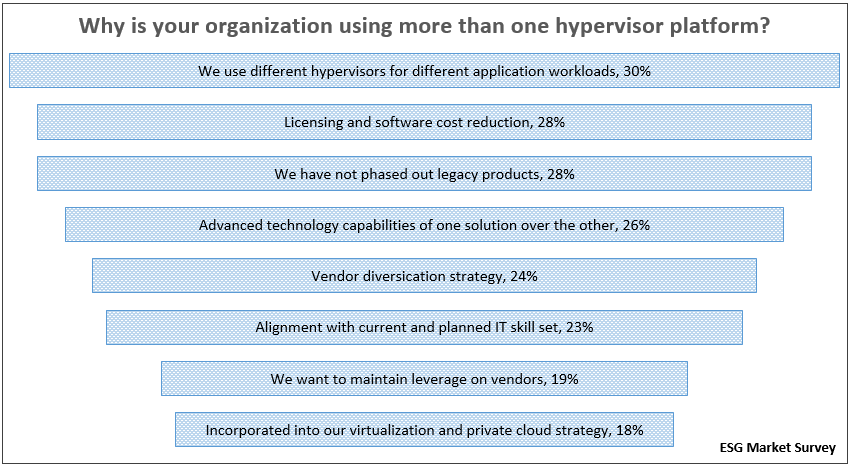 Enterprises are choosing to implement multiple server virtualization technologies based on business needs, cost, functionality and flexibility:
Different teams in an organization may prefer to have different hypervisor platforms for their specific requirements. For example, a desktop virtualization team may choose to run its Citrix VDI workload on Citrix XenServer. There are multiple reasons for this. First of all, Citrix XenApp and XenDesktop customers are entitled to all of the features of XenServer Enterprise edition, regardless of their XenApp or XenDesktop license type.  This offers a very significant cost advantage. Secondly, many new functionalities for desktop virtualization are being introduced first on the Citrix XenServer platform. For example, NVIDIA GPU support was first introduced for Citrix XenServer, and Citrix Provisioning services acceleration is now only available on Citrix XenServer.
Since Hyper-V is bundled with the Microsoft Windows server operating system, familiarity with the Microsoft operating system is influencing some administrators to evaluate Hyper-V for newer virtualization deployments. The bare metal, open-source KVM hypervisor has also become a popular choice for Linux environments, given its wide range of OS support and OpenStack integration.
Cost considerations also play an important role. An organization may have VMware vSphere deployed in the main data center, but may choose to use Microsoft Hyper-V for the branch locations that are less critical.
Hyper-converged vendors such as Nutanix are bundling their hypervisor – Nutanix Acropolis – with their platform. Out of the box availability makes this platform a viable choice for enterprises.
Software platforms are also dictating what hypervisor choices are made. For example, Oracle databases and clusters are certified only for Oracle VM server and Microsoft Hyper-V.
Challenges with Monitoring Multi-Hypervisor Environments
When a hypervisor is selected for a particular requirement, monitoring and management is often not the main consideration. Each hypervisor has its own administration and monitoring tool built in. If an organization is using vendor-specific tools for each hypervisor platform, there can be no centralized monitoring:
It becomes very difficult to analyze resource utilization across reports from multiple tools to determine when and where to add more capacity.
IT personnel need to be trained to use different tools – which requires extensive time and manual effort.
Each hypervisor platform will become its own silo without correlated visibility across the rest of the infrastructure.
Without a central and unified view of the entire virtualized environment, it is hard to make decisions on moving VM workloads from one hypervisor platform to another.
Vendor-Agnostic Multi-Hypervisor Monitoring
What IT organizations need is a vendor-agnostic monitoring solution; a single-source, centralized dashboard that presents actionable information about different hypervisor platforms. This makes it easy for virtualization administrators to monitor performance of virtual machines and server hosts across the data center and get insights for troubleshooting, infrastructure right-sizing, and capacity optimization.
eG Enterprise is a comprehensive IT performance monitoring solution that provides in-depth visibility into multi-vendor virtualization environments. With out-of-the-box support for 10+ virtualization platforms including VMware vSphere, Microsoft Hyper-V, Citrix XenServer, KVM, Nutanix Acropolis, Red Hat Enterprise Virtualization, Oracle VM Server and even Unix virtualization technologies, including AIX LPARs and Solaris containers, eG Enterprise offers the broadest virtualization coverage in the industry. With eG Enterprise, administrators can:
Compare performance of virtual machines hosted on different hypervisors
Correlate performance alerts across virtualization platforms and eliminate false positives
Visualize application relationships with VMs, and VM dependencies to hosts on intuitive topology maps
Eliminate finger-pointing between different IT teams with data center-wide performance visibility
Access capacity trends, forecast reports and right-sizing recommendations for all hypervisor environments from a single web console
eG Enterprise's patented "inside-outside" monitoring technology presents insights into how virtual machines share and utilize host resources ("outside" view of the VM), and what application processes and user activity within a virtual machine account for resource consumption ("inside" view of the VM).
Learn more about virtualization monitoring with eG Enterprise »
Learn more about eG Enterprise's features for IT performance management »
Learn more about IT infrastructure monitoring »
eG Enterprise is an Observability solution for Modern IT. Monitor digital workspaces,
web applications, SaaS services, cloud and containers from a single pane of glass.