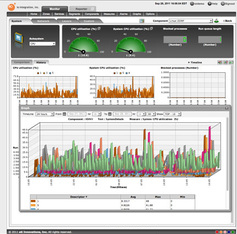 We're excited that IO Integration, a leading systems integrator and MSP specializing in asset management tools and workflow solutions, has selected eG Enterprise as the performance management platform for its new IO Monitor remote monitoring MSP service.
Bill Covington, COO of IO Integration said, "We have evaluated all major performance management solutions and were truly impressed with eG Innovations' ability to proactively pinpoint performance issues across multiple mission-critical systems, whether they are physical, virtualized or cloud based, and do so before issues impact user productivity and ROI. Our new IO Monitor service now offers true 24x7x365 support and offers total performance visibility across every layer of every tier of our client's IT infrastructure."
IO Integration uses eG Enterprise to enable its clients to keep their mission-critical business services running at peak performance, and to deliver tangible ROI to clients undertaking transformational IT initiatives.
This partnership allows IO Integration to expand the range of services offered to clients to include advanced remote performance management, analysis, and reporting of mission-critical systems. It will dramatically accelerate the discovery, diagnosis, and resolution of service performance and user experience issues.
eG Enterprise is an Observability solution for Modern IT. Monitor digital workspaces,
web applications, SaaS services, cloud and containers from a single pane of glass.