Last week, I had the privilege of leading a panel of women in a Citrix User Group Panel Discussion – "CUGC Women in Tech: Advancing your Career with Certifications, Part 2". eG Innovations is the leading Citrix performance monitoring solution, and as a sponsor for CUGC Women in Tech, we wanted to start a conversation about career growth for women in IT. The CUGC Women in Tech Group was started five years ago by three female CTPs and over the years has provided a mentoring program for those looking to advance their professional development with Citrix technologies.
It was lovely to share our anecdotes of working with Citrix and catching up with a host of CTPs and EUC professional women. The discussion focused on the mechanics of certifications, what to choose, how to get support and mentorship, and how to overcome barriers such as cost, confidence, and access to lab equipment.
The full recording is available here in case you missed it: https://www.mycugc.org/viewdocument/cugc-wit-09-22-21-advancing-your
My fellow panelists were:
I've summarized a few key takeaways, a list of hot certifications, and answers to questions that attendees asked below.
Takeaway Advice:
Rene was one of the original three mentees in the CUGC WIT program and then progressed to be a mentor having mentored five mentees. For mentees, who have no experience, she recommends finding a mentor program to obtain help on exams and their pertinent information. Most mentees find they need support and guidance on navigating content and she added there may be some funding options within WIT. Details on joining the CUG WIT program are given below.
Every speaker emphasized the importance of hands-on experience. Jen highlighted that hands-on is always beneficial and some vendors have simulations in training classes. For example, Microsoft Learn could replace the need for a home lab. If you're without a lab, a mentor can also help you gain access to infrastructure – many reach out on LinkedIn and several male allies have volunteered lab time within the Citrix community.
Danielle and I talked through the mechanisms by which certifications are devised and validated and how to recognize a rigorous and quality training supplier or certification course. We also discussed how more experienced professional women can get involved in devising qualifications and the benefits they can get in terms of financial reward, resume experience, and free training.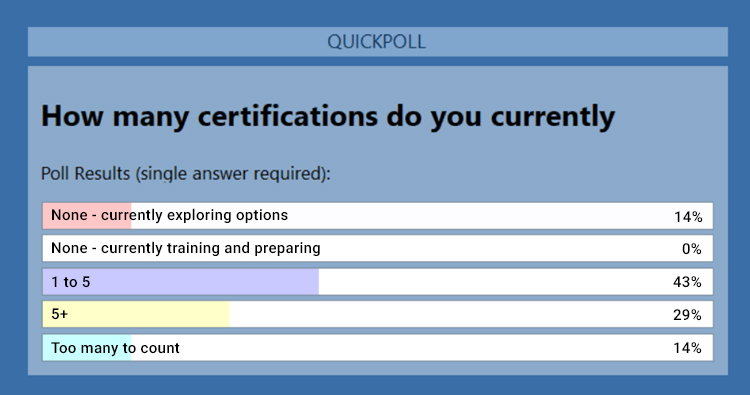 What's are the hottest certifications for 2021/2022?
The panel themselves highlighted:
Cloud and Security – Cloud+ and Security+ certifications at CompTIA
Data Analytics – Data+ coming soon to CompTIA
On-premises traditional admins, who need to automate deployments should adjust their mindsets to service-orientated work and cross-team collaboration – so qualifications in cloud technologies, such as Terraform can be useful.
The audience themselves, suggested some really specific mainstream certifications, including: AZ-500, MS-500, SC200/300/400, and CCSP.
Questions & Answers (Q&A)
During the webinar, Esther answered the bulk of the text Q&A chat questions and then we discussed them as a panel. Thanks for the hard work, Esther!
Q: If you are in an admin role currently with no cloud or security experience/exposure, can a certificate in cloud or security be enough to get a new job and role within the cloud or security field?
A: My experience right now is that there is a high demand for DevOps focused roles, and even though they are asking for experience, a lot of customers/projects are happy if you are excited to learn and grow. I think with little experience, a certification will definitely help to show that you 'get it'.
Q: Not having a home lab has always been a bit of a blocker for me – what's the best way to work around that or get started?
A: I think with the new Microsoft Learn, the need for a lab is less of a success factor as they offer some cool sandbox exercises to get some hands-on experience. But I agree that unfortunately, not all vendors give you that option… And in some cases, it is already a struggle to get demo licenses if you are fortunate to have a home lab. Without a lab, a mentor can help you gain access to infrastructure – reach out on LinkedIn; a few male allies have also volunteered lab time.
Q: How do you build up your confidence level to even approach taking an exam? When facing exams, I feel like I will never pass because I don't know EVERYTHING.
A: I'm always nervous with every exam, so I do spend extra money to buy practice exam questions. So, I also get a 'feel' for the phrasing of the questions. And I probably study way more than what is needed.
Q: Do you think women have to get more qualifications e.g. degrees and certifications to be taken more seriously? Did it help you get taken seriously?
A: It definitely helped my own imposter syndrome (and confidence) to have it in writing that I knew what I was talking about. But I also see that it is harder for women to be taken seriously or even listened too. It still feels like we have to put in extra effort to prove we are knowledgeable.
Q: What are the downsides of certifications?
Costs and the time demand.
Renewals can also be a hassle although some organizations now offer educational credits, so you don't have to repeatedly retake an exam. When young and new, certifications probably are more important. Once experienced, probably less important for gaining a role, and the decision to pursue can get harder – Do you want to spend a month to study for a certificate, cancel social arrangements/allocate time for study/reduce family time?
Q: How much should someone budget to take certifications and is there assistance for fees?
Training programs, such as CompTIA Career Academy can include some financial assistance. It's important to assess the value of any qualification on the objectives based on job roles and real-life experience with folks in those roles, as a paper qualification alone is usually not enough.
Feeling Inspired?
For those, who'd like to join the CUGC Women In Tech Mentor program for 2021/2022, the program is currently accepting applications, learn more and sign up, here: https://www.mycugc.org/community/women-in-tech (Applications close on 8 October 2021).
About the Author
Wendy Howard is a Technical Consultant for eG Innovations' West Coast team. Previously, she worked as a Citrix Admin at a large healthcare organization in Oregon, where eG Enterprise was a saving grace when it came to maintaining multiple Citrix Farms. She's passionate about bringing performance into the mainstream IT world as well as helping her Citrix colleagues find improvements to their Citrix environments.