Monitoring the Cisco ASA
eG Enterprise provides the Cisco ASA monitoring model.To continuously monitor the Cisco ASA device and promptly alert administrators to issues in its performance,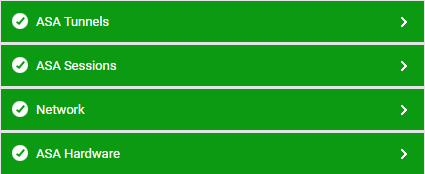 Figure 1 : The Cisco ASA layer model
Using the metrics reported by this model, you can answer the following questions quickly and accurately:
Is any memory pool consuming memory excessively?
Is the device utilizing its CPU resources optimally? When during the last 5 minutes did the CPU usage peak - during the last 1 second or the last 1 minute?
What are the types of hardware that support the firewall unit of the device? What is the current state of each hardware type?
Are too many remote access sessions active on the device? How many users are connected to the device via these sessions?
Is the device overloaded with sessions? How many of these sessions are currently inactive? Can they be closed?
Were too many packets dropped by the IPsec Phase-1 IKE global and secondary tunnels? When was packet drop the maximum - when the tunnels were receiving data or transmitting data?