Introduction
Citrix ADC application delivery solutions combine the features and functions of traditional data center point products - load balancing, caching, compression, SSL acceleration, and attack defense - into a single network appliance, built from the ground up to maximize the performance of mission-critical applications.
The Citrix ADC LB products are built on Citrix's patented Request Switching™ architecture, the industry's only wire-speed technology that handles every application request based on powerful user-defined policies. The Citrix ADC application-aware policy engine, AppExpert™, allows the creation of detailed policy-based decisions for individual requests, irrespective of connections. AppExpert lets administrators build sophisticated application request handling policies that enable powerful, comprehensive application-based features.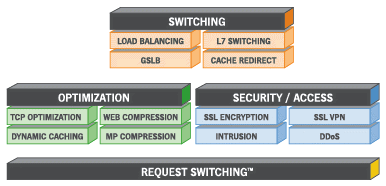 Figure 1 : The ADC architecture
As business entities have begun to rely enormously on the Citrix ADC solutions to deliver service continuity and to ensure the secure transaction of business, the smooth functioning of the ADC appliance has become super-critical in Citrix infrastructures today. Round-the-clock monitoring of ADC products, proactive error reporting, and swift error-clearance are a must to ensure that the Citrix ADC is always up and running, and is well enough to attend to application requests from users. This is where the eG Enterprise lends helping hands to administrators.