Monitoring the Citrix Delivery Controller v3/4
eG Enterprise provides a Citrix Delivery Controller – 3/4 model that can be used for monitoring version 3/4 of the Xen DDC.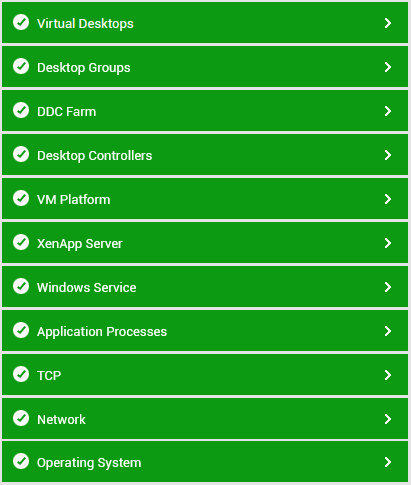 Figure 1 : Layer model of the DDC
The metrics mapped to every layer of this model enable administrators to find quick and accurate answers to the following performance queries:
Is the IMA communication between the DDC and the other servers in the farm ( i.e., other DDCs/the License server/datastore), normal?
Is the DDC able to connect to the datastore?
Are any hosts unavailable in a desktop group? Which are the unavailable hosts and which desktop group do they belong to?
Is the DDC healthy or has the alert logs of the DDC captured any critical errors/warnings?
Is the DDC port available? If so, how quickly is the DDC responding to requests?
How many desktops exist within a desktop group? On which hosting infrastructure are these virtual desktops operating? How many more desktops on the hosting infrastructure are yet to be allocated to a desktop group?
Are there any powered off desktops within a desktop group?
Which desktops in a desktop group are currently in use?
Are there idle desktops within a desktop group?
Does any desktop group have desktops that are currently in an 'Unknown' powerstate?
Which users to DDC have administrator rights?
Is the DDC the farm master?
How many DDCs are in the farm? Which ones are these?
How many desktop groups have been configured on the farm?
How many of the desktop groups are currently unavailable? Which farms do they belong to?
Is the license server currently available?
Is the virtual desktop agent unavailable on any virtual desktop?
Is any virtual desktop in the maintenance mode currently?
Is any virtual desktop disabled?
Is any virtual desktop unavailable?
Is any virtual desktop currently in an 'Unknown' power state?
Is any VD unavailable over the network? which one is it?
Are too many sessions to virtual desktops logging out?
Since the last 5 layers of the monitoring model have already been dealt with in the Unix and Windows Servers Monitoring Model, let us proceed to look at the remaining layers of Figure 1 in the forthcoming sections.