Introduction
One of the common reasons for poor user logon experience in a Citrix XenApp/XenDesktop environment is the delay in profile loading and group policy application. Using Citrix Workspace Environment Management (WEM), this delay can be greatly minimized! Citrix WEM uses intelligent resource management and Profile Management technologies to provide the best logon experience to users in Citrix XenApp and XenDesktop deployments (see Figure 1).
Figure 1 depicts the architecture of Citrix WEM. The WEM Administration Console is where policies are defined and managed, resources are created and assigned, and users are authorized. The settings so defined are communicated to a WEM Broker, which stores the same in a SQL server backend. WEM Agents are deployed on VDAs or physical Windows devices. These agents communicate with the WEM Broker and enforce the settings you configured. An Active Directory server is used to push the settings to users.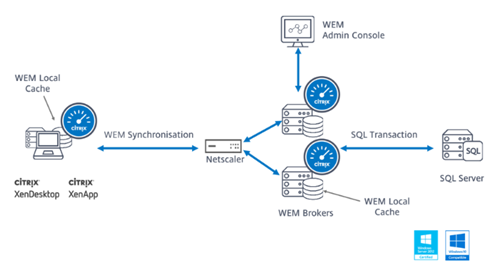 Figure 1 : Architecture of Citrix WEM
Typically, the WEM agents offload the critical logon processing steps – e.g., group policy application, logon script execution, drive/printer mapping, etc. – and perform them after the logon, thus significantly improving logon speed (see Figure 2).
Figure 2 : How Citrix WEM helps minimize logon time
This is why, where WEM is employed, user logons will be quick and hassle-free. However, if WEM clients – i.e., the WEM agents - experience delays or errors in logon processing, it can cause serious performance issues post logon. In other words, user profile loading, logon script execution, drive mapping etc., can become very slow. Because of such issues, a Citrix user will be unable to access the application/desktop profile, even after logging in quickly.
Besides processing delays on the WEM clients, the unavailability, poor responsiveness, and errors in functioning of the WEM broker can also impact WEM performance, and consequently, affect user experience.
Therefore, to assure users of a high quality experience with Citrix at all times, administrators of WEM-enabled environments should continuously monitor the WEM processing times on the clients. Additionally, the WEM broker should also be periodically checked for availability, responsiveness, and operational errors. eG Enterprise provides a specialized monitoring model that offers deep dive visibility into the performance of the Citrix WEM Broker.