Exchange Availability Service Test
The Microsoft Exchange server 2007/2010 Availability service improves information workers' calendaring and meeting scheduling experience by providing secure, consistent, and up-to-date free and busy information to computers running Microsoft Office Outlook 2007. Outlook 2007 uses the Autodiscover service to obtain the URL of the Availability service. The Autodiscover service is similar to the Domain Name System (DNS) Web service for Exchange 2007/2010 Web services. Essentially, the Autodiscover service helps Outlook 2007 locate various Web services, such as the Unified Messaging (UM), Offline Address Book (OAB), and Availability services.
The following figure illustrates the process flow for the Availability service.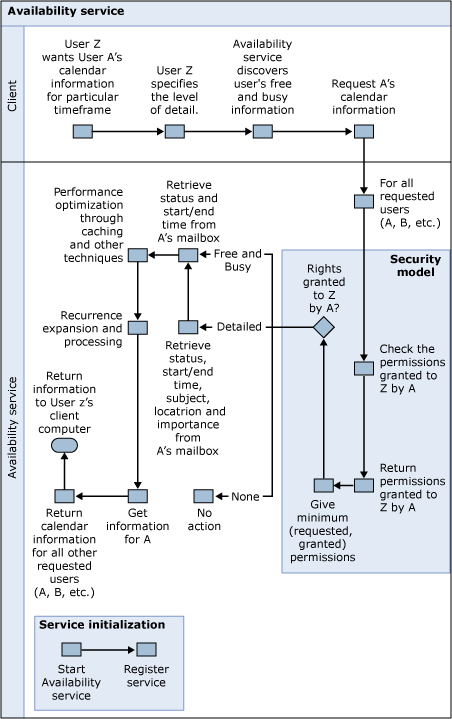 Figure 1 : The Availability Service
This test reports statistics indicating how healthy the Availability Service is.
Target of the test :A server configured with the Client Access Server role
Agent deploying the test : An internal agent
Outputs of the test : One set of results for the Mailbox server being monitored.
Configurable parameters for the test

| Parameters | Description |
| --- | --- |
| Test Period | How often should the test be executed. |
| Host | Indicates the IP address of the Client Access server. |
| Port | The port number of the client access server. By default, this is 110. |
Measurements made by the test
Measurement
Description
Measurement Unit
Interpretation

Availability requests to the web service

Indicates the number of requests serviced per second.

Reqs/Sec

The request can be only for free busy or include suggestions. One request may contain multiple mailboxes.

A very low request servicing rate could indicate a processing bottleneck.

Avg. mailboxes processed per request

Indicates the average number of mailboxes processed per request.

Mailboxes/Req

Mailbox connection hits

Indicates the number of mailboxes opened per second without creating a new connection.

Hits/Sec

Ideally, this value should be high. A low cache hit rate could increase processing overheads.

Mailbox connection misses

Indicates the number of mailboxes opened per second, by creating a new connection, because there is no available connection in the cache.

Misses/Sec

Ideally, this measure should be low. A very high cache miss rate could indicate insufficient connections in the cache to service requests. You might want to consider resizing the cache.