Introduction
Oracle VDI (Virtual Desktop Infrastructure) provides desktop virtualization to replace personal computers with virtual machines (VMs) on a server. Users can access these VMs though any RDP client, or through the web via Sun Secure Global Desktop (SGD).
Oracle Virtual Desktop Infrastructure is made up of four main components: virtualization platform, session management (Oracle VDI Core), desktop access clients, and storage.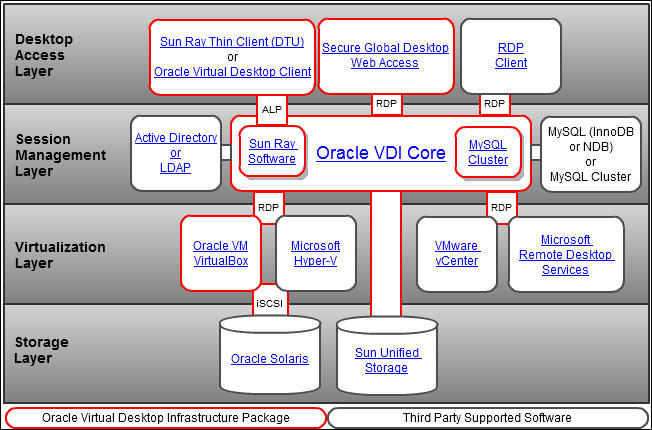 Figure 1 : Architecture of the Oracle Virtual Desktop Infrastructure
The central component of the Oracle Virtual Desktop Infrastructure is the Oracle VDI Core (Session Management). The Oracle VDI Core provides all the functionality needed to build and manage large scale virtual machine deployments. In addition to its management capabilities, the Oracle VDI Core is also responsible for the brokering of virtual desktops on behalf of desktop access clients.
By integrating with Active Directory, the Oracle VDI Core is able to provide support for assignment of virtual desktops to existing users and groups within an organization. The Oracle VDI Core configuration data and runtime information is stored in a MySQL database, which may be shared across multiple Oracle VDI Core instances on the network. This database configuration ensures access to the Oracle VDI Core even in failover scenarios.
If the Oracle VDI Core is unavailable or is unable to validate user logins promptly, the users will only be allowed delayed access to their desktops; sometimes, they may even be denied desktop access. This in turn is bound to affect the user experience with the Oracle VDI service. To prevent this, eG Enterprise provides a specialized model for monitoring the Oracle VDI Broker. Using this monitoring model, VDI administrators can continuously monitor the availability and overall health of the Oracle VDI Core, proactively detect performance issues, and promptly resolve the issues, before users sense any dip in performance.