If you are considering a Citrix migration, it is very likely that one or more of needs is driving your decision making.
Your Citrix licenses are about to expire and you are concerned about losing access to Citrix support
It is time to move from a less secure messaging, email or collaboration application to a more secure and flexible Citrix solution.
You are not sure how you are going to measure key performance before during and after you migrate to Citrix XenMobile MDM
You want and need access to more in depth reporting for all aspects of your environment before a migration plan is created
Application "slow-time" or intermittent issues are affecting the productivity of end users and it needs to be tracked down and eliminated before a migration can take place
Everyone in IT from the CEO to IT Managers and Admins all have their own concerns and perspectives about initiating a Citrix migration and they often overlap.
Executives and IT Managers care about automation, modernization, reducing OPEX, increasing productivity and maintaining a seamless user experience.
While they are concerned with the strategic business needs and outcomes, the responsibility for delivering a Citrix migration on time, on budget and seamlessly to end users rests on the shoulders of the admins in the trenches.
Simply stated, migrations are difficult, managing multiple apps, platforms and domains all with their own tools, different levels of visibility, unique interfaces and data, makes it hard to pinpoint and troubleshoot the root-cause of problems when they occur.
IT needs a single solution that provides universal insight, correlates the performance of all interdependencies and uses a simple methodology to help accelerate time to resolution.
They need advanced KPI and performance metrics so they can profile performance and model the new environment easily in order to bring the migration project in on time and on budget.
So how important is performance management to a migration?
Bloor Research and the Harvard School of Business found the following to be true after studying almost 1,500 different enterprise migration projects.
28% of migrations result in cost overruns
38% of migrations result in cost overruns, failure or are abandoned
17% of migrations result in a cost overrun of 200% and 70% schedule overrun
Their research revealed there are three common reasons why migration projects are abandoned; fail or suffer from time and budget overruns.
Limited or no insight across enterprise interdependencies
Limited or no KPI data profiling solution
Limited or no data driven decision making
When organizations were trying to plan their migration or manage business and IT changes due to acquisition, merger, consolidation or virtualization, either a KPI data profiling solution wasn't in the original budget or a KPI profiling solution was cut from the budget leaving the project at risk.
But all is not lost, they also discovered the following encouraging statistics during their research.
72% of migrations that are both on time and on budget included a KPI data profiling solution as part of the original budget plan before work began.
62% of ongoing migration projects can be brought in on time and on budget by implementing a KPI data profiling solution
Their research suggests the following.
Only two-thirds of data migration projects are on time and on budget.
CIOs can be "firewall executive

s

" and reduce the risk of potential damage to the company's image and reputation from a failed or late project by instituting a KPI data profiling solution.
Establish funding for a KPI and data profiling solution as part of a migration plan before the project begins!
Using a tried and tested methodology for measuring performance can help ensure a successful migration
We have determined at eG Innovations that there are four keys to a successful Citrix migration.
Universal Insight Across the Enterprise
Testing and Troubleshooting
Building accurate Performance Profiles
Maintaining a Positive End User Experience
eG Enterprise and the universal insight it provides can help you with multiple aspects of your next Citrix migration project by making it easier to do the following.
Identify all interdependencies regardless of where they reside
Test and troubleshoot issues that could result in downtime, slow-time, budget and schedule overruns
Maintain a working coexisting model and active user profiles until migration is complete
Prototyping, profiling and right-sizing the new environment
Verify that performance expectations are met before archiving old data and retiring obsolete systems
Here is a breakdown of the four keys to a successful Citrix migration.
Successful Citrix Migrations START with having universal insight across the enterprise. That includes all interdependencies, from apps to platforms and domains whether in the data center, virtual space or the cloud. Everything from end user experience metrics to network latency, application and database responsiveness, server health, the virtual machines and OS, to CPU, memory, disk resources and more.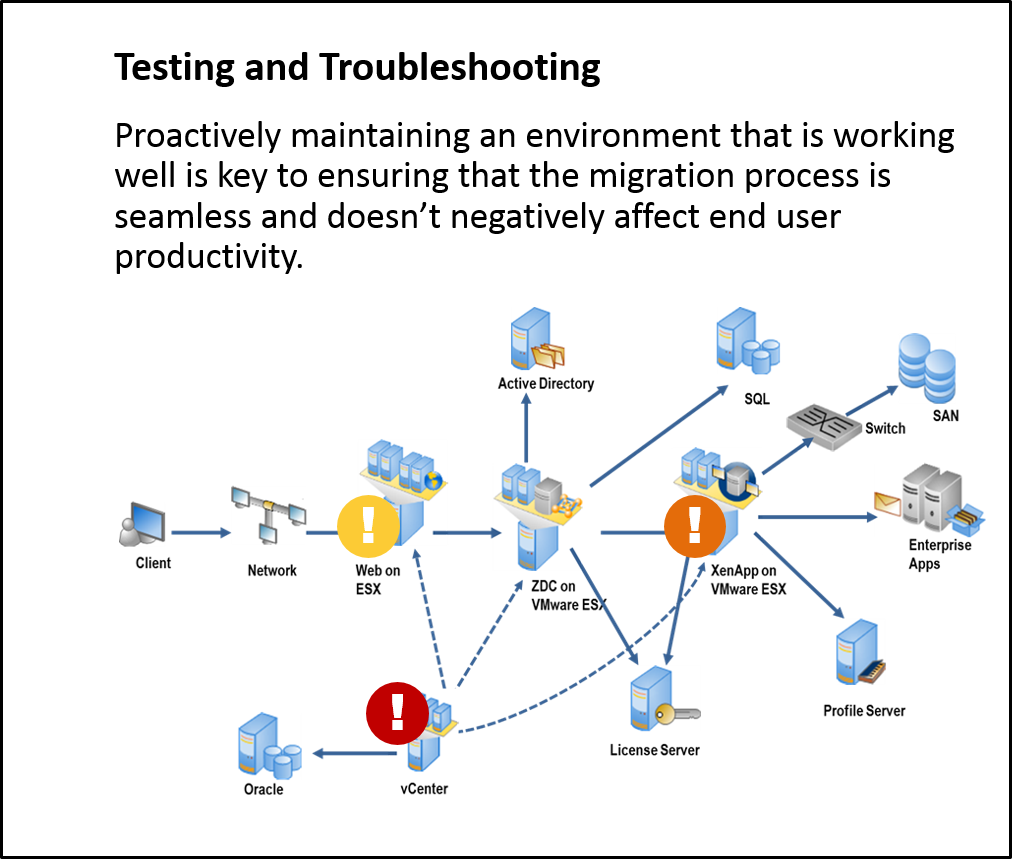 Testing and trouble-shooting an environment proactively is key to ensuring that the migration process is seamless and doesn't negatively affect end user productivity. Correlated performance metrics will help reveal hidden or intermittent issues that exist within the current environment so they can be avoided within the NEW environment. It will also help admins quickly determine where the actual root-cause is so they don't waste time diagnosing symptoms.
With eG Enterprise once an admin is alerted to an issue they can very quickly in just a few clicks drill down to the root-cause of the problem and determine a rapid solution such as locating where vm resources are constrained and moving the workload or adding more resources to remove the bottleneck.
Building performance profiles for both the current and the new Citrix environment is imperative to success. Using a solution that correlates performance metrics across all interdependencies within a single interface makes it much easier to measure and establish baseline metrics for the behavior and performance of current apps, databases, OS and supporting hardware. eG Enterprise empowers data driven decision making when modeling, profiling and right sizing the new environment. KPI data and performance profiling may be helpful with other decisions such as deciding
NEW standard images and profiles
What licenses and drivers as necessary
Applications required for all systems in NEW standard images
How to prioritize the different phases of the migration
What data and apps will be migrated and what end users will be required to transfer
What workloads or vm resources need to be load balanced
What can be archived, refreshed, repurposed or retired
Proactively managing and monitoring performance is what helps IT maintain a positive end user experience. eG Enterprise provides the universal insight needed to see and measure all of the interdependencies that can affect end user experience and productivity.
That includes but is not limited to log on times, CPU, memory resources, I/O reads and writes, latency, Storage Zones, NetScaler devices, XenApp, ShareFile, VMware, SQL, Oracle and more. Upon migration to the new environment and before repurposing or retiring any of the old systems its best to let the new environment run for several weeks to ensure availability, stability and to ensure that any intermittent issues are identified and resolved.
For more information about making eG Enterprise the center of your next Citrix migration, for a free trial, to schedule a live demo a request to info@eginnovations.com or go to www.eginnovations.com