What is Configuration Monitoring?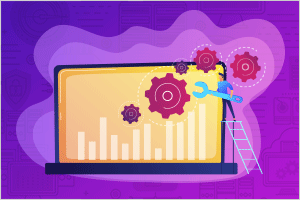 Historically, configuration monitoring has been looked at primarily for compliance – to see what software and hardware is in which servers and which locations and to make sure that standard procedures are being followed for software deployment (e.g., is antivirus software installed and running on all the servers?).
We have recently added configuration and change tracking capabilities in the latest eG Enterprise version 5.2 because of the close tie we see between configuration and performance monitoring. An improper reconfiguration of a server, application, or network device can result in performance degradations that can impact the quality of service to the end user.
The Relation between Configuration Monitoring and Performance Monitoring
Our goal in adding configuration tracking capabilities to eG Enterprise was not to create yet another CMDB, but to augment our root-cause diagnosis system to do more – to get closer to the real root-cause of a problem. We felt that there are several scenarios in which configuration and change tracking can help us get closer to the root-cause of a problem. We believed that the ability to view configuration metrics from the same web-based console, to correlate configuration changes quickly with performance alerts, and to do so without requiring additional software agents to be installed on the servers (the same eG single agent can be used for configuration monitoring as well) would be key benefits to our customers.
Often we think of configuration changes as being user initiated. With an increasing adoption of automation and agile ways of provisioning VMs and reconfiguring them, many configuration changes are automatically initiated. As we found out recently, sometimes configuration changes can also occur because of issues in the underlying infrastructure design.
Configuration Monitoring can Help Identify the Cause of Performance Problems
Given this background, it was fulfilling to see our vision in action! A few weeks ago, one of the enterprise accounts we were working with had a particularly puzzling issue that was business impacting. They had just moved their infrastructure and key services to a virtualization platform (VMware vSphere), hoping to get some of the benefits of virtualization. However, soon after they received user complaints about a number of issues. Many of their administrators questioned the architecture team's move to adopt virtualization and this was pointed out as the reason for the problem.
In this new video, we have documented our real-world experience in working with this enterprise to troubleshoot this series of service outages they were seeing that could have cost them thousands of dollars in lost revenue and loss of customer goodwill. Using the integrated performance and configuration monitoring capabilities of eG Enterprise, we were able to analyze the problem, propose a solution and fix the problem within just a few hours. To appreciate the value of integrated performance and configuration monitoring, click here to see this new presentation titled "A Real-World Example of Why You Need Integrated Performance and Configuration Monitoring" >>>
eG Enterprise is an Observability solution for Modern IT. Monitor digital workspaces,
web applications, SaaS services, cloud and containers from a single pane of glass.