Why Digital Performance Management is Essential to IT Transformation
With all the buzz surrounding user experience these days, I thought it might be worthwhile to start "at 50,000 feet" and dissect user experience into its component parts and see what all the fuss is about.
User experience (UX) is somewhat different than customer experience (CX). Customer experience has been defined as the quality of all a consumer's encounters with a company's products, services, and brand.
Today, user experience typically refers to the digital user experience. Digital experience includes only those interactions experienced through a digital interface, like a computer, tablet, or smartphone.


These online and offline experiences are birds of very different feathers:

A 10-second wait for a page to load can make 50% of consumers give up and leave
Researchers at Microsoft even found that a website begins losing traffic to competitors when it takes 250 milliseconds longer to load
It seems that when people have a less-than-favorable online experience, they fault the company immediately. To consumers, there's no satisfactory excuse for a poor digital experience.
While business processes are increasingly underpinned by technology, customer journey mapping is often the place where entire business models can change. In business process analysis, we seek to eliminate as many moments of truth (MOT) as possible. This can radically change the customer experience.
By simplifying business processes, we eliminate "touch-points." So, the customer journey maps we create at this level can be very useful in helping to identify where technology can enable us to simplify the overall customer journey, and these exercises often create new (and more complex) digital touchpoints.
The challenges here are familiar:
While converting journey map findings into actionable insights about digital touchpoints requires senior members across functions to brainstorm together, this is often easier planned than executed. Busy executives typically are preoccupied with operations, and many organizations work in silos — so the all-important coordination can be challenging. – Customer Journey Mapping Is at the Heart of Digital Transformation, Knowledge@wharton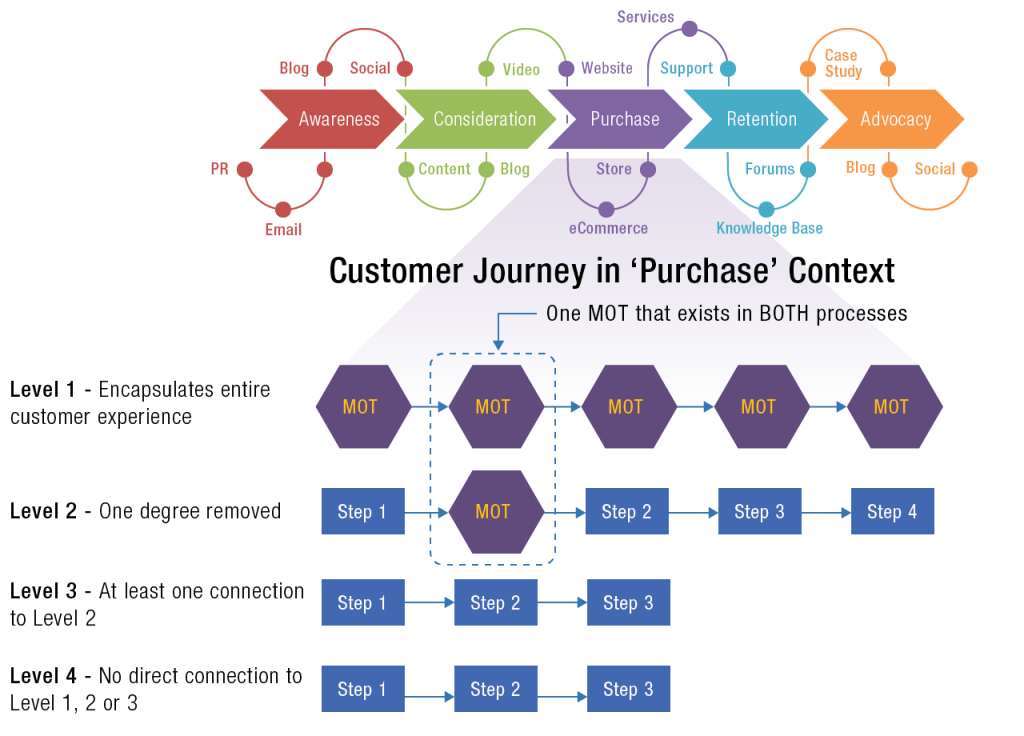 Moments of Truth and the Customer Journey
Customer experience is very much about the context of the customer's journey — a customer making a purchase in-store will have a different experience than one purchasing online. It is these different contexts that drive changes to the underlying business processes and digital services.
This is where things can get complicated.
As we dissect the customer experience in different contexts, we begin to see the user experience and the associated digital touch points. Remember, customer experience and journey mapping focus on the entire customer experience inclusive of the digital user aspects. So, interactions with other people in the organization, the environment and other "high-touch" factors are important parts of the customer experience.
But in the digital world, these interactions and touch points are increasingly dependent on technology.
| | |
| --- | --- |
| | The Importance of Digital (User) Experience for IT Transformation |
Since some or all of the various moments of truth in a customer's journey are increasingly digital, the importance of user experience has quickly become a business-critical issue. Managing the digital user experience has become essential to compete in the digital age.
As we dissect the user experience, we need to be able to isolate performance in the context of the customer journey and proactively isolate which layer of which component is the source of a performance anomaly. eG Enterprise v7 provides a complete user experience management solution for IT organizations and can make user experience the centerpiece of your IT monitoring and management strategy.
| | |
| --- | --- |
| | Aligning Monitoring to Business Outcomes |
End users and the business processes they encounter (moments of truth) will identify key transactions that are part of a user's digital journey. For example, leveraging real and synthetic monitoring can help prioritize monitoring and "connect the dots" between desired customer outcomes and the underlying technology ecosystems.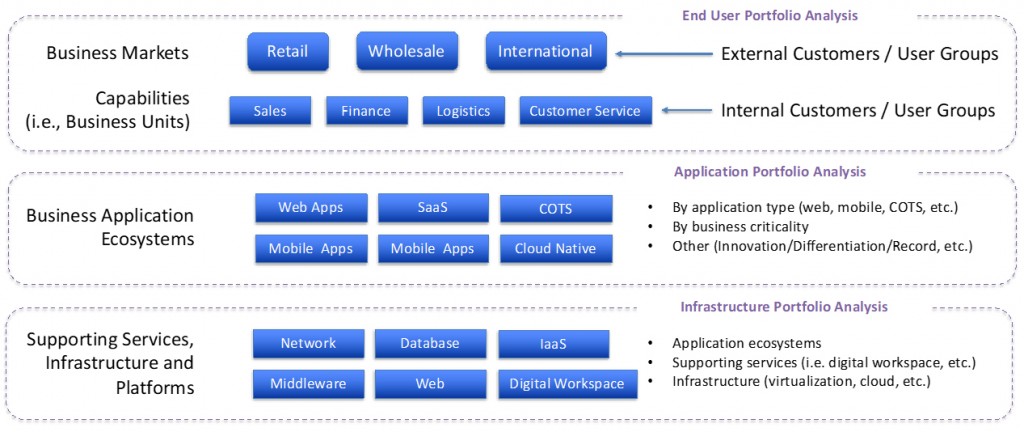 I've posted about this before; start at the top of the business capability iceberg. Designing "top-down" is still a good practice, and a review of primary user groups and how they map to the services in your service catalog is a relatively simple initial step.
Monitoring the end user experience using real and synthetic monitoring approaches helps us align to business outcomes and customers. So, any discussion about monitoring really should begin with, "Who are the end users?" While this conversation should not take more than a few minutes, it's striking how many monitoring conversations start with what technology will be monitored.
| | |
| --- | --- |
| | Align Monitoring to Ongoing Improvement Efforts |
One reason a monitoring project tends to go off the rails and miss end users is easy to understand. The instrumentation associated with monitoring is often an operationally focused, bottom-up activity.
For this reason, the alignment activities mentioned above should be done with an end in mind. Until some organizational capabilities around the monitoring toolsets is established, the initial targeting of digital services should be with an eye towards developing this capability.
Don't kill yourself trying to get your portfolios perfectly aligned before you begin — with the speed at which business is moving that will always be a day away. But not getting at least a "50,0000-foot view" of your organizational, technical, and process landscape is a very worthwhile endeavor.
Initial service targets should balance business needs with the organization's ability to execute; monitoring will be an ongoing part of your continuous improvement journey!
| | |
| --- | --- |
| | How eG Innovations Can Help |
eG Innovations has been providing end-to-end monitoring solutions for almost two decades, and has significant experience not only in the associated technologies but in the wicked problems that unified monitoring can bring.
This includes:

Facilitating services targeting workshops
Developing phasing strategies
Proof-of-Concepts
Service Measurement and Reporting Services (SMARTS)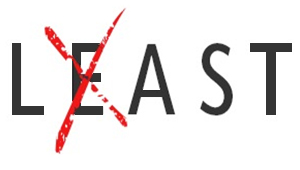 The best approach to an effective monitoring strategy is to think about it EARLY. Unfortunately, monitoring is usually thought about at the END of the lifecycle and in truth, this is not best practice. How you will measure service quality is really supposed to be a design activity.
Get started today with a 21-day free trial.
eG Enterprise is an Observability solution for Modern IT. Monitor digital workspaces,
web applications, SaaS services, cloud and containers from a single pane of glass.
What a Great Digital Customer Experience Actually Looks Like, Harvard Business Review
A Moment of Truth (MOT) is anywhere the customer touches the business process or the business process touches the customer.