Monitoring IT Applications and Infrastructure On-the-Go: The eG Enterprise Mobile App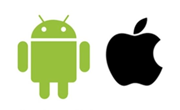 I've recently been talking to some of the users of our eG Enterprise monitoring solution and its AIOps-powered root cause analysis platform. Multiple users have mentioned how the usability of the solution has been enhanced considerably by the availability of rich featured mobile apps for iOS and Android platforms that allow remote monitoring of their IT applications and infrastructure. This app enables system administrators, IT operations staff and site reliability engineers to continue to track the status of their key applications and infrastructure from their smart mobile phones and tablets, providing anytime, anywhere and on any device monitoring and diagnosis.
This is not a new product but one we implemented to fulfil user demand over six years ago, and over the years it has become more powerful as features have been added. Very few monitoring vendors offer fully featured mobile apps for their monitoring platform and I suspect many users don't realize that it is available on iOS and Android stores.
Use Cases for the eG Monitoring Mobile App
It was quite insightful to understand the different ways in which this app is being used by our customers:
Finance and hospital system administrators use our synthetic monitor tools to test availability of EHR systems and check whether all is ok or be notified about issues. They need not be tied to the IT department office and can move around large office blocks or hospital sites getting on with other tasks and can depend on the mobile app to notify them when problems occur.
Organizations that implement back-up rotations in the case of sudden illness of staff on-site for systems that require 24/7 monitoring
Smaller businesses now have cover for lunch breaks vs leaving systems unattended and waiting for the administrator to return
In healthcare, there were scenarios where the recent COVID situations has led to the implementation of stricter hygiene regimes, with segregated green, red zones, between which equipment needs to be decontaminated and laptops can no longer be carried; where devices like phones and mobiles can be used by IT staff as they can be quickly sanitized with alcohol wipes, etc.
Frontline helpdesk staff are able to contact domain experts to verify issues or seek a second opinion wherever they are onsite, without the need for them to return to a desk. Basically, the network guy changing cables under desks can be given access to give an expert opinion no matter whose desk he's currently crawling under!
One administrator admitted he checks an early morning logon simulation (synthetic monitoring) from home on his phone and if there isn't an issue, then he has more flexibility to adjust his commute to times that suit him.
The Challenge of Designing a Monitoring App for Mobile Devices
Many remote monitoring tools provide mobile apps that are simply alert receivers, often to compensate for a lack of SMS support (or to reduce the cost of SMS messages). Alerts are triggered and a text message is sent to the relevant person. In practice, IT problems usually trigger alert storms for many EUC monitoring tools – for example, a failing server impacting many users can trigger hundreds of user latency alerts – these alerts are essentially just symptoms. Alert storms of near meaningless messages that are usually false alarms simply disrupt an administrators work and cause unnecessary concern. Additionally, most SMB-focused monitoring products aren't designed to scale and are used by small single-site offices and used by a handful of IT staff. As such, these businesses can manage fine without mobile monitoring functionality and the size of the sales doesn't make it worthwhile for vendors to add nice-to-have enterprise-class functionality.
Basically, many remote monitoring products are essentially just metric collectors with some basic functionality to trigger alerts on individual metrics, e.g., % of CPU exceeding 95%. A lot of these products have real challenges to present a usable interface on a mobile device. The screen space available on a mobile device is limited and it is simply not possible to just port an existing desktop or a browser-based interface directly to a mobile app. Thought must be given to how hundreds of thousands of metrics collected can be presented in an intuitive manner on a mobile device. The stack/layered representation paradigm that eG Enterprise uses already provides a simple and compact way to aggregate 100s of metrics. This makes it is a lot easier to port our user interface to a mobile device.
As eG Enterprise is built around a powerful machine learning AIOps platform, we already correlate alerts and perform diagnostic root cause analysis meaning the alerts sent to the mobile app are meaningful and identify root cause of issues and the extent of problems. As such, the admin who is away from the server room can make data-led decisions as to whether to rush back or whether an issue is less important than what they are doing. You can read more about these capabilities, here.
Capabilities of the eG Monitor Mobile App
Here's a summary of what you get with the eG Enterprise mobile app: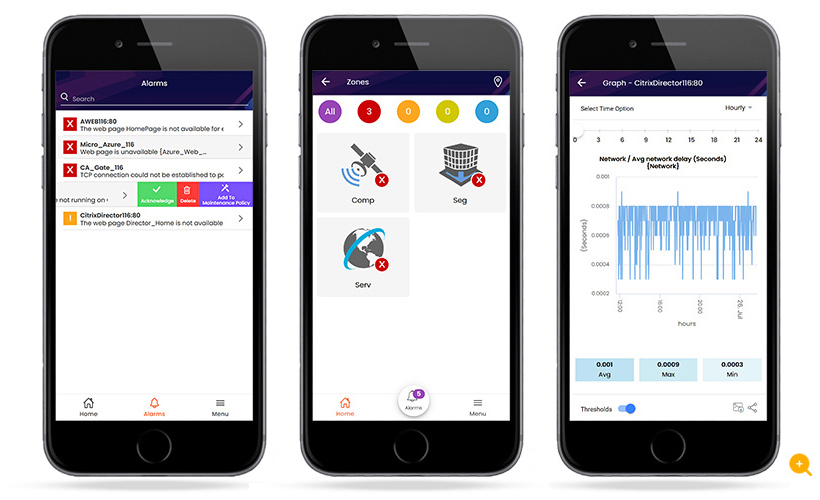 Be instantly notified of any impending events and errors on the go; get instant push notifications for problem alerts. Slide on any alert to zoom into the problem area.
View everything you monitor including web and Citrix applications, virtualization platforms, databases, Java applications, messaging servers, network devices, etc. in one single dashboard.
Use color coding (green, yellow, red) in your dashboard to easily spot issues that need attention.
See performance grouped by business service, zone, segment, etc.
Zoom in for the details and zoom out for the big picture of all the infrastructure on your dashboard.
Use graphs to correlate historical data with ease for all your infrastructure tiers.
Acknowledge / delete alerts from the app itself.
Create/set maintenance policies for different applications and infrastructure elements.
Monitor real user experience for web applications; see performance by geography and drill down to view details in very much the same manner as you can with the browser application.
Secure Access from Outside Corporate Firewalls
Security is often very important when considering mobile apps in particular. Both versions of the app support two factor authentication (2FA) aka two-step verification.
Your monitoring and administrator products and tools are essential privileged access end-points and as such these aren't apps you'd expect to download from the app stores on an unmanaged device and be able to connect directly to your infrastructure from outside the firewall. A key principle of eG Enterprise's security architecture is to ensure users do not have to open ports and we avoid architectures with listening agents on open ports.
Many of our app users use it on site within their corporate firewall. However, it is possible to use the mobile app remotely from home where organizations have in place mechanisms to enable remote administration. We recommend they use the same deployment as their organizational standards define for other privileged access workstation consoles, which may include DMZ, VPNs, Mobile end-points Management (MEM).
What Users Say
It quite surprising that more EUC monitoring vendors don't offer mobile app interfaces given the technologies they are supporting are all about work anywhere on any device; it seems a little cruel to tie the administrator to a bulky laptop or workstation and their desk. Citrix's Rob Beekmans, certainly understood the potential and need when he reviewed version 1.0 to investigate how his storefront infrastructure is performing out of hours (everybody needs a hobby!).
The eG Mobile App is rated 4.3 out of 5 on the Google Play store with 7 out of 10 users rating it at a full 5 stars, with comments such as "Awesome visibility on the go".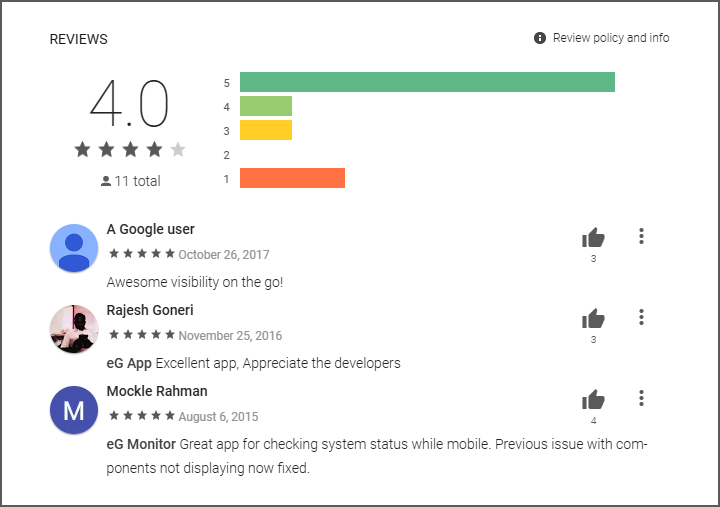 The app also gets good recent reviews on Gartner: eG Enterprise review in Application Performance Monitoring Tools (gartner.com)
Get Started with the eG Monitor App
It is worth reading our short app configuration guide first, but other than that it's just a case of downloading the app from the usual app stores.
For iOS: On the Apple App Store
For Android: Google Play Store here
eG Enterprise is an Observability solution for Modern IT. Monitor digital workspaces,
web applications, SaaS services, cloud and containers from a single pane of glass.