Join us for the Live Webinar "How to Obtain Peak Performance from Your Virtual Environment" on March 31, 2015 at 1pm EDT, 10am PDT, 11am MDT, 12pm CDT
Register now: https://attendee.gotowebinar.com/register/9025167838646230786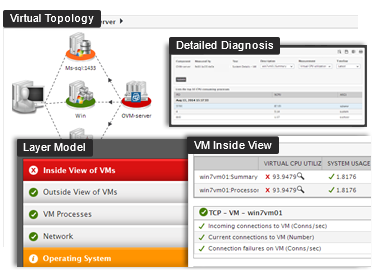 Virtualization introduces new dynamic dependencies – between physical machines and virtual machines (VMs) and between VMs, making it complicated to monitor and manage virtualized infrastructures to ensure service performance and business continuity. For virtualization initiatives to be successful, it is critical that end-users see the same or better performance from virtual infrastructures as they had experienced with physical infrastructures.  Most IT administrators are challenged to identify: Where to begin? What metrics to trust? The eG Monitor for Oracle VM is the only solution that correlates performance across the entire infrastructure, including Oracle VM Server for x86, guest VMs, and Oracle Linux. Automatic virtualization-aware root-cause diagnosis enables administrators to rapidly identify bottlenecks and to right-size their infrastructure for peak performance. Attend this webinar to learn how you can attain 360-degree visibility and pre-emptively detect and fix the root-cause of performance bottlenecks.  Virtualization experts, John Priest from Oracle and Srinivas Ramanathan from eG Innovations will discuss:
Benefits of using Oracle VM for your Virtualization platform
Best practices in managing your virtual infrastructure
Why use eG Monitor for monitoring and managing Oracle VM
Register Now:      https://attendee.gotowebinar.com/register/9025167838646230786 When:                     March 31, 2015 @ 1pm EDT, 10am PDT, 11am MDT, 12am CDT We look forward to seeing you online!