What is Microsoft SCOM?
Over 100 million users across 400,000 organizations use Citrix virtual apps and desktops technologies for accessing different types of business applications. There are many software products for monitoring the availability, performance, and usage of Citrix technologies. Of these, Microsoft SCOM is the most popular. Microsoft System Center Operations Manager (SCOM) is a data center monitoring system that provides a single console from where IT operations teams can monitor operating systems, hypervisors, applications, and so on.

The 2019 VDI Like a Pro survey estimates that about 12.1% of organizations using Citrix are relying on Microsoft SCOM for their monitoring needs. Citrix SCOM management packs are reaching end of life in June 2020. Keep reading to learn how to fill the void and avoid a major monitoring disruption.
What are Management Packs in SCOM?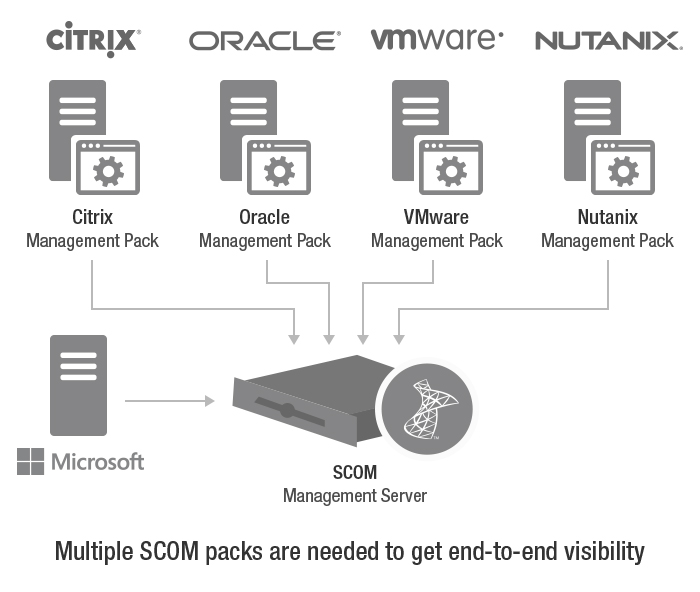 SCOM uses agents installed on each system to check performance of the system and report it in the management console. Application-specific management packs, which provide prefabricated rules for data collection and reporting to particular applications, augment the native capabilities of SCOM. While Microsoft provides a number of management packs to monitor a wide assortment of applications and technologies, third-party vendors provide SCOM management packs for technologies that Microsoft does not support. For example, there are third party management packs for monitoring Citrix, Oracle, VMware, Nutanix, and other such technologies.
Monitoring Citrix Workspaces with SCOM
Until now, Citrix supported SCOM management packs that provided monitoring support for Citrix virtual apps and desktops, provisioning services, StoreFront servers, and NetScalers. The main advantage of these management packs was that organizations that had standardized their monitoring operations around Microsoft SCOM could use the same SCOM console to monitor the different Citrix tiers as well. They did not need to maintain and operate a separate monitoring solution or build separate skill sets and practices around another toolset.
However, as of June 2020, the Citrix SCOM management packs are reaching end of life (see https://support.citrix.com/article/CTX266943). This is not a big surprise because over the last couple of years, these management packs have not seen a lot of new development. At the same time, this move by Citrix can be disruptive for many organizations. They can start to use a standalone monitoring solution like Citrix Director.  However, this defeats the main reason that they standardized their enterprise monitoring Microsoft SCOM, which was to have a central console for all the monitoring needs. Now, organizations that have been using the Citrix SCOM management packs have to look for alternative options that can monitor Citrix environments end to end, but which also integrate seamlessly into Microsoft SCOM.

The Citrix SCOM Management Pack from eG Innovations
The eG Enterprise Citrix SCOM management pack leverages the depth and breadth of monitoring capabilities for Citrix technologies available in eG Enterprise and integrates these capabilities with Microsoft SCOM. With the eG Citrix Management Pack for SCOM, you can:
Monitor of all aspects of the Citrix infrastructure (virtual apps, virtual desktops, Citrix hypervisors, Citrix ADCs, Citrix StoreFront, PVS, etc.)
Monitor even the non-Citrix tiers supporting Citrix access (e.g., network, virtualization, storage, database, cloud, etc.)
Auto-discover all Citrix and non-Citrix components, and get performance insights within the SCOM console
See a consolidated list of alerts for all IT components, all available within the SCOM console
Leverage the automatic root cause diagnosis functionality of eG Enterprise to trigger intelligent alerts, thus reducing alert volume and false positives in SCOM.
Access purpose-built dashboards in the SCOM console for quick and easy problem diagnosis
Conveniently drill down into eG Enterprise for further analysis and diagnosis of performance problems
Access historical performance reports for trending, forecasting, capacity planning, infrastructure optimization, right-sizing, and compliance
Helpful Resources: