What is Microsoft Office 365?
Microsoft Office is one of the very few software platforms that can claim to be truly timeless. However, even timeless technology could use an upgrade and Microsoft provides this often. If you recently upgraded your system or you intend to do so, you may have asked yourself: what is Microsoft Office 365? Is it worth replacing your old system?
The main difference between Microsoft Office 365 and the software giant's previous offerings is that it's a subscription service. It provides the same productivity tools you have come to love, and then some. The move to a subscription format coincides with the company's decision to move the software on to the cloud. It allows for the seamless collaboration opportunities that other companies first used to poach customers from Microsoft.
The Cost of Microsoft Office 365
There are two payment plans to choose from: annual and monthly. There are also different plans based on usage, such as small business, enterprise, school, and non-profit. Each has its own pricing. Microsoft also provides a small discount for choosing annual billing over monthly billing. Prices range from $5 per month to $20 per month.
The Benefits of Microsoft Office 365
When you purchase a subscription, you get:
1TB of complimentary cloud storage via OneDrive
Right to install the software on multiple devices, such as tablets and phones
Updated versions of Microsoft Office apps, such as Outlook, Excel, and Word
Special upgrades and updates not available to other customers
What are the Microsoft Office 365 Applications and Uses?
There is a wealth of productivity apps available and each one serves a unique purpose. Most people know the more common apps and their uses. See below for some of those not discussed nearly as often:
Outlook: One of the most used apps in the Microsoft Office 365 suite, Outlook is Microsoft's email client. This powerful app allows you to customize emails, create templates, flag emails for follow up, schedule meetings, and so much more. With Microsoft 365, IT organizations no longer need to have a Microsoft Exchange server on-premises. Microsoft maintains and operates Exchange Online. Organizations need to configure Outlook clients to access Exchange Online.
Microsoft SharePoint: SharePoint is the main component of Office 365 that makes collaboration possible. In addition to file sharing and organization, it includes SharePoint Workflows, SharePoint PerformancePoint, and SharePoint project sites. Together, these apps facilitate sharing and managing data around the world. As with email, the Microsoft IIS, SharePoint servers and Microsoft SQL database servers needed to provide collaboration services are operated by Microsoft. IT organizations can administer and manage the collaboration services without having to worry about maintaining these servers, patching them at regular intervals, upgrading the software, etc. All these activities are handled by Microsoft as part of their SaaS offering.
Teams: Use Teams to chat with coworkers, collaborate on projects, share files, and provide real-time updates on tasks. Teams has replaced Skype for Business. So, this is where you have virtual meetings with your colleagues and coworkers.
Yammer: Yammer is a unique social networking service designed with enterprise communication in mind. Yammer helps employees get answers fast even when they don't know whom to ask. Yammer enables organizations—particularly ones with multiple offices—to collaborate across locations. Instead of sending an email asking whom to ask about a topic, you can now just post it on a Yammer Group. Department heads keep an eye on their Yammer groups and respond to questions accordingly. Employees get the answers they need, and work gets done faster.
Microsoft Forms: This app allows you to create questionnaires, quizzes, surveys, and other data collection tools. Once collected, you can transfer the data on to other notable applications, such as Excel. This app is excellent for market research or to collect data among your teammates.
Microsoft OneNote: This app is great for taking notes during meetings and sketching out ideas by hand. These notes are shareable with your whole team, which makes collaboration easy. You can also access your notes across all your devices.
Microsoft Publisher: This app is similar to Word, but the focus is different. Word focuses on the text of the document whereas Publisher focuses more on the layout and overall design. This app is popular among marketers.
MyAnalytics: Use this dashboard to see your Microsoft Office 365 productivity. Track how many hours you spend in meetings, chatting with coworkers, and sending emails. You can even use this app to automatically schedule "focus hours" on your calendar to allow for uninterrupted work.
How to Monitor the Performance of Microsoft Office 365?
Microsoft Office has played an indispensable role in the workplace for decades. As long as Microsoft servers and applications were deployed on-premises, IT administrators had complete visibility. However, with Office 365 being a SaaS service, administrators no longer can track the CPU usage of their servers, the queues on their applications, etc.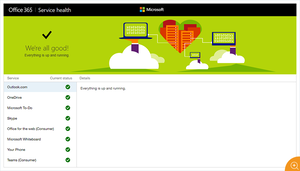 Also, Microsoft offers uptime guarantees for Office 365 services. Service credits are based on monthly uptime percentages. What if the service is up but very slow to respond? Users could complain to their Helpdesk. As the IT administrators/helpdesk staff do not have direct access to the servers and applications supporting Office 365, performance diagnosis could be a challenge.
"62% of issues in Office 365 are reported first by users."
– Wakefield Research
The Office 365 status health portal provides an overview of the health of Microsoft O365 services. Then, there is Microsoft Admin Center. This is the main administration portal for Microsoft O365. At the same time, it provides statistics and reports that can help administrators track the usage of O365 services.
Monitoring Microsoft Office 365 with eG Enterprise
eG Enterprise provides end-to-end monitoring for Microsoft Office 365. With eG Enterprise, administrators get:
360-degree view of user experience using a combination of synthetic and real user monitoring, proactive alerts can be generated highlighting potential bottlenecks
A means to track the health of O365 services by using Microsoft APIs, so that eG Enterprise can be a single unified console providing insights into all aspects of O365 performance
To measure the usage of Microsoft O365 services by integrating with Microsoft APIs. Administrators can be notified when actual usage exceeds pre-configured limits (for example, OneDrive usage reaching quota for a user)
Security and compliance tracking to assist with early detection of malware, spam, and other malicious activities
Monitoring of the on-premises infrastructure used to access O365: this includes the network interconnection from the customer location to O365 data centers, Active Directory, and other infrastructure services as well as user laptops/desktops. This allows administrators to pinpoint where the root-cause lies when there is a problem.
Microsoft O365 monitoring dashboard in eG Enterprise
eG Enterprise delivers best-in-class digital experience for your Office 365 users by enabling you to triage and resolve O365 performance issues even before your users and business are affected.
eG Enterprise is an Observability solution for Modern IT. Monitor digital workspaces,
web applications, SaaS services, cloud and containers from a single pane of glass.
Sources: