Universities, colleges and further education institutions are increasingly adopting an Application Performance Monitoring (APM) strategy as their IT teams become responsible for supporting a wide range of applications based around .NET, Java, Node.js and PHP technologies. In a new E-Book we review a range of options available to ITOps teams to monitor and troubleshoot key educational applications and the infrastructures that support them.
Modern demands for ITOps and Application Performance Monitoring in Education
Educators and educational institutions are continually embracing digital change to offer new services and deliver better experiences and outcomes for students. Modernizing curriculum delivery and services, student support services, finance and research operations of colleges and universities has led to the widespread adoption of several key application platforms and frameworks, including:
LMS (Learning Management Systems) and curriculum frameworks such as Moodle, Blackboard and Canvas.
Applications to support HR, administration, research, finance, and student information system (SIS) software such as Polus' Fibi – Electronic Research Administration Suite, Kuali, PeopleSoft Campus Solutions and OnCore.
Content and learning creation tools and applications such as MyKnowledgeMap.
Cloud platforms and services on Microsoft Azure, Amazon AWS (Amazon Web Service) and others.
Virtualizing and streaming faculty specific applications often for remote access via SaaS (Software as a Service), VDI (Virtual Desktop Infrastructure), DaaS (Desktop as a Service) and technologies such as Citrix, VMware, Amazon WorkSpaces, Microsoft AVD and others.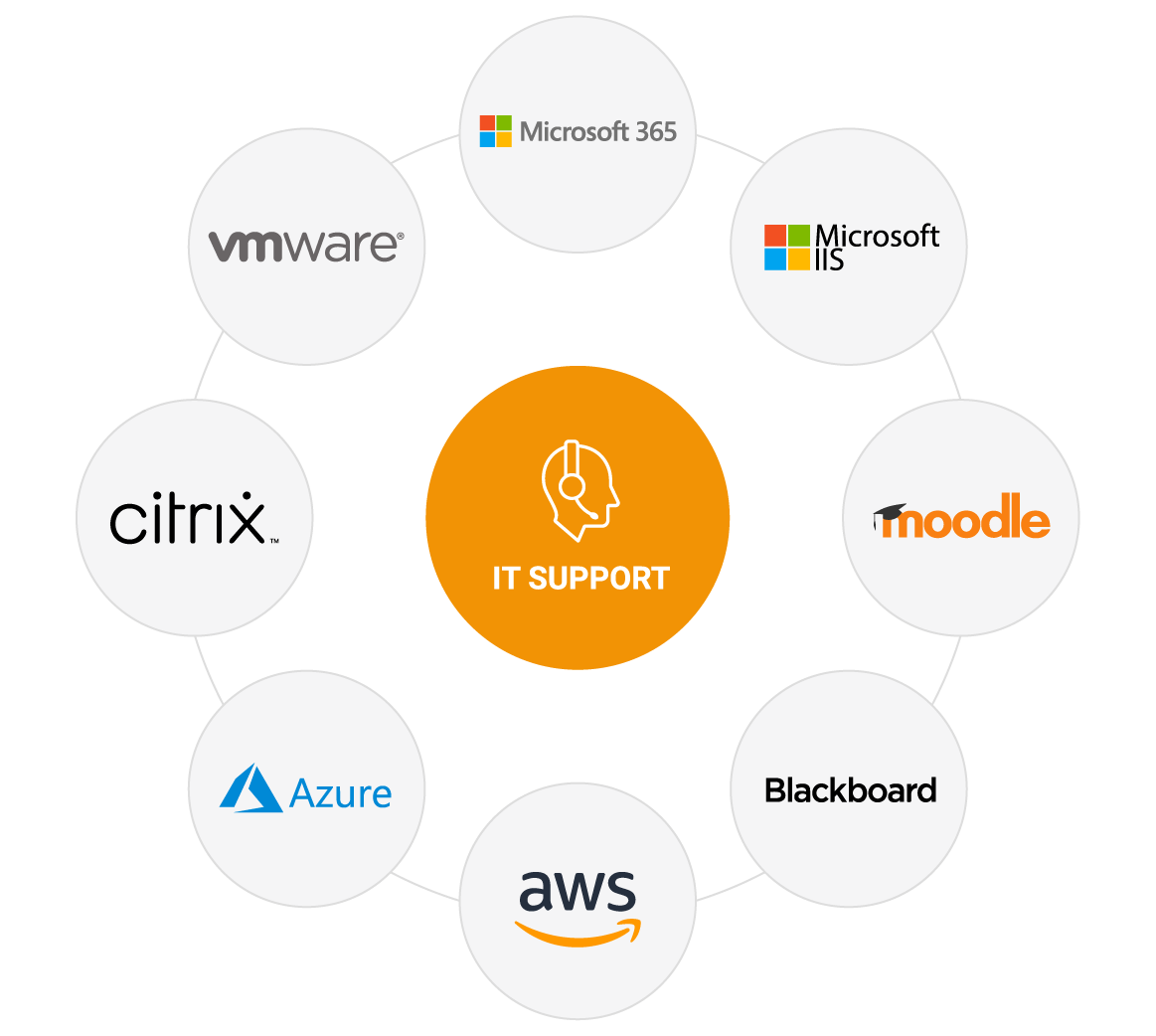 The adoption of application platforms and frameworks has benefited educators and students alike, but reliance upon third-party functionality comes with increased demands on IT operations teams to implement, configure and ensure performance and availability. When issues arise the IT administrators may need to isolate the problem and rely on the response of third-party support services and if implementing open-source solutions they will need the tools and skills to identify and resolve issues in-house.
Whilst cloud platforms offer SLAs (Service Level Agreements) for their infrastructure it is the campus administrator's responsibility to ensure the applications and services deployed in Cloud are available to students and staff, often 24×7.
In this new E-Book we cover the key features needed for a proactive APM (Application Performance Monitoring) strategy and benefits of adopting such a strategy, to help you construct a business case for your institution and quantify the value and cover key features APM products should possess to support specific educational application platforms and frameworks such as Canvas, Blackboard, Moodle, PeopleSoft Campus Solutions, and others.
Download the E-Book now: Seven Critical Strategies and Features for Application Performance Management in Higher and Further Education (eginnovations.com).
To learn more about eG Innovations solutions for education, please visit: IT Performance Monitoring for Education and Universities.
About the Author
Adan Yap is a Sales Specialist based in our Singapore office who specializes in solutions for our regulated Public Sector and Education Sector customers. Adan is an active member of the Singapore Computer Society and a familiar face in our other offices across the APAC region.