Our latest release, eG Enterprise v7.2 has added a number of enhancements to our leading logon simulators. A large number of our Citrix customers rely on this popular tool to actively test and benchmark the speed and success of logons repeatedly even when no real users are accessing systems.
eG Innovations has been offering a Free Logon Simulation service to the community for several years. Yes, it's absolutely free – no credit card needed, no questions asked. Hundreds of organizations have tested this service over the years. To sign up, visit:

Citrix Logon Simulator – Free Logon Simulator | eG Innovations.
The Citrix Logon Simulator
If you are unfamiliar with the tool – I recommend reading my colleague's article that covers the basics, see: Citrix Logon Simulator – the Ultimate Synthetic Monitoring Tool (eginnovations.com), although this article is dated it is still relevant, it is just a very mature and proven tool.
It is a purpose-built tool for Citrix deployments – whether on-prem or on the cloud. It just takes 2 minutes to set up: i) Install the eG agent on a desktop / VM and ii) on the eG Enterprise console provide your Citrix StoreFront/NetScaler URL, provide credentials to be used for logging in, and the application/desktop to be simulated. There is no recording to be done. The tool uses the Chrome browser and Citrix workspace app to login to your Citrix environment and report the success/failure of logon and the time taken for logon (including a breakdown of logon time).
Why choose eG Enterprise for your Synthetic Monitoring?
eG Enterprise's synthetic monitoring features and tools are all available for deployment on-premises, in the cloud or via our fully managed SaaS solution. As such, they provide an option for customers with local regulatory and compliance needs around geographical data localization. You have complete control over the simulation endpoints. Deploy from within your network, from the cloud, from multiple branch locations.
All eG Enterprise Synthetic tools are licensed per installation machine. Once licensed you can run as many synthetic tests on as many remote resources as you desire from the installation machine with no pay-per-test charges.
Get alerts and reports from the eG Enterprise console. The logon simulator is fully integrated with other features of eG Enterprise. You do not need to login to another portal / console to access the simulation results.
Similar synthetic monitoring capability is available for all common digital workspaces including Microsoft AVD (Azure Virtual Desktop), Amazon WorkSpaces and VMware Horizon – allowing you to actively probe all your workspaces from a single console. Enhancements to address customer needs beyond simulating just logons to simulating full sessions are available in eG Enterprise.
New Features for the Citrix Logon Simulator
The enhancements included in eG Enterprise 7.2, include:
Monitoring ICA File Download time during logon simulation
Additional session metrics reported as part of the logon simulation
Configurable session idle time added during simulation
Support for 2FA Enabled Citrix logons using Time-based One Time Password (TOTP) integration
Support for Citrix Cloud configured to use on-prem ADC as an identity provider
New Feature #1 – Monitoring ICA File Download time during logon simulation
Once the Published Apps/Desktops are enumerated in Storefront, the next step is for the client to download the ICA file. Storefront creates the ICA File and sends it to the Citrix Receiver/Workspace App. The ICA download time is the time it takes for the client to download the file.
The Citrix Logon Simulator now tracks the ICA file download process separately and highlights if this step of the logon process has problems, availability of the ICA is checked and metrics on the download time monitored.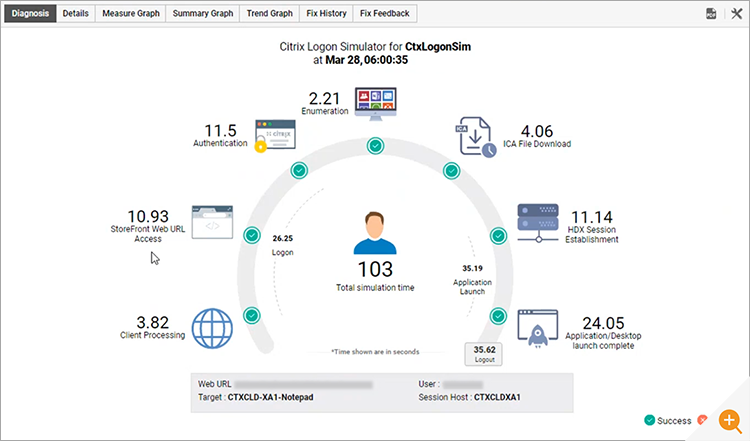 These metrics can be explored from the eG Enterprise layer view, where graphs of historical metric behavior and detailed diagnostic information are available.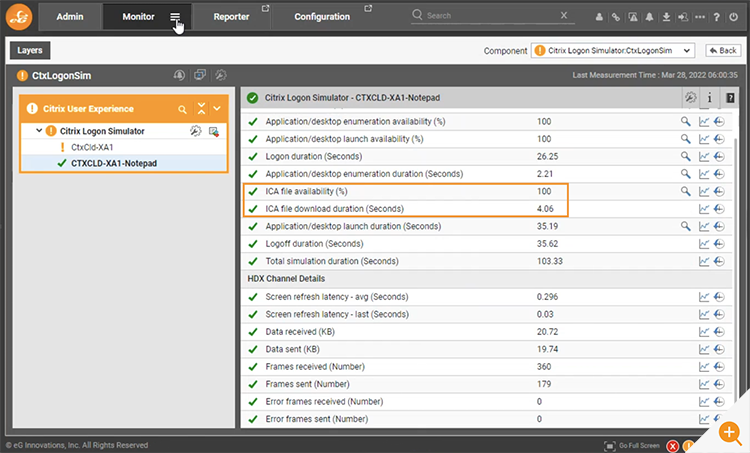 In the event the logon simulation fails on the ICA file download, as with the other steps of the logon a screenshot is captured and available to the administrator.
New Feature #2 – Additional HDX session metrics reported as part of the logon simulation
Since an ICA session is established during the simulation, the logon simulator interfaces with Citrix Workspace App and reports session performance metrics. You can now see if latency is high within the session or if frames with errors are being received. That is, you can go beyond just Citrix logon with the "Logon Simulator" now – although I should point out that comprehensive full session synthetic monitoring via our full session simulators allow you to go even further, see Synthetic Monitoring Tool for Application Transactions (eginnovations.com).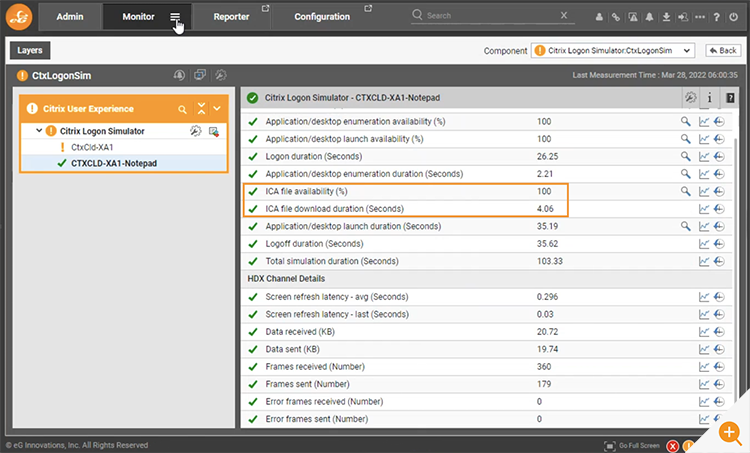 New Feature #3 – Configurable session idle time added during simulation
By default, you can configure a launch timeout – i.e., the max time the simulation will wait at any step for the App/Desktop launch. This is specified in the test configuration (the default value is 90 seconds), changing this value will change timeouts at all stages of the simulation.
If however, you want to introduce an additional idle time into the session to simulate a user delaying launching apps, this is now possible. This additional time will be disregarded within the launch timeout. Details on this feature are given in the documentation, see: Citrix Logon Simulator – Additional Session Idle Time (eginnovations.com).
New Feature #4 – Support for 2FA Enabled Citrix logons using Time-based One Time Password (TOTP) integration
Many modern Citrix environments use Time-Based One Time Password (TOTP) for Two Factor Authentication (TFA). Adding support for this allows our users to use the logon simulator more realistically, we now support both static and TOTP codes. eG Enterprise can now support use cases such as:
Registration at Citrix Gateway (On-Premises)
Registration at Citrix Workspace (Cloud)
The use of OATH Soft token for Microsoft Azure AD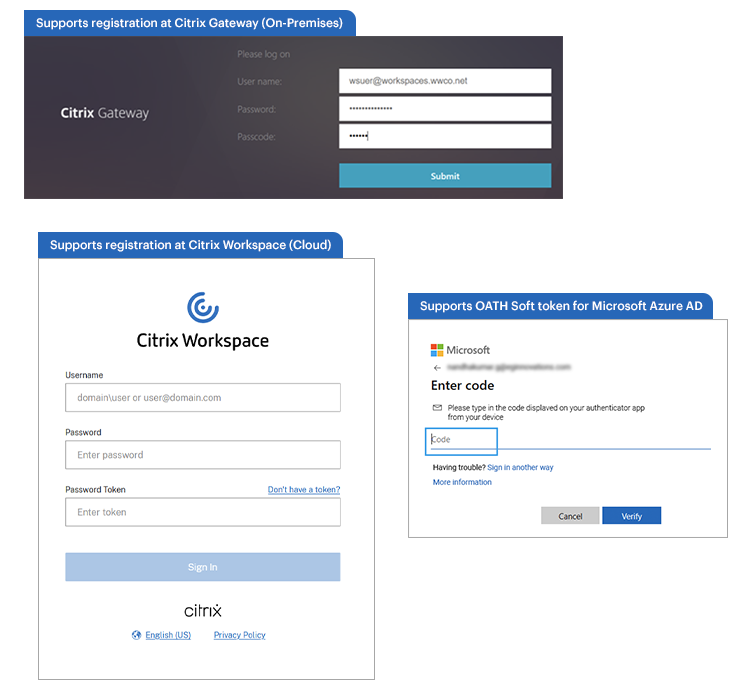 New Feature #5 – Support for Citrix Cloud Integrated with On-Prem ADC / NetScaler
The eG Enterprise Citrix Logon Simulator now supports Citrix Cloud configurations where on-prem ADC / NetScaler is used as an identity provider. Citrix Cloud can be integrated with on-premises ADC / NetScaler. Citrix Workspace automatically federates to the customer's Citrix Gateway during logon (Workspace-> Gateway login -> Workspace), this allows customers to leverage on-premises RADIUS and other third-party MFA providers.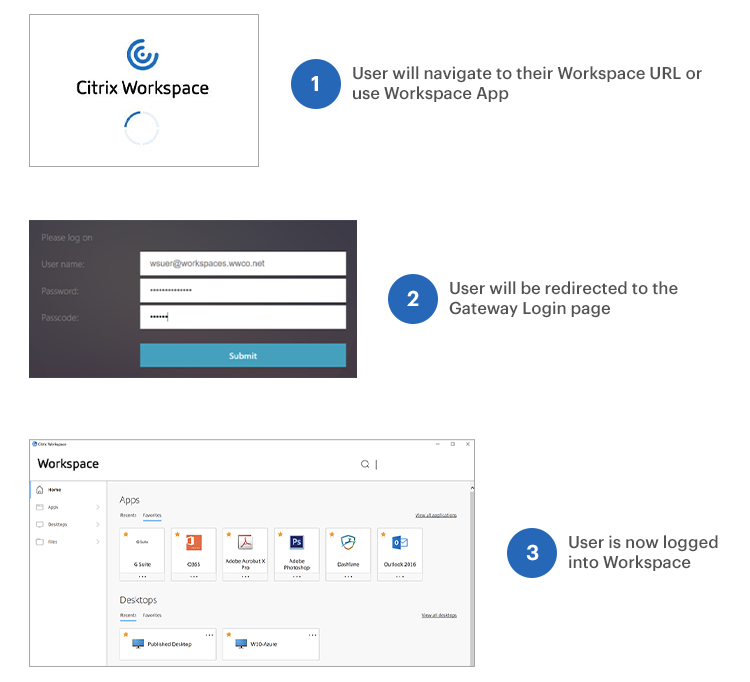 We offer a FREE version of the Citrix Logon Simulator with a subset of features for users with simple needs. Available, here: Citrix Logon Simulator – Free Logon Simulator | eG Innovations.
Citrix Customers and Partners Can Benefit from Citrix Logon Simulation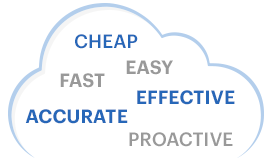 For long, Citrix customers have indicated that they want to be proactive and that user experience monitoring is a key requirement. The easiest and cheapest way to get started on the road to proactive monitoring that covers user experience as well is using the Citrix logon simulator. Customers can use the Citrix logon simulator to test their deployments. Citrix advisors and MSPs can provide proactive checks of their customer Citrix deployments. A single simulator could be used to track the availability and performance for multiple customers! Start introducing customers to the concept of on-going and proactive monitoring, see their requirements grow and use eG Enterprise's wide-ranging capabilities to address the most common end-to-end performance monitoring needs of your clients.
Further Information