Slow applications don't make the season any brighter. For many IT pros, it's a time of war rooms and swarming. How are you going to sleep this holiday season?
We've long been way past using uptime and availability to measure eCommerce success. Of course, it's important to optimize user journeys and UX/UI design. But the fact remains that all your efforts in analyzing user journeys, UX, and UI design are wasted if site/application performance is poor:
A 10-second wait for a page to load can make 50% of consumers give up and leave
Researchers at Microsoft even found that a website begins losing traffic to competitors when it takes 250 milliseconds longer to load
Amazon had a one-hour slow down on Prime Day that cost them millions in sales
Killing Santa Claus: A True Story from Christmas Past
Many years ago, well before the 'digital age', I worked for a large mainframe computing company. We had a large retail customer, who went on 'high alert' between Thanksgiving and about mid-January. As luck would have it, we had an outage during that time.
Unfortunately for the Account Executive, he ran into the CEO of the retailer at an airport, who screamed at him (and everyone within earshot): "Look, here's the guy who killed Santa Claus!" Embarrassing to say the least, but more importantly both the retailer and the mainframe company are no longer major players (in fact, one is no longer in business).
The digital reality has moved us from focusing on simple availability to assuring end-to-end performance, and if you don't want to kill Santa Claus this season, you'd better be able to assure digital performance end-to-end.
Assuring End-to-End Digital Performance
To avoid this season's war rooms and swarming calls, and keep your holiday spirit alive, you must monitor every layer of every component of your consumer's digital journey and be able to anticipate and avoid performance slowdowns.
Monitor the Front-End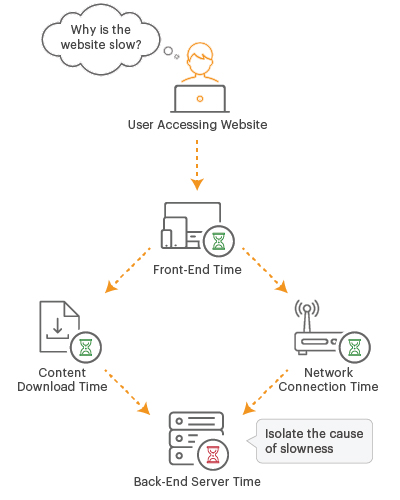 To monitor digital experience, you should leverage both passive (real user) monitoring as well as active (synthetic) user monitoring.
The enterprise needs complete visibility into real user experience by monitoring every user, anytime, from anywhere, on any browser, from any device. But passive monitoring approaches are not effective when users are not actively using the applications, or when instrumentation is not available (for example, legacy applications and custom applications).
Synthetic monitoring approaches can actively and continuously test business transactions and proactively identify performance problems before users are impacted.
Monitor Business Transactions
Simulated and real user monitoring can also provide an ability to monitor the complete digital journey taken by consumers and identify which step has failed or is slow.

Business transaction monitoring is a critical component of application performance monitoring (APM). It helps application owners get visibility into how server-side processing of the application code happens as end users interact with web applications.
Business transaction tracing can also automatically trace user access from web browsers or native mobile applications to the application server and pinpoint the server-side component responsible for slow business transactions.
Monitor Supporting Infrastructure
But a cohesive application performance monitoring (APM) strategy that focuses on customers' digital experience, business transactions, application dependencies, and infrastructure performance is the key to achieving application performance success.
Assuring end-to-end digital consumer experiences requires end-to-end total performance visibility as well as an ability to automatically isolate which layer of which tier is the cause of performance issues.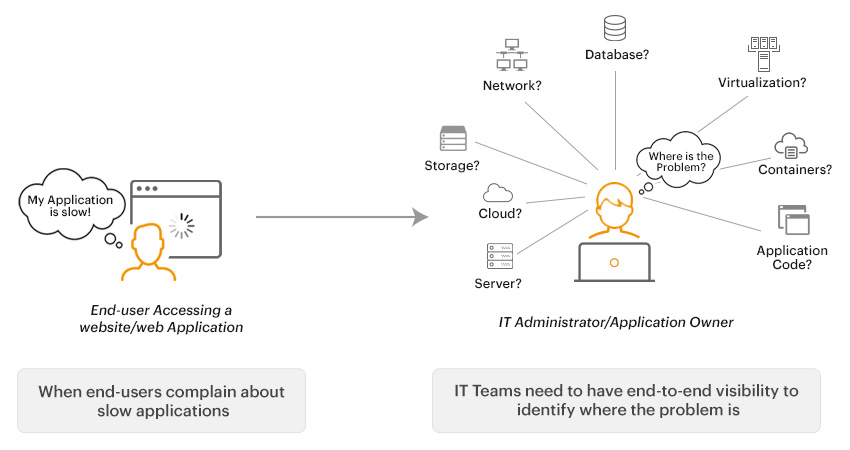 Rest easy; you won't kill Santa Claus – Get Total Performance Visibility
Healthcare workers and first responders are not the only ones stressed out as we approach the holidays. IT pros are also on the 'front line', even though we may not see them like we do our other heroes.
Many are forced to try and assure end-to-end digital performance across complex, heterogeneous, and distributed digital ecosystems with a dizzying array of different tools. The result is a fragmented view of performance that is almost always after the fact.
eG Enterprise provides an end-to-end performance management solution that allows enterprises to detect, diagnose, and resolve application performance issues before end-users are affected:
Delivers deep performance visibility from application code to bare metal – across cloud, virtualized, containerized, physical, and hybrid IT infrastructures.
Ensures proactive detection and resolution of application slowdowns using built-in artificial intelligence, machine learning and root cause analysis
Provides a unified console to monitor user experience, application and infrastructure performance, reducing disagreements and blame among application owners, IT Ops, DevOps, and developers
So, be thankful you don't have to be the one who kills Santa Claus this season—and get some sleep as well.
Find out how with eG Enterprise.