One of the best parts of our job is enabling you to become the best #ITPerformanceHero that you can be. But behind the scenes, eG Innovations is filled with talented team members who wear their own IT Hero capes, so we want to take some time to introduce you to some of the people who make eG Innovations the leading performance monitoring company on the market.
We're pleased to introduce Wendy Howard, a technical consultant on the pre-sales West Coast team. If you've attended any recent conferences like Citrix Synergy, Microsoft Ignite or Oracle Code One, you've likely met this IT whiz. For more than two years, she's been helping solve some of our customers' toughest IT performance challenges while also working on continually improving eG Enterprise.
Question: Before you were part of the eG team, you were actually a customer! Can you tell us about your transition from customer to employee and what it was that made you want to be part of the team?
Answer: I was working at St. Charles Healthcare in Oregon as a Citrix admin when they wanted me to also become the admin for the eG solution. We monitored our XenApp environment, which, for a hospital, needs to be up and running 24×7. So, the software was able to help me stay proactive, as well as generate reports for management. I was even able to have application analysts log in and view their application's performance. I have a performance background, so I just knew that this software was eliminating a lot of manual work, making our lives easier. I became the super user for 2 years when I decided to pursue working for eG because I realized I wanted to be a part of such a meaningful, helpful piece of technology. Now, I work for the manager who was my eG implementation manager at the hospital!
Question: What is your favorite thing about working on eG Enterprise?
Answer: Doing performance analysis for our customers is probably the best, most rewarding thing I do at eG Innovations. I use the entire solution to find areas of improvement for a customer — from the Dashboards, to the Reports, Detailed Diagnosis, etc. Building dashboards is always really fun because my inner nerd and inner artist get to meet up and create helpful dashboard screens. It's the software that makes it look good, not me!
Question: So often, people complain that the problem is Citrix. Can you speak more about this misconception from your own experience as a former performance monitoring analyst?
Answer: I think that if you understand that Citrix is middleware, then you are less likely to blame it all the time. Citrix is the vehicle that provides users what they need. Once you see all the pieces of the puzzle around user application and desktop delivery, a lot of people have an "Aha!" moment. I show them the topology map in our solution and they start to really get it; the map shows that, if any of the other systems are having an issue, then Citrix can be affected — rather than Citrix being the cause.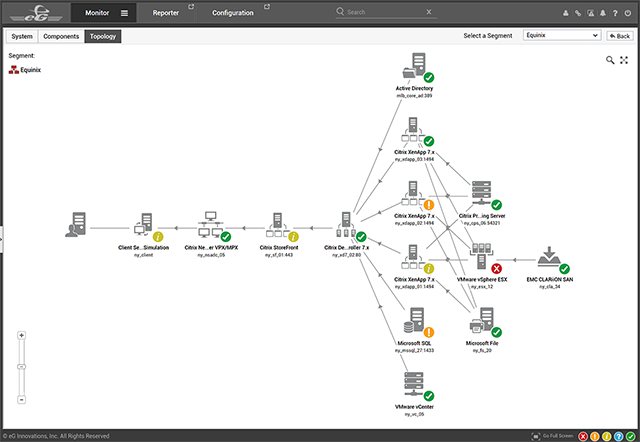 End-to-end IT infrastructure topology in eG Enterprise
Question: You work with many customers who come to eG Innovations with multiple technologies, systems, roles, etc. and are looking to streamline the process and achieve end-to-end visibility. Can you talk about how eG Enterprise delivers this for its customers?
Answer: How did you know? I really do work with administrators and architects that are expected to know how to do everything. This means they need eyes on their servers and systems, but at the same time, they can't be inside a piece of software all day, every day. eG becomes their eyes and ears for their entire environment, whether its Citrix, Active Directory, Exchange, you name it. When they get a notification from the solution in their email or on their phone, they can act on it quickly instead of waiting for a bunch of tickets from the help desk coming in.
Question: eG Enterprise offers an impressive amount of use cases. What are some of the main use cases that eG customers take advantage of? Any in particular that stand out from other tools you've seen?
Answer: Without a doubt, VDI monitoring is the hottest one. eG monitors virtual desktops in a way I haven't seen anywhere else. We are able to get under the hood and provide metrics directly from the source. As soon as a customer starts using the product, they immediately get data that helps them refine their environment and make the users happy.
Question: In your experience in the monitoring industry, we're sure you've seen and worked with a lot of tools. What is it that makes eG Enterprise stand out among the rest?
Answer: eG's solution has the ability to simplify monitoring. At least for me, when I was a user, I didn't have to do any manual scripting, editing, number crunching, and so on. My early years of performance benchmarking involved so much time spent with complex scripting and post-processing, so when I saw the eG interface with its powerful features, I realized those days were long gone. This solution made me change my mind about performance monitoring — it's simple now!
Question: eG Express Cloud is a new offering that we're really excited about. Can you give a quick snapshot of how this tool can further simplify end-to-end Citrix monitoring?
Answer: The eG Express Cloud is a great way for admins to start monitoring on their own time without any interaction with our support team. It's a pretty slick process where you download a small agent to the Delivery Controller, then it discovers the environment and does all the extra work automatically. After that, you will see data in the manager console and monitoring becomes a breeze. Of course, we are always here to help if they have questions.
Question: When you're not being an #ITPerformanceHero, what do you like to do in your spare time?
Answer: I teach four Zumba classes a week in my small town. Working from home can be isolating, so I make sure to get out and meet lots of people at the gym in my classes.
Thanks, Wendy Howard. There are many more #ITPerformanceHeroes at eG Innovations. Stay tuned for more interviews. We can't wait for you to meet them!
eG Enterprise is an Observability solution for Modern IT. Monitor digital workspaces,
web applications, SaaS services, cloud and containers from a single pane of glass.
Learn More About eG Innovations: