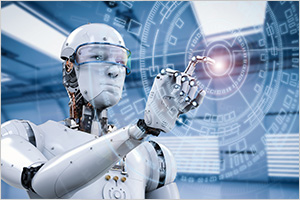 Managing web applications is not a small task and making sure that these web-based business applications are online when that busy workday starts is a challenge for many enterprises. The ability to proactively test the user experience would go a long way for being able to ensure application stability and performance around the clock. Today let's dive into some of my real-world experiences with web applications, cover some of the monitoring challenges and then take a closer look at a brand-new feature offered in eG Innovations v7 that offers visual end-to-end user experience due to technology advancements with synthetic simulation monitoring.
User Experience Monitoring: More than Web Application Down
After just settling in for the evening, a text from the operations center came in with a service desk ticket and was deemed critical with a need for resolution as soon as possible. The user indicated that their web portal for customer access to the sales portal went down. The web servers that the sales portal was installed on had traditional server monitoring in place and a network keep alive test to a file in IIS on those servers to track if the site is online. With the tools in place it was important to quickly start looking at what was going on and taking a close look at everything. Here is the breakdown:
First step was to log into the two possible servers in question and research the event logs for any indication of failure.
Additional troubleshooting was needed to determine if it was an infrastructure failure
Then spending time to understand if this is impacting every user or just certain users
Also, spending time to understand if this issue is isolated to a certain geographic location is also important
After researching, the answer about why the sales portal web application failed was in the actual IIS website, and the software vendor was pulled in for further diagnosis, but with the limited monitoring in place this took several additional hours that evening.
With a synthetic simulation monitoring tool in place, the determination of where the problem was could have been determined in a more quick and efficient way. Today let's look at how eG innovations v7 can streamline your ability to monitor web applications with visual end-to-end insights into root cause analysis of the problem at hand.
Improving User Experience Monitoring by Rapid Web Application Troubleshooting 
eG Innovations recently released v7 of their eG Enterprise product, which includes a new feature that can record web application user experiences and has playback visibility for issue identification. This allows for quick troubleshooting and provides insights that would otherwise be challenging without working with the end-user calling in the problem. Let's consider the issue above where a critical late-night support desk ticket came in with a user report that the sales portal is down. Figure 1 below shows how quickly the troubleshooting process could have been with the right tool in place.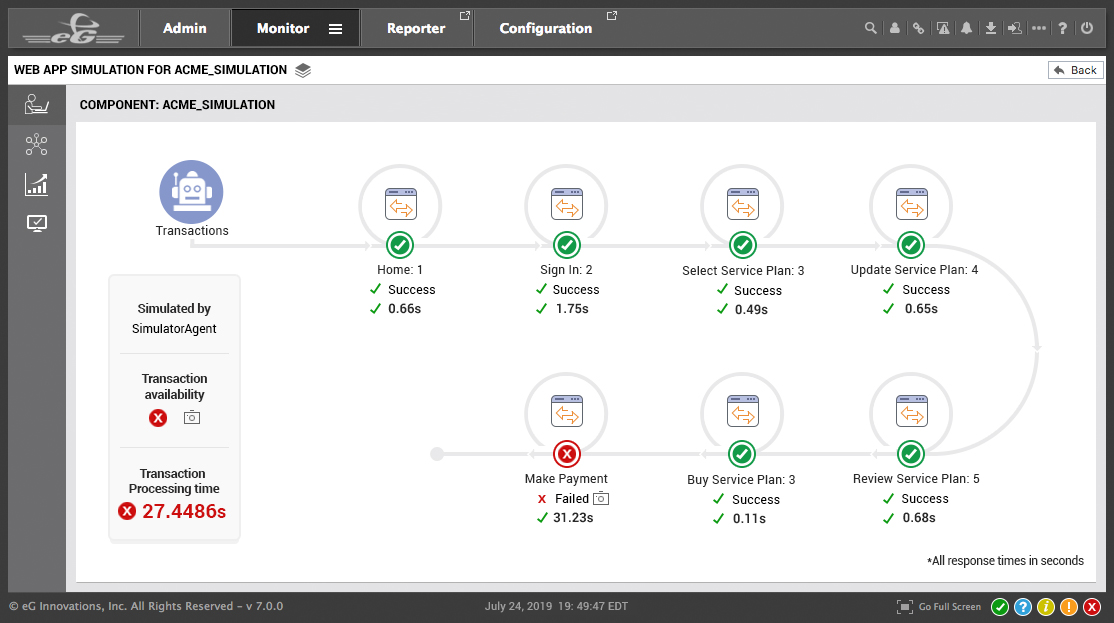 eG Innovations leverages synthetic simulation monitoring, so even if the application is cloud-based their tool can provide monitoring. Synthetic monitoring complements real user monitoring, and a combination of both approaches is needed for holistic web application user experience visibility.
Concluding Thoughts
Proactive monitoring is essential to the success of all enterprises, and with advances in approach to researching, diagnosing, and resolving issues, efficiency is no longer a wish. Synthetic simulation monitoring of web applications provides the monitoring advancements we need that can save administrators time and keeping enterprises online. Success!
Original Post: https://24x7itconnection.com/2020/01/21/synthetic-simulation-for-proactive-user-experience-monitoring-of-web-applications/
eG Enterprise is an Observability solution for Modern IT. Monitor digital workspaces,
web applications, SaaS services, cloud and containers from a single pane of glass.