Hardware Monitoring using IBM Director/Dell OpenManager or Compaq Insight Management
To monitor the hardware status of Windows/Linux/HPUX servers, the eG agents integrate with IBM  Director, Dell OpenManage or Compaq Insight Management. Agents for IBM Director, Dell OpenManage or Compaq Insight Management have to be installed on the servers to be monitored. In the case of AIX servers though, while most of the tests use native AIX commands/hooks on the AIX server to haul out the performance data, a couple of tests require the installation of Dell OpenManage or Compaq Insight Management on the server. To execute the AIX commands/hooks, the eG agent should be installed on the AIX server as a root user. 
Once the third-party tools are installed, the eG agents then use SNMP to communicate with the hardware monitoring solutions (see Figure 1). The metrics so collected vary depending upon the Hardware status information relating to power supplies, fans, temperature, etc. are collected in this manner and reported via the eG monitoring console. This integration of the eG Enterprise with third-party agents allows administrators to leverage their existing investment into these hardware monitoring solutions. Furthermore, with this integration in place, the status of the entire infrastructure can be monitored - right from the hardware to the operating system and the individual processes and applications running on each server.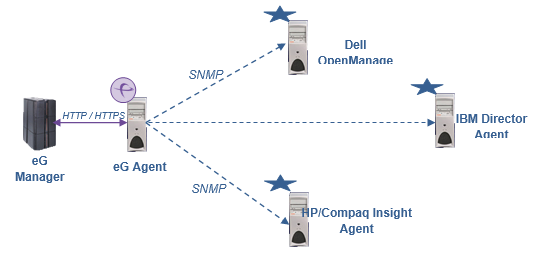 Figure 1 : Integrating eG Enterprise will Dell Open Manage and HP/Compaq Insight Agents
The tests that the eG agent executes on the IBM Director/Dell OpenManage/Compaq Insight Management host are mapped to the Operating System layer. All these tests are disabled by default. To enable the tests, go to the enable / disable tests page using the menu sequence : Agents -> Tests -> Enable/Disable, pick the component-type for which these tests are to be enabled as the Component type, set Performance as the Test type, choose this test from the disabled tests list, and click on the >> button to move the test to the enableD tests list. Finally, click the Update button.
The matrix below indicates the platforms on which each of the hardware tests execute.
| | | | | |
| --- | --- | --- | --- | --- |
| Test Name | Intel/AMD (32-bit or 64-bit) Machines running Windows / Linux / HPUX Operating Systems and Hosting IBM Director Agents | Intel/AMD (32-bit or 64-bit) Machines running Windows / Linux / HPUX Operating Systems and Hosting HP Insight Agents | Intel/AMD (32-bit or 64-bit) Machines running Windows / Linux / HPUX Operating Systems and Hosting Dell OpenManage Agents | IBM RS6000 Machines running AIX Operating Systems |
| Hardware -Status | X | ✓ | ✓ | X |
| Hardware - Overview | ✓ | ✓ | ✓ | X |
| Hardware – Temperature | ✓ | ✓ | ✓ | ✓ |
| Hardware – Fan | ✓ | ✓ | ✓ | ✓ |
| Hardware – Voltage | ✓ | ✓ | ✓ | ✓ |
| Hardware – ArrayControl | X | ✓ | ✓ | X |
| Hardware - Drive | X | ✓ | ✓ | X |
| Hardware - Processor | X | X | ✓ | X |
| Hardware - PowerSupply | X | X | ✓ | X |
| Hardware - Memory | X | X | ✓ | X |
| Hardware - Battery | X | X | ✓ | X |
| Hardware - Amperage | X | X | ✓ | X |
| Dell Hardware - ArrayControl | X | X | ✓ | X |
| Dell Hardware - Drive | X | X | ✓ | X |