Purpose-built performance monitoring solution for Microsoft shops. Monitor all your business-critical Microsoft applications and infrastructures from a single pane of glass. Get deep insights into application code-level performance, business transactions, user experience,
infrastructure health, cloud metrics, and more. Troubleshoot performance problems with ease!
The Most Comprehensive Microsoft Monitoring Solution on the Market
---
Application Performance Monitoring and Code-Level Analytics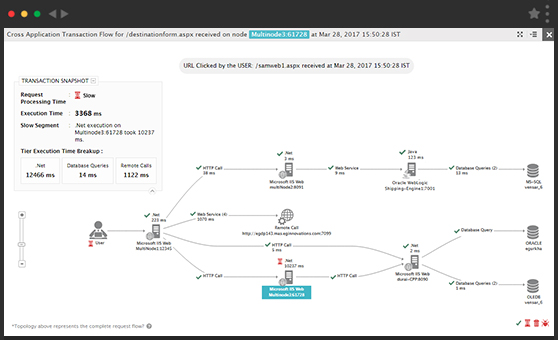 Uncover the cause of application slowdowns using distributed transaction tracing
Isolate where slowness occurs: application code, database query, remote calls
Pinpoint the line of code having an issue and causing slowness
With eG Enterprise, more than 70% of the time we can respond to an event and resolve the issue before the customer engages support. That results in about a 15 to 20% cost avoidance for us. eG Enterprise drastically improves our performance from an SLA standpoint.
John McDonald
Director of Support, Allscripts | Download Case Study »
Monitor Microsoft Azure Cloud Services and Infrastructure
Automatically discover applications, databases, VMs and containers on the cloud
Monitor health, availability and performance of Azure cloud and services running on it
Scale monitoring on demand
Ensure successful migration to the cloud
Deliver First-Class Digital Experience For Your End Users
Real User Monitoring
Be the first to measure user satisfaction as users access applications in real time
Monitor page load times and get alerted to slowdowns and errors
Get a breakdown of page load time to isolate area of slowness
Learn More
Synthetic Monitoring
Proactively monitor user experience and identify issues before real users are impacted
Baseline user experience metrics and compare performance across different locations
Simulate and test application transactions 24x7
Learn More
Ensure Fast and Seamless Delivery of Office 365 Services
Get real-time insights on Office 365 health and connectivity across all locations
Leverage built-in performance monitors for Exchange Online, SharePoint Online and Skype for Business
Track license usage, database growth, service status, etc.
Understand the impact on network traffic due to Office 365 usage