eG Enterprise – Mobile App Updates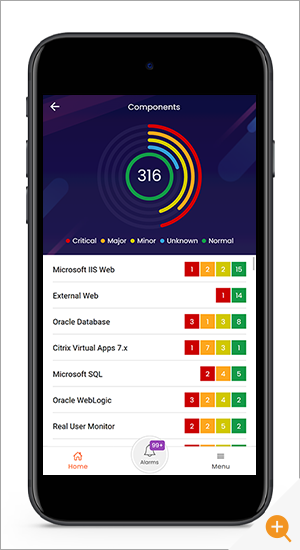 Our latest release of eG Enterprise, version 7.2 is accompanied by significant enhancements and new features for our popular eG Enterprise mobile app for iOS and Android. These apps allow administrators to access the eG Enterprise administrator console on the go and receive meaningful alerts and push notifications with click throughs to deep diagnosis rather than dumb text messages.
This means administrators or the domain experts that they consult in the wider organization can check out potential issues wherever they are without having to rush to a workstation or laptop and login. Users can continually monitor their IT landscape from a smartphone or tablet wherever they are.
Beyond mobile access these apps enable administrators to have tablet access in environments unsuitable for laptops – whether that's in a medical environment or a dirty manufacturing environment where wipe clean, sanitizable, waterproof devices are appropriate.
A usable mobile console avoids the alert storms of notifications associated with inferior solutions and allows the administrator to assess the severity of issues, examine key metrics and the cause of alerts rather than just know an alert has been raised. The eG Enterprise mobile apps also allow administrators to manage alerts remotely and perform certain remote management tasks to rectify issues immediately.
What's New in the eG Enterprise Mobile App v7.2
Previously the eG Mobile App provided access to a limited subset of screens available in the desktop console. The latest update to the eG Enterprise Mobile App adds a lot of new user interface enhancements, bridging the gap with the desktop console. New mobile-optimized UI (User Interface) components, gestures, and tools are used to make the mobile app faster and more interactive.
Headline new features and enhancements include:
Improved home screens and overviews support zones, segment, service and aggregate views. For rapid health overviews.
New screens for Web Application APM and RUM (Real User Monitoring) – those responsible for online services and eCommerce sites can have instant insights to issues, their severity and the impacts on users wherever they may be 24×7.
New screens for Digital User Experience (DEX) monitoring for Digital Workspace administrators monitoring technologies such as Citrix, VMware, AWS WorkSpaces and Microsoft AVD / Cloud PC.
New screens for BTM (Business Transaction Monitoring) allow full observability of business transactions for multiple platforms including Java, .NET, Node.JS and PHP.
RUM for Web Applications in the eG Enterprise Mobile App
For administrators running web applications, services and eCommerce sites. The new RUM screens offer them 24×7 observability into the health of those services, dashboards for mobile offer instant overviews of user experience, errors and response times: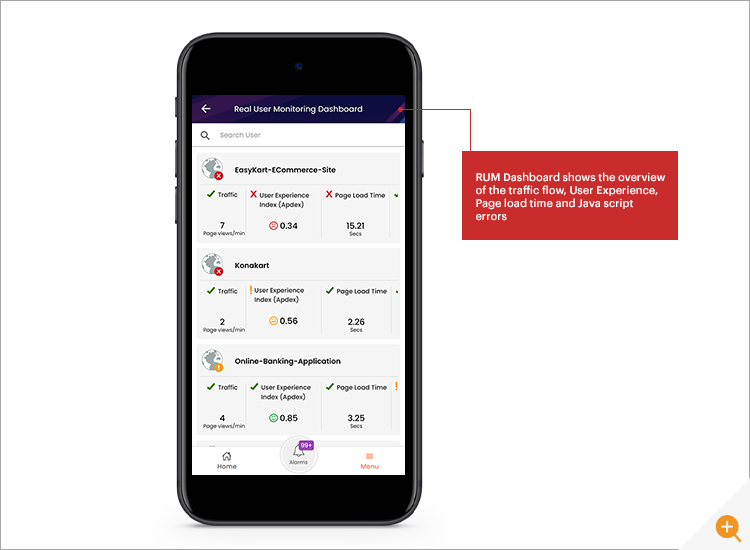 Response time breakdowns ensure performance issues can be understood immediately: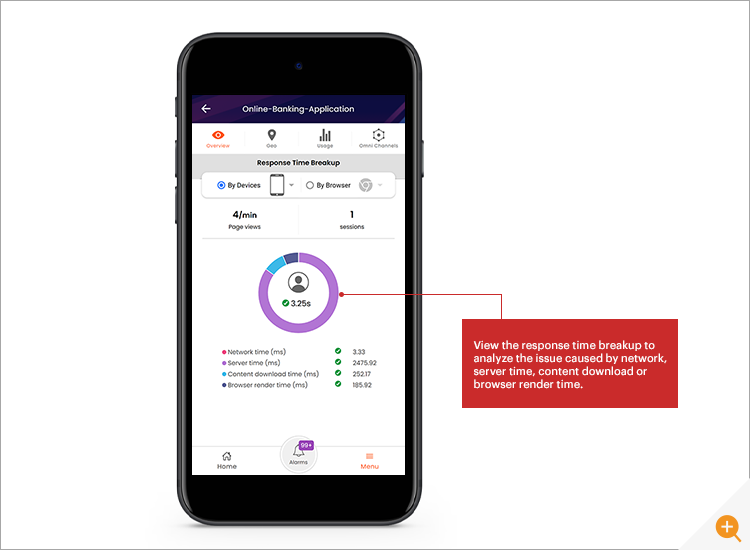 User experience details for individual transactions are also available: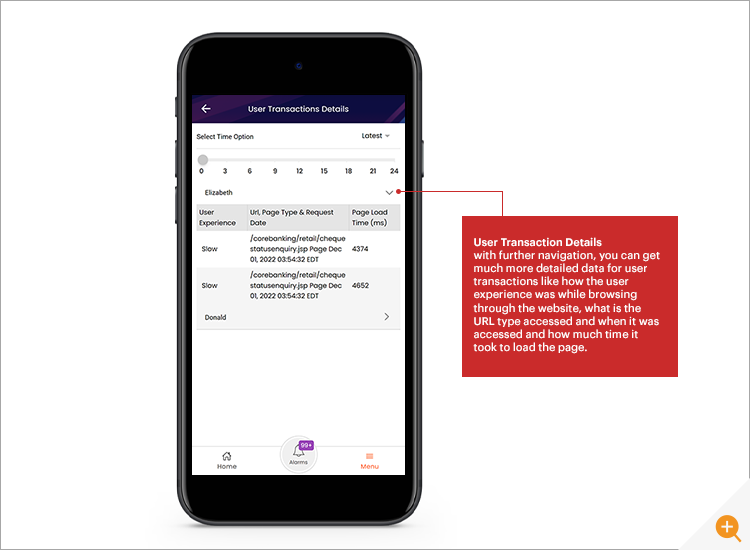 Geo maps are available, allowing admins to understand the regional extent of issues.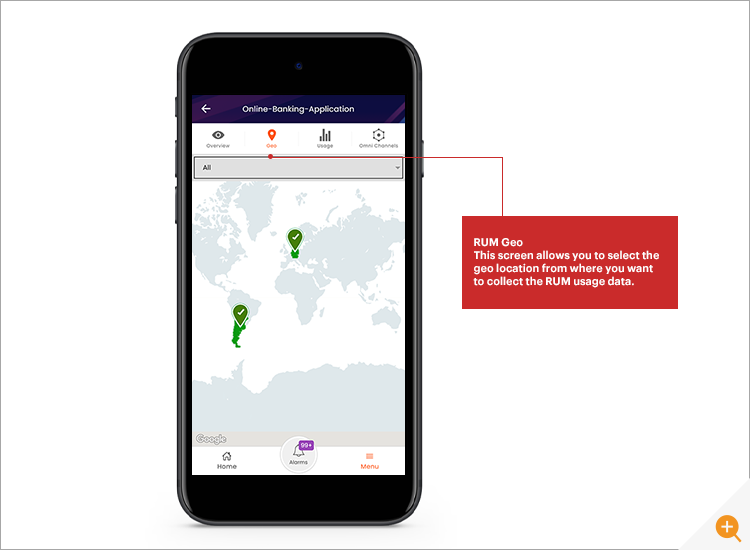 Other goodies include the ability to look at reports of site performance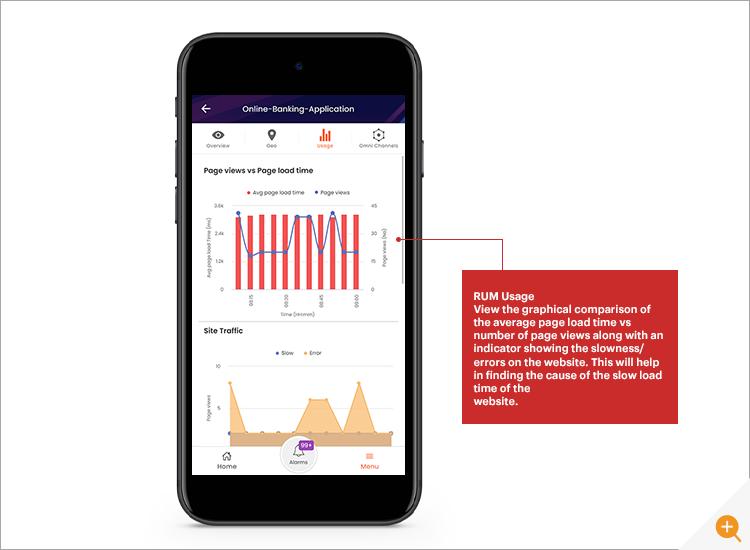 And page load and user experience trends: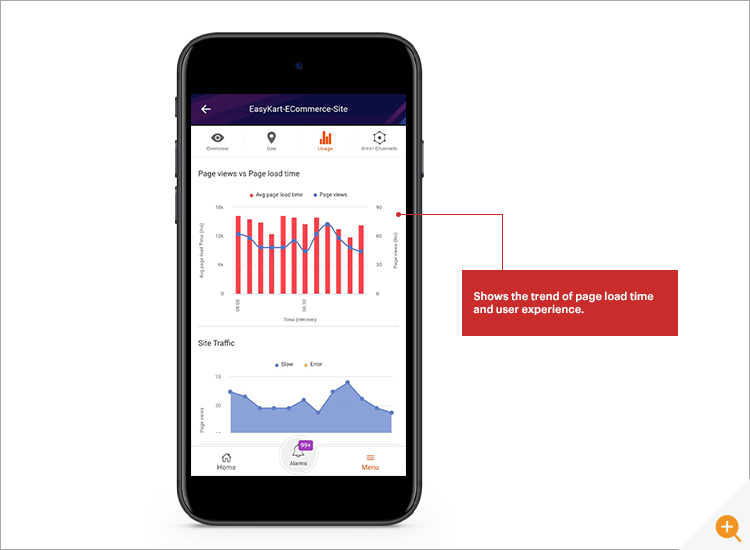 Digital Workspace Screens in the eG Enterprise Mobile App
For Citrix, VMware, AVD and Amazon WorkSpace administrators. A wealth of new screens enable them to troubleshoot user experience issues and assess the extent of problems. The new screens include user drilldowns with full topology maps: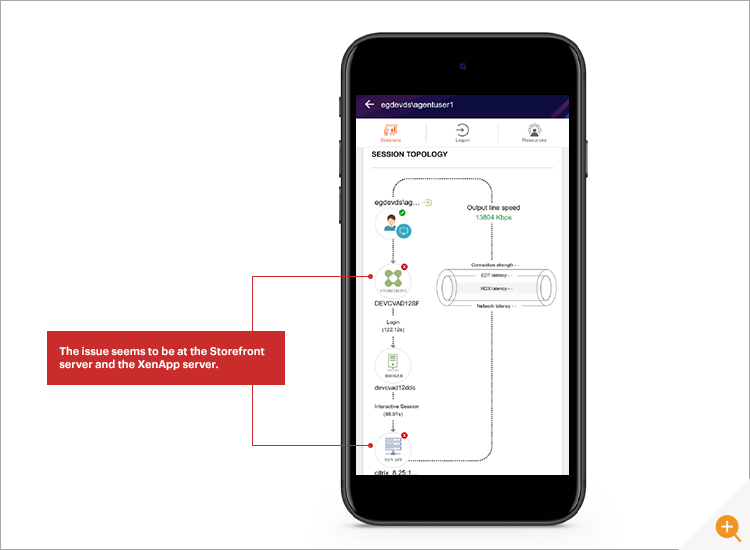 Logon performance metrics for every user, including logon time breakdowns, are available wherever you may be.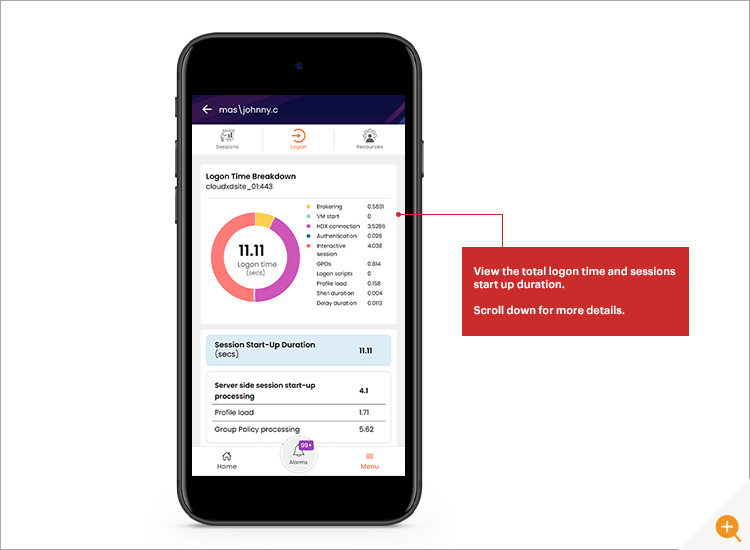 Key metrics and graphs of their behavior are available including CPU, Memory, HDX Latency and so on, alongside detailed information on the process and applications consuming resources: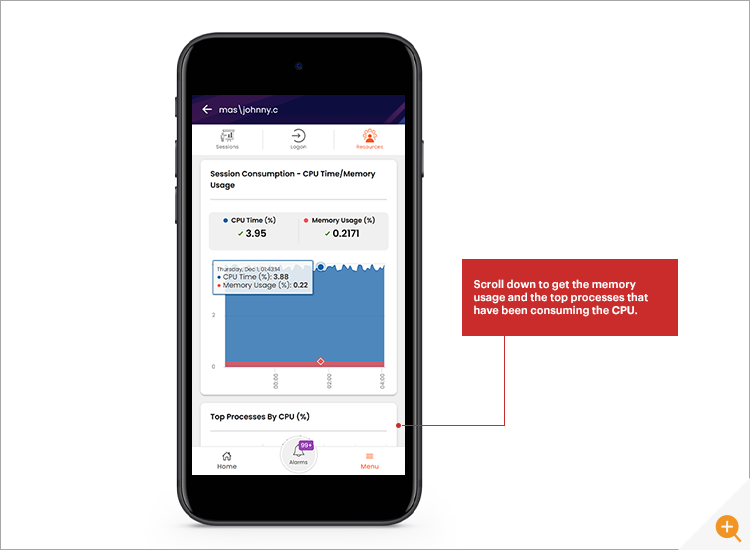 Business Transaction Monitoring Screens in the eG Enterprise Mobile App
Deep insights and observability into Java, .NET, Node.JS and PHP applications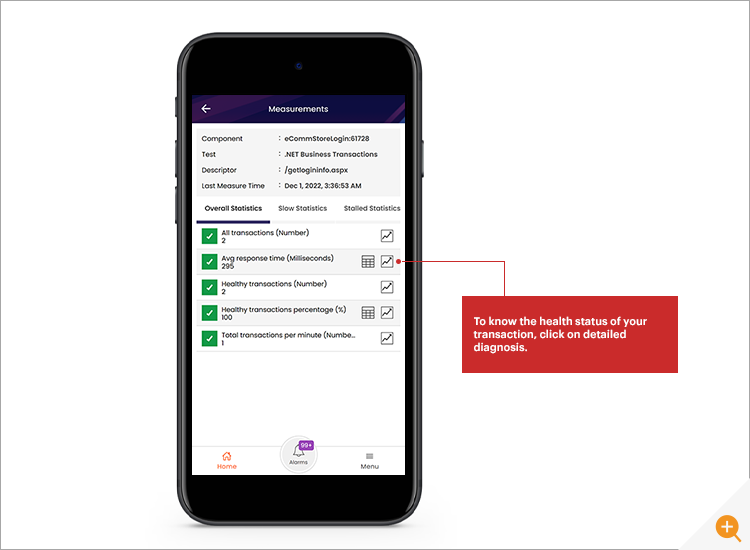 Individual transactions can be analyzed with user friendly transactions topology maps: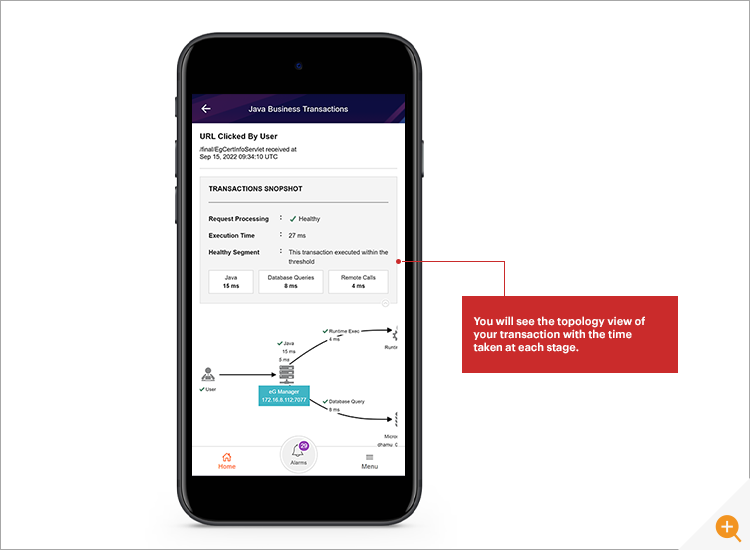 Remote Control Actions in the eG Enterprise Mobile App
If desired, Remote Control Actions (RCAs) can be enabled to allow the remote admin to collect more information or perform certain remediation activities e.g., reboot a server.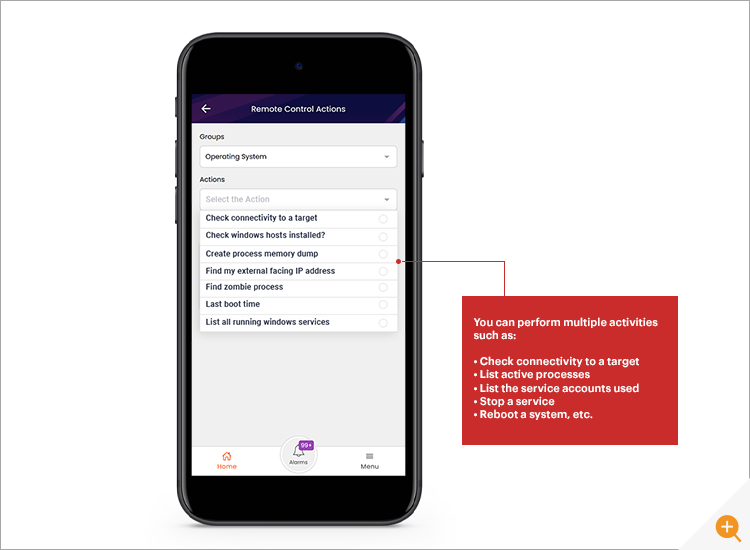 Learn more about eG Enterprise's built-in RCA capabilities in: Automation & Scripting for Monitoring Systems (eginnovations.com). Of course RCAs can be invasive and powerful so eG Enterprise has built in stringent access controls and auditing to ensure you are assured of security, see: Control and Audit Remote Control Actions for Security (eginnovations.com).
Summary
With the eG Enterprise mobile apps – administrators working on large campuses or healthcare sites or off-site out of hours – not only learn about alerts immediately but can also investigate the root cause and extent of the issue, decide if an issue is critical enough to require them to return to the IT hub immediately, and even resolve certain issues remotely.
You can read more about the features and use cases for the eG Enterprise mobile apps in: Monitoring IT Applications and Infrastructure On-the-Go: The eG Enterprise Mobile App
How to Get Started Today! Download the App!
The eG Mobile App 3.2 is available for Android 6.0 and higher and iOS 11 and above.
It is worth reading our short app configuration guide first, but other than that it's just a case of downloading the app from the usual app stores:
For iOS: On the Apple App Store
For Android: Google Play Store here
Frequently Asked Questions – FAQ
Q: Do the eG Enterprise mobile apps support SAML authentication for secure access?
A: Yes.
Q: Can the new mobile app be used with a v7.1.8 manager?
A: No. The new mobile app requires access to new APIs that are only available in eG Enterprise v 7.2. So, you can use the new mobile app only after you upgrade eG Enterprise to v 7.2.
Q: If I don't want my admins to use the eG Mobile App for security reasons, can I disable all accesses via the mobile app?
A: Of course, you can disable the mobile app access from the Admin console of the eG manager. Look for the menu sequence: Settings -> Manager -> Mobile Application Settings and set your preferences.
Q: Can I restrict or prevent a user's use of Remote Control Actions?
A: Of course, you have always been able to prohibit a user from using Remote Control Actions to ensure only those with appropriate knowledge and privileges perform invasive actions or access data. eG Enterprise v7.2 has also introduced additional control allowing fine granular control on a per user and per command basis. This means you could limit certain users to read-only and limited actions, whilst restricting access to the most invasive actions (such as system rebooting or user session shadowing) to only a few authorized personnel. eG Enterprise 7.2 also includes enhanced tracking and auditing functionality to ensure the use of Remote Control Actions is logged and available for scrutiny. See more: Control and Audit Remote Control Actions for Security (eginnovations.com).
Q: How can I ensure Secure Access from Outside Corporate Firewalls?
A: Security is often very important when considering mobile apps in particular. Both versions of the app support two factor authentication (2FA) aka two-step verification.
Your monitoring and administrator products and tools are essential privileged access endpoints and as such these are not apps that you would expect to download from the app stores onto an unmanaged device and be able to connect directly to your infrastructure from outside the firewall. A key principle of eG Enterprise's security architecture is to ensure users do not have to open ports and we avoid architectures with listening agents on open ports.
Many of our app users use it on site within their corporate firewall. However, it is possible to use the mobile app remotely from home where organizations have in place mechanisms to enable remote administration. We recommend they use the same deployment as their organizational standards define for other privileged access workstation consoles, which may include DMZ, VPNs, Mobile end-points Management (MEM).
eG Enterprise is an Observability solution for Modern IT. Monitor digital workspaces,
web applications, SaaS services, cloud and containers from a single pane of glass.