During our recent webinar "How to Extend Microsoft SCOM to Monitor & Diagnose the Performance of Citrix, SAP, and other Business Critical Applications" (see slides here), we asked the 220 attendees about their biggest challenges with using Microsoft SCOM for performance monitoring.
Let's take a quick look at the results: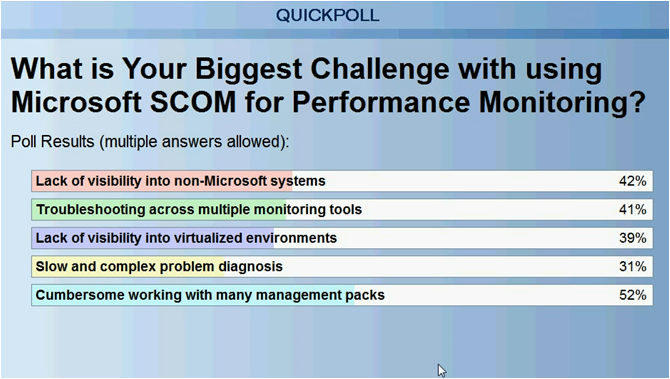 The complexity introduced by multiple management packs tops the list of challenges with 52 percent. This is followed by lack of visibility into non-Microsoft systems (42 percent), troubleshooting across multiple monitoring tools (41 percent), and lack of visibility into virtualized environments (39 percent). As a result, problem diagnosis becomes slow and complex (31 percent).
To extend the scope of Microsoft SCOM to manage non-Microsoft environments (such as Citrix, SAP or virtualization platforms like VMware vSphere, Citrix XenServer and RHEV) enterprises in the past had to look at multiple third party management packs, one for each non-Microsoft platform. This traditional "multi-pack approach" creates complexity and only provides a fragmented view of the IT infrastructure. This approach also leads to slow problem isolation and diagnosis, and often results in poor user experience and loss of user productivity.
eG Enterprise Universal Management Pack for Microsoft SCOM is a new universal management pack that fills this gap and provides an integrated solution for SCOM to address the performance management needs of today's enterprises.
KEY FEATURES & BENEFITS
Integrated end-to-end monitoring of heterogeneous IT Infrastructures: Leverages best of breed capabilities of Microsoft and eG Innovations monitoring technologies. Single pane of glass view of entire service infrastructure (not just Microsoft applications)
Makes SCOM "virtualization-aware": Enables SCOM admins to proactively detect issues in heterogeneous virtualized platforms.
Centralized monitoring and alerting from SCOM: The SCOM console becomes the one-stop-shop for performance and problem information. Leverages eG Enterprise's automatic root-cause diagnosis capability.
Makes troubleshooting easy: The eG Enterprise console can be launched from the SCOM console on-demand, allowing administrators instant access to the detailed diagnostics provided by eG and easing troubleshooting.
Easily add custom monitoring to SCOM: Use the eG Integration Console to monitor and report on new applications/devices easily in the SCOM console.
Short learning curve for SCOM administrators: No need to learn yet another monitoring tool – continue using the familiar SCOM console. No need to learn about different management packs.
Maximize the return on your SCOM investment: Combine eG Enterprise's increased monitoring depth and breadth with SCOM's expertise in monitoring Microsoft technologies.
Learn more about EG Enterprise for SCOM and review the webinar slides.