New Survey Provides Insights into Cloud Technology Adoption Trends
In the second half of 2021, eG Innovations partnered with the DevOps Institute to conduct an online survey of more than 900+ individuals from Sys Admin, DevOps, SREs, cloud admins and other IT professionals.
We asked questions about:
Cloud adoption relative to on-premises IT usage
Which public cloud providers were being used –  e.g., Azure vs AWS vs Alibaba vs Google Compute Platform (GCP)
The adoption of Kubernetes, container, microservices, and PaaS technologies
Which specific cloud services were being used e.g., AWS RDS vs. Azure SQL DB and AWS WorkSpaces vs. Microsoft Azure Virtual Desktops (AVD)
Being a monitoring vendor, we also asked about feature gaps users are encountering with native monitoring solutions such as Azure Monitor and AWS CloudWatch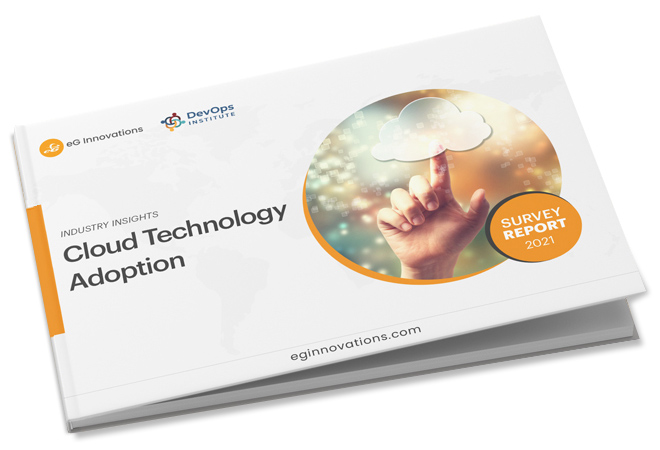 Some of the results included:
A substantial 88% of respondents have already adopted public cloud technology in some form to support business applications.
Worldwide we found 45% of users are using AWS, 33% Azure and 11% GCP as their primary service provider.
We found that all the top service providers had similar percentage of clients in North America, but that APAC was a larger market (in terms of % of organizations) for AWS relative to EMEA  and it was vice versa for Azure.
Container technologies are being adopted more in the cloud than on-premises. While 48% of respondents were using containers in the cloud, only 32% had containers deployed on-premises.
Cloud instances (AWS EC2, Azure VM, etc.) are the most popular service with 63% adoption.
Relational database services (AWS RDS, Azure SQL DB) have a higher adoption (45%) than NoSQL database services like AWS DynamoDB and Azure Cosmo DB (22%).
25% of respondents have adopted hybrid platforms including RedHat OpenShift, VMware Tanzu and Rancher.
Microservices and DevOps technologies are here to stay. 37% of the respondents already have microservices and DevOps deployed widely in their organization. With a huge 95% of all respondents having adopted them to some extent or indicating that they will soon be considering microservices and DevOps technologies.
You can download the full survey results here: Cloud Technology Adoption Trends | eG Innovations
If surveys and statistics on technology adoption are of interest, we have some other recent ones available, conducted in the last 12 months, including:
eG Enterprise is an Observability solution for Modern IT. Monitor digital workspaces,
web applications, SaaS services, cloud and containers from a single pane of glass.
Learn More: