The Path from Citrix to VMware to Cloud to Containers and more
One of the best parts of our job is enabling you to become the best #ITPerformanceHero that you can be. But behind the scenes, eG Innovations is filled with talented team members who wear their own IT Hero capes. We want to take some time to introduce you to a few of them, who make eG Innovations the leading performance monitoring company in the market. We're pleased to introduce Babu Sundaram, Head of Product Engineering at eG Innovations and key architect of our digital workspace monitoring products.
1. Tell us a bit about yourself.
Babu Sundaram – Head of Product Engineering,
eG Innovations
I am Babu Sundaram and I am the Head of the Product Engineering at eG Innovations. I have a Master's in Computer Science and am PMP certified. I have spent 18+ years in the software industry playing various roles: from a developer to an architect to a product manager. My expertise is primarily on Microsoft Windows technologies.
2. How long have been you been with eG Innovations and what areas do you focus on?
I joined eG Innovations in 2001 when the company was an infant. I helped architect the company's Universal Monitor technology at first. Then, I helped develop our product for Citrix performance monitoring. Later, virtualization technologies came up and I and my team added support for these technologies. Over the last 5 years, I've focused on cloud technologies and containerized environments.
3. Monitoring of Citrix environments is something eG Innovations is known for. How did that technology come about?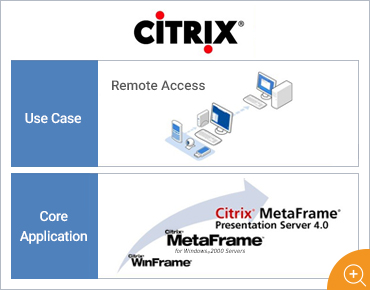 We started with Citrix technologies in 2003. I remember we did a few demos for our prospects and multiple times, we were told "What you are doing is nice, but can you support Citrix?".
At that time, we had no idea of Citrix technologies. We started by installing Citrix in our lab, studying what this technology was about, and learnt the use cases, limitations, failure modes, etc., from our own experiences as well as by joining different online forums.
At that time, Citrix had one product – Citrix MetaFrame XP! We demonstrated what we built to a few Citrix partners and got their feedback and that started our journey with Citrix technologies. The first few prospect engagements we worked on were very educational. I remember we even closed a deal within a week of getting a lead from our website. That was very exciting!
4. How has Citrix technologies changed over the years and how has the eG Enterprise suite evolved as a result?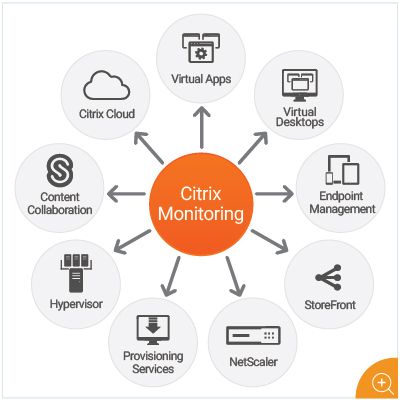 There's been a dramatic change in Citrix products and architecture over the years. From having a single product, Citrix now has a broad portfolio of solutions. To provide secure access, there's Citrix ADC (NetScaler), web access is enabled by Citrix StoreFront, there are virtual app servers where the client applications are hosted, applications can be streamed from a Citrix Provisioning Server (PVS). There are other supporting technologies like AppDisk, Workspace Environment Management, and so on. So, there are many tiers involved in supporting Citrix access today.
Each of these tiers can also be virtualized. This adds some complications from an operations standpoint. When there is a problem, you have to be able to say whether the issue occurred in the Citrix stack or whether it was due to the underlying infrastructure – the virtualization technology (VMware, MS Hyper-V, Citrix hypervisor, etc.). You can also host these tiers in the cloud – in which case, you have to make sure that you are not constrained by the sizing of the instances you have obtained from your cloud provider.
Then, Citrix's architecture changed in the last three years. There is a separate brokering tier now. And the brokering can be implemented on-premises or on the cloud (Citrix Cloud services). From a monitoring standpoint, these changes have meant that our products have had to evolve significantly. We've had to build monitoring technologies specific to each Citrix tier and be able to understand the inter-dependencies between these tiers.
5. Have customer expectations around Citrix monitoring changed over the years?
Yes, absolutely. When we first started, the focus was on resource management. In fact, at that time, Citrix had a monitoring product called "Citrix Resource Manager". The emphasis was all about knowing resources used and sessions in progress.
Today, the emphasis is on user experience. Everyone recognizes that the success of a Citrix deployment depends on how good the user experience is. We've seen projects where customers have tried Citrix technologies and moved back to using physical desktops because they could not get the necessary user experience.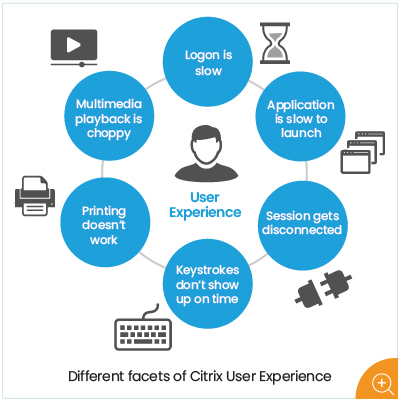 Our solutions have also adapted to these changing trends. A lot of the new capabilities we've added over the years have focused on different aspects of user experience.
Unlike web technologies where page download time is the primary measure of user experience, with Citrix technologies, there is no single measure. When you login to StoreFront, you are concerned about logon time and whether you can see your desktop on the user interface. When you click on the desktop and initiate your session, you are concerned about session establishment time. After you have logged into your desktop, if you click on an application like Microsoft Outlook, how long does it take to launch and get to a point where you can check your emails? And finally, when you are typing email, how long does it take for your keystrokes to show up. We've built capabilities in our product suite to measure all aspects of Citrix user experience.
6. How have you kept yourself abreast of all the technology changes over the years?
To create a good product, one has to be an expert at the technology he/she is focused on. We've deployed Citrix technologies in our company and used it for remote access. We have geographically distributed teams. I am based in Singapore and many of the developers I work with are in India. To connect between our offices, we use Citrix virtual apps and desktops. By being users of these technologies, we end up seeing many of the problems and challenges that our customers face. This makes it possible for us to conceive of and create solutions that are of practical relevance to customers.
7. You've spoken about technology changes. Have customer's expectations from your product changed over the years?
Yes, customer expectations have also changed over the years.
When we first started with Citrix, there were very few alternatives for Citrix monitoring. Lakeside Software and us… We were the only players other than the built-in Citrix tools. The bigger monitoring vendors didn't really understand the unique requirements of Citrix administrators, and they probably didn't see this as a big enough market. At that time, our focus was to make sure we had the right metrics to detect and alert administrators about problems.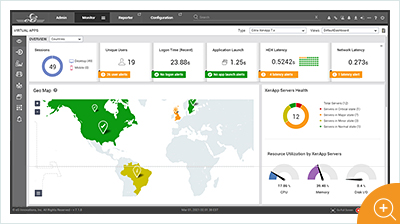 Over the years, customer expectations from Citrix monitoring have changed. Different types of dashboards and visualizations is one way in which we differentiate our product from others. For example, with our tool, you can see a geographic map showing where users are connecting to your Citrix site from and what experience they are seeing. This allows a Citrix admin to quickly see if specific geographies are having a problem. Another example is capacity planning. Especially in the last year, many admins have been asked "How many more users can you accommodate in your Citrix infrastructure?". Our capacity planning reports help greatly in this area. Another area where we've seen more customer interest in is automation – how can the tool do the basic tasks automatically, so that it doesn't require human intervention.
8. We see several technologies in the market today that are similar to Citrix. Have you looked at these technologies as well?
Yes. Our product suite supports most of the popular digital workspace technologies – we have support for VMware Horizon, Microsoft RDS, Microsoft Windows Virtual Desktops (WVD), Amazon WorkSpaces, Amazon AppStream 2.0, etc.
9. Does eG Innovations provide similar capabilities across all these different digital workspace technologies?
Yes. Most of these technologies are very similar – although they have different technology tiers, use different protocols, etc. We have tried to apply our learnings from Citrix technologies to the other digital workspace technologies as well. In that sense, we've the broadest and deepest coverage for Citrix currently, but the gap between our support for Citrix and other technologies is narrowing with each release.
The gap also depends on the maturity of the technology. Cloud desktop technologies – AWS WorkSpaces and Microsoft WVD – are just emerging and to that extent, our support for these technologies is also evolving.
10. There are many products today for monitoring digital workspaces. Many of the vendors in this space have their own products (Citrix Director, VMware vROPS, AWS Cloudwatch, etc.). What do you see as eG Innovations' unique value propositions in this area?
Over the last year, we have seen customers deploying multiple digital workspace technologies. Citrix's products don't monitor VMware neither does VMware's product monitor Citrix technologies. Hence, when customers are looking for a product to cover all their digital workspaces, they have to look at a specialized vendor like us, who provides a consistent way to monitor, diagnose, and analyze the performance of these diverse technology stacks.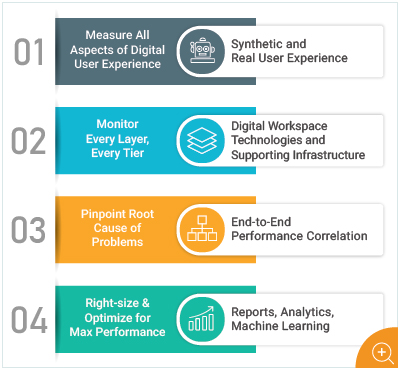 Another point to note is that the technology vendors do not place sufficient emphasis on monitoring tools in their stack. Their focus is on the functionality and capabilities of their stack, not on monitoring. If you look at the Citrix stack, they have dozens of products but even today, they do not have a single unified console for monitoring their own products – not to talk about the technologies that support their product.
Over the years, if you look at the biggest want of IT administrators, they've always looked for solutions that can help them prove where the real problems lie. This is where end-to-end monitoring comes in. Because of the breadth of technologies we monitor, eG Innovations is uniquely positioned to provide end-to-end visibility covering as much of the stack as an administrator wants.
11. Over the last decade, what changes have you observed in customer requirements from monitoring solutions?
Customer requirements have evolved over the years:
Security is a significant focus for them. As a product vendor, we have to build best practices relating to security into our development lifecycle and our quality assurance processes.
Customers expect monitoring tools to find all the different types of problems they encounter. This poses challenges during the design of the product and during its implementation. At the design stage, we need to take into account all the different types of interactions in the infrastructure and possible failure scenarios. In the implementation phase, care must be taken to understand how the customer infrastructure/applications are being used and to build in the necessary integrations in the product so that customer expectations are met.
Another area of focus is automation. Customers need touch-free monitoring – it is no longer acceptable to have an administrator manually add in the systems they need to monitor. IT infrastructures have become very dynamic – with containerization, this is very much the case. So, the monitoring tool has to auto-discover when applications are added and when they are removed.
12. Many organizations are moving their key IT services to the cloud. How does this trend affect your work?
The move to the cloud is inevitable. Cloud computing offers a lot of benefits. Better monitoring is not one of them! ?
When applications are on-premises, IT teams have great visibility and control. When these applications move to the cloud, visibility and control are both lacking. As a result, most organizations are paying more attention to monitoring technologies.
Synthetic monitoring is gaining traction – it is the easiest and fastest way to know if there is a problem that is affecting users. At the same time, there is a needed for deeper diagnostics, so when a problem occurs, they can pinpoint better where is the root-cause. Hence, I view the transition to the cloud as a greater opportunity for monitoring vendors, such as eG Innovations.
13. Is your role just focused on R&D or do you work with customers as well?
While I perform mainly an R&D role, I also get involved in many customer deployments of our solutions, particularly ones that are large and complex or ones that have a number of new requirements.
It is always good to see what customers are doing with these technologies and to learn from the field. A large number of enhancements we have done over the years in our product suite have come from feedback that we've gotten from customers and our own colleagues in the field. That is the only way to build a product that has real-world relevance.
14. What gives you the greatest satisfaction in your job?
Being in a product company, the greatest satisfaction one can derive is seeing our ideas materialize into a product that is offering value to our customers. I feel very happy when I see customers telling us how our product suite has helped them.

15. What are some of the challenges in your role at eG Innovations?
As a product vendor, we face many pulls and pressures. We constantly get feedback from customers, partners, and our own teams in the field. We have to juggle between multiple priorities. So, defining a product roadmap and sticking to it can be a challenge.
At the same time, the pace at which technology is changing is rapid. We have to stay in tune with these technologies to monitor and manage them.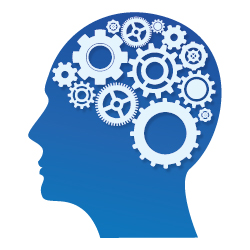 One of our key differentiators at eG Innovations has been domain expertise. We don't just collect a few metrics for any technology area. We study each domain thoroughly, analyze all the dependencies, all the failure cases, study what requirements customers have of these technologies, and follow experts in each area to understand best practices and then build our monitoring capabilities accordingly.
This takes a lot of time and effort. eG Enterprise is a vast product today – we support so many different technologies that it is a challenge to be the best solution in each of the technology areas we support.
16. What are some of your future plans?
We're working on several different areas. Container environments are in early stages of adoption. We are looking into some of the challenges that these environments introduce for monitoring technologies. Digital workspace technologies continue to evolve.
We are actively looking into the monitoring needs of customers deploying Microsoft Windows Virtual Desktops. Improved automation, machine learning capabilities, and persona-based views are a few of the many items we are looking at currently.
17. When you're not being an #ITPerformanceHero, what do you like to do in your spare time?
My family is my asset. I spend time with them whenever possible. During other times, I read blogs, browse through social media, and learn about new technologies.
Thanks, Babu for this wonderful tête-à-tête with our readers.
There are many more IT Performance Heroes at eG Innovations. Stay tuned for more such interviews. We can't wait for you to meet them!
eG Enterprise is an Observability solution for Modern IT. Monitor digital workspaces,
web applications, SaaS services, cloud and containers from a single pane of glass.